Whatever your politics, few could deny the significance of the pictures released early this week of Humza Yousaf leading prayers with his family and breaking his Ramadan fast from the comfort of Bute House.
For the first 8 years of devolution, the Scottish Parliament was completely white.
It's first politican from an minority ethnic background was Bashir Ahmed who was elected in 2007 to represent Glasgow.
He sadly passed away in 2009 and it would take another 2 years before any other politicians of colour entered the Parliament Chamber.
It took another decade beyond that for the first female politicians from minority ethnic backgrounds.
As both Humza Yousaf and Anas Sarwar have reflected over the past few days, their grandparents could hardly dream after arriving in the United Kingdom to make their homes that one day their grandchildren would rise to the highest positions in politics, with one leading the country.
For Humza in particular, a feat achieved with 10 years of elected life under his belt before his 40th birthday. He's uniquely both young and experienced.
I wouldn't wish to take an ounce of that phenomenal achievement away from him, but it is important and relevant to note that both Anas Sarwar and Humza Yousaf were privately educated at Glasgow's Hutcheson's Grammar.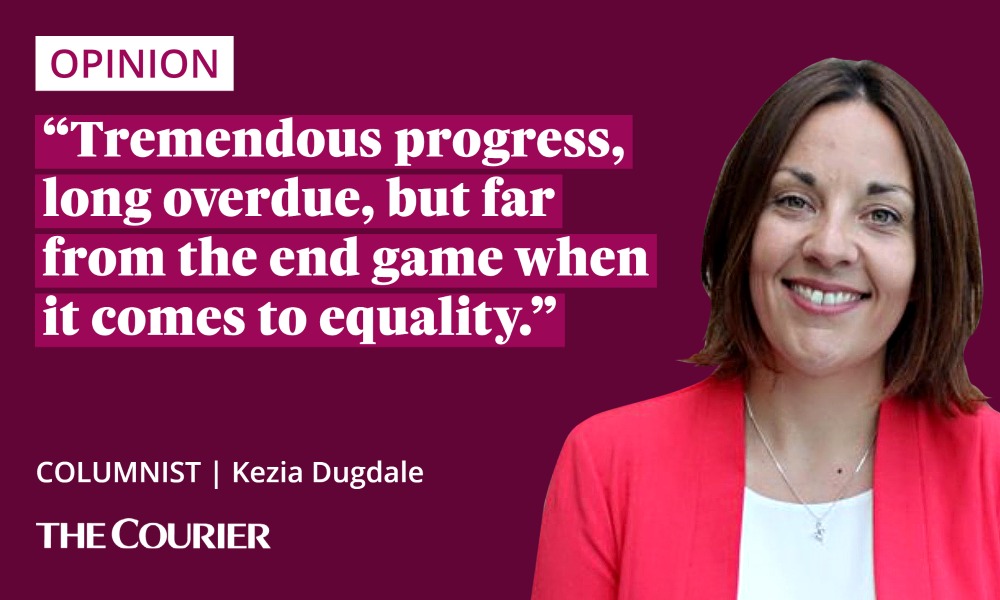 I've always believed education to be the great leveller of life.
I also completely understand why the parents of Humza and Anas, both of whom worked hard and strived for the very best for their children would choose to spend their hard earned cash on ensuring they had the best possible education and therefore chance in life.
Money well spent in that regard.
I can respect that choice and still be angry at the class system private education perpetuates and why we as taxpayers shouldn't have a penny of our money spent subsidising private education.
I am always mesmerised by the brass neck of the independent schools sector's defence, that if they were to lose their charitable status, they would no longer be able to provide scholarships and bursaries.
There was me thinking those were offers made from the goodness of their hearts, designed to make a contribution to the wider community they sit in.
In truth, when forced under the spotlight of tension they're little more than tax break incentives.
Scots now have a muslim leader at the helm of the Scottish Government and a Hindu at the helm of the UK Government. Both suave, educated and charismatic leaders.
Both a brilliant representation of the diverse, progressive country we could be. Both selected by vastly white electorates in the form of the SNP and Conservative party membership.
This in and of itself is where the real progress lies, because it shatters the imputed racism which stopped so many very talent prospective politicians of colour from being selected in the past.
In other words, it hopefully ends the idea that party members would claim not to have a single prejudiced bone in their own body but still concluded with their ballot papers that their own communities couldn't possible vote for someone with brown skin.
I hope that sentiment is dead and buried forever.
London, the UK's Capital with a population greater than Scotland, is also of course led by Sadiq Khan.
He grew up in a 3 bed council flat with his 7 brothers and sisters and went to state school.
His father was a bus driver and his mum a seamstress.
He had to learn to box to defend himself. An altogether different story to the others, but fairly common in a city as diversely rich as London.
These 4 men represent a critical mass that demonstrates that the colour of your skin is a barrier but one that can be overcome.
But it's far too complacent to suggest that those age old barriers have been pulled down, particularly when you factor in gender and class.
Tremendous progress, long overdue, but far from the end game when it comes to equality.
---
I'm not an ardent follower of celebrity stars and culture, but there are some moments when a leading light of showbiz passes away and I find myself stopped in my tracks and deeply upset.
I remember for example exactly where I was when the comedian Victoria Wood died.
She was such a big feature of nights in front of the TV with my family as a kid.
Someone who made the room roar with laughter with what I remember is largely innocent and very clever humour.
And so today, I found myself pausing for a brief moment to hear Paul O'Grady had suddenly passed away.
Known to the LGBT community as Lily Savage, a drag queen who'd been performing for four decades including during the worst years of the AIDS pandemic of the 1980s.
He rose to such popular acclaim and was a regular feature on BBC 2 at the weekends where I'd tune in as I was driving about.
He had the most amazing ability to make you feel like he was talking to you and no one else.
Such a clarity of wit, such a love for the simple things in life. Such a loss.