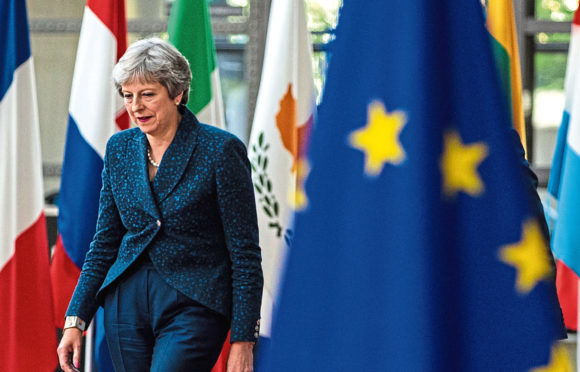 A car pulls up the drive of Chequers. Theresa hears the gravel crunch.
She looks out of the window and sees Michael Gove get out of the car. Then Sarah Vine, his wife, with a tape measure and colour charts in her hands. This summit to thrash out Brexit seemed like a good idea – once.
A knock at the door breaks May's focus. It's her husband who announces he is about to put the bins out, as he likes to do boy chores. She smiles faintly at him, wondering if Gove would count as garden matter in the recycling.
Philip Hammond appears in the doorway. If only she'd won that damn election last year and fired him.
"PM, I've been checking over the accounts and, notwithstanding previous considerations, we can offer Gavin Williamson an additional sum for defence."
"How much?"
"The collapse of Toys R Us means there is a surplus of Nerf guns and water pistols on the market…"
She turns back to the window. She notices a movement in the rhododendrons. It looked like a top hat popping up like a periscope, the unmistakable grin of Jacob Rees-Mogg glinting beneath. She must be going mad.
Later, the cabinet gather for dinner. The long table is covered with model tanks. David Davis is moving an inflatable Chieftain using a long pole while singing "Barnier has only got one ball."
"I think we should have supper in the kitchen," said Theresa, deciding it better not to confront the ex-SAS man during one of his moments. Her cabinet colleagues follow as she goes downstairs to the servants' quarters.
A man with a beard comes up to her, beaming a supercilious smile. She can't remember the correct way to address a butler, so she smiles back and orders him to set the table for 23.
"Yes ma'am," he replied.
"I hope we are not eating any foreign muck," said Liam Fox.
"Oh don't be such a child, Liam," said Jeremy Hunt.
"I'm not talking to you," replies Fox,
"He's not been the same ever since his special friend was fired," said Sajid Javid.
May remembers when she thought Sajid was a special friend, well, at least a friend, to her, but she now fears he might lunge at her with a fish knife – what a vulgar way to go.
"What, ho, bleeeer, what, ya, let's wiggle our woggles at the girls, just like the Bullingdon."
"How was Afghanistan?" said May
"Told Johnny foreigner that we'd be building no more runways in Kabul."
"I thought it was pronounced 'runaway'," said Hammond.
"Oh don't try your comprehensive school humour here, Phil," retorted Boris.
The bearded butler chap reappeared in the room wearing a Norwegian jumper. May thought this was taking supercilious too far, but she did admire his fashion sense.
"That's it, colleagues – we go for the Norwegian customs model, or we go to the country," said May.
"That is not what the people voted for," said Boris. "It's a betrayal."
He pronounced this with a Churchillian growl, which had the effect of making him choke.
Hammond interrupted. "There's no such thing as taking back control – we are all at the mercy of a complex global system which nobody controls, and democratic representatives can only muddle through – if we were honest we'd admit to the people that their best hope is to be as connected to the world as possible."
May added: "If we go to the country, we will be slaughtered. A revived UKIP will take seats off us, that loony Corbyn will win London outright, and – oh what's the name of it, the place with frightening short women – Scotland! – yes, Scotland will be lost."
Boris's face had gone puce. His body began to twitch.
"Jeremy, you're in charge of health, do something," said May.
"But Liam is the doctor," said Hunt.
Liam Fox leapt to his feet and began to massage Johnson's ear lobes.
"Is that a recognised treatment for choking?" asked Sajid.
"When we are out of Europe, we are out of all that old regulation," yelled Fox, as Boris's face went blue, "so we can do whatever treatments we like!"
Just like every other big moment, thought Theresa, this had descended into farce. She got up and walked out, bumping into the butler.
"I'm terribly sorry, but I've forgotten your name," she said.
"David, David Mundell," he beamed back at her.