There is a corner of my living-room that has been plagued with damp and mould for over a year.
The paint is peeling and cracked. I've got a dehumidifier aimed at it 24/7, but I've been on at my landlord for a more permanent fix.
But for now, I'm stuck just re-applying paint to it whenever it becomes too much of an eyesore, while I wait for him to send out a man to strip away all the rotting plaster.
As it turns out, Rishi Sunak and I have more in common than I thought.
The cabinet re-shuffle he undertook on Monday was akin to layering emulsion over a soggy wall.
Or, to use the more popular allegory, it's a bit like re-arranging the deck chairs on the Titanic.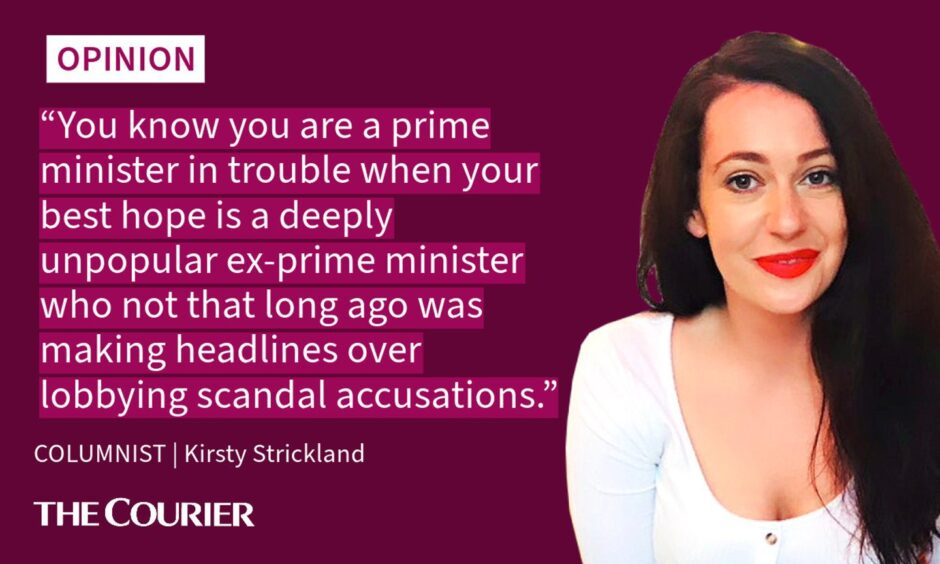 Leaving aside the wisdom of making big personnel changes less than a year before an expected general election, Monday's re-shuffle provided a valuable insight into the current thinking in No.10.
Total panic probably sums it up.
Over the recent chaos years of Johnson, Truss and Sunak, it seems ministerial roles have been subject to an office tombola system.
Rishi Sunak has no credibility for long-term decisions
Everybody gets a go at one of the big jobs and they stay in post for however long it takes for their ineptitude to become too noticeable.
Announcing the cabinet re-shuffle on Twitter, the Conservative Party offered a truly unhinged take on the disarray engulfing No.10.
"Here we go'" – the hopeful junior intern wrote – "today, Rishi Sunak strengthens his team in Government to deliver long-term decisions for a brighter future."
Well, that's one way of putting it.
Fun fact: the dainty mayfly has the shortest lifespan of any known animal, living for only one or two days on average.
And yet that beastie would still have more credibility talking about taking "long-term decisions for a brighter future" than this Tory Prime Minister does.
Back to the reshuffle, where Suella Braverman was sacked as Home Secretary, after a week where she relentlessly baited the Prime Minister to do just that.
That news came as no surprise, but what happened next certainly did.
Sky News journalists were left temporarily speechless as their cameras caught the moment former prime minister David Cameron was seen sauntering down Downing Street.
Speculation that Rishi Sunak was planning to bring Cameron back into the fold was soon confirmed, as the announcement was made that David Cameron has become our new Foreign Secretary.
Rishi Sunak clearly hopes that bringing the experience of a former prime minister into the cabinet will project the image that his is a government of grown-ups.
Another, less charitable interpretation might be that Rishi Sunak doesn't trust any of his current crop of MPs to undertake the role. He is so unimpressed by the talent pool available to him that he is having to fish in other waters.
You know you are a prime minister in trouble when your best hope is a deeply unpopular ex-prime minister who not that long ago was making headlines over lobbying scandal accusations.
Re-shuffles are often used by prime ministers to signal a change of direction. They give stagnant governments a chance to reset the agenda and build momentum.
Rishi Sunak's re-shuffle will achieve none of these things.
We are long past the point where bringing in new faces could mark the beginning of a turnaround for this ailing government.
For all the hopeful spin and deluded self-congratulations put out by Rishi Sunak and his team, his is a government that has run out of time.
His new slogan about taking long-term decisions might look good on paper, but this option simply isn't in his gift any more.
---
Parenting can be a hard slog at times.
It's a job that allows for no days off and no sick leave.
Rather than being paid for your hard labour, you are the one doing the paying. Over the course of a child's life you will fork out many tens of thousands of pounds on clothes, food and plastic toys that will leave your home in a state of permanent disarray.
As they get older, their social events and activities will leave you time – as well as cash – poor.
But there are some advantages to child-rearing, too.
The love you feel for them holds the power of a thousand suns. They are designed in such a way that makes it inevitable that they will encompass the best of you: making them smarter, wiser, funnier and better than all the generations that came before.
But more important than all of that is that one day, without fanfare or ceremony, you will suddenly realise that they are old enough and responsible enough to make a cup of tea on their own.
We reached this glorious stage with my daughter at the weekend. She has thus far made me four cups of tea and there are promises of many more to come.
It has already made all the sleepless nights worth it.