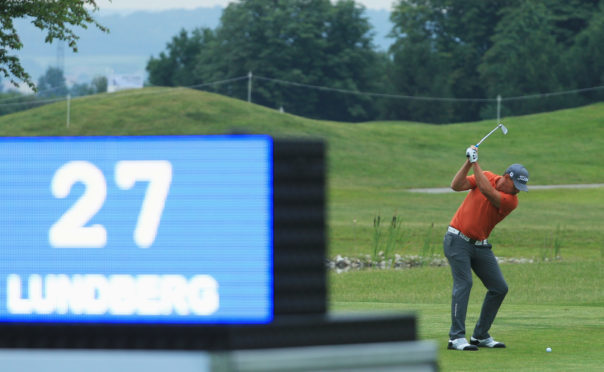 Nobody could accuse the European Tour of being afraid of change.
Several different concepts have been introduced over the last couple of years to modernise the game of golf.
We've seen the World Super 6, GolfSixes and the Belgian Knockout.
The reaction has been mixed but I think one event that won't bring any complaints is this week's Shot Clock Masters in Austria.
People talk about the distance the ball travels as being the biggest issue golf has. Others will point to the image of the game as a middle class, male-dominated one.
But, for me, slow play has to be the number one problem – both at the top of the sport and at grassroots level.
Far too often golf is played at a snail's pace.
There's nothing more frustrating when you're playing than having to wait on every tee.
Over four hours for a round eats into a big chunk of your day, which a lot of people find hard to justify.
And as for watching it, six hour rounds aren't going to hold the attention of many people.
I'm convinced that it doesn't do the player any favours to take too long over a shot.
You should be thinking about the club you're going to take as you walk up to it and if your playing partner is hitting before you, you should be ready to go straight afterwards.
Changing your mind and delaying over the ball doesn't help you anyway. As someone who plays curling for a living and plays a lot of golf, it's the same in both sports – commit to your shot.
I can't find any faults in the Shot Clock format.
The time the pros are given to play each shot seems about right and giving them two 'time exemptions' per round seems fair as well. It sounds to me as if the players have been consulted and I haven't heard anybody speak out against it.
I actually think that in time the shot clock won't be an exception on tour, it will be the norm.
* Next week it's the US Open and I gather that concerns are already being expressed about the set-up of the course at Shinnecock Hills.
Last time it was played there the competitors described it as bordering on unplayable.
Let's face it, the US Open is virtually always the highest winning score of the four big ones.
I can totally understand why some people go mad at the difficulty of this major, which walks the tightrope of being unfair, but I'm also one of the TV viewers who loves to see the pros really struggle!
We get too used to seeing scores like 20 under winning tournaments and, for one week of the year, watching a battle to make par is no bad thing.
* The Andy Murray comeback seems to be getting closer.
I've got Centre Court tickets for the first Tuesday at Wimbledon and I'm hoping to see him in action.
John McEnroe believes one of Murray's biggest obstacles will be dealing with losing to guys who would have been put away comfortably before his lay-off.
As someone who will have to make a comeback from hip surgery myself in a few months, I know that there will be mental challenges as well as physical ones.
The only answer is staying patient and keeping the bigger picture in mind when things aren't going to plan.