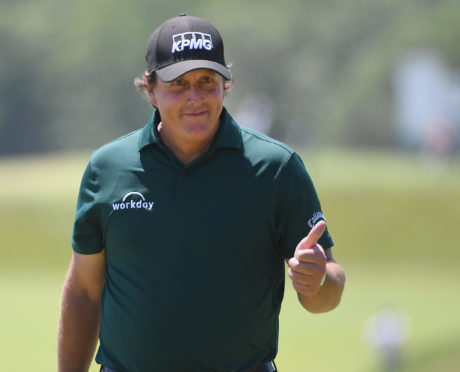 A lot of people will think Phil Mickelson's apology is too little too late and a lot of people will think he doesn't mean it anyway.
But we can all probably agree that his stopping a moving ball was one of the most bizarre things seen in professional golf for a long time.
I know that some folk are cynical about the public image Mickelson has and will claim that the mask has slipped.
All I can say is that after following him round the course at the Scottish open at Castle Stuart when I was working for Radio Scotland, the galleries absolutely love him.
If it's all an act then it's a very good one because he does spend a lot of time signing autographs.
My own take on it is he had a meltdown, which can happen to all of us.
Then he's spent the rest of his round thinking about the best way to explain it and has come up with one that made things even worse.
Saying you reacted in the heat of the moment is much more forgivable than being aware of the rules and bending them to your advantage.
The spirit of the game matters a lot in golf, and Mickelson knows that as well as anybody.
The American fans didn't seem to mind what he had done given the reception he got on the final day of the US Open. But New York crowds aren't your regular golf ones.
The real test of public opinion will be at Carnoustie.
Open crowds are rightly thought of as the most knowledgeable and if the reception for Mickelson is lower key than usual – as I think it might be – then you'll know that some permanent damage to his reputation has been done.
* It would have been great to see a European win the US Open in a Ryder Cup year and Tommy Fleetwood certainly deserved to with his 63 on Sunday.
But I couldn't have been happier with Brooks Koepka making it back to back titles.
It's a couple of years since we played together in a pro-am at Wentworth but he hasn't done too badly since, has he!
You have an image of what an American golf pro is going to be like – a bit brash, cocky, that sort of thing. But Brooks was really grounded and determined, and you could tell that the relationship he had with his Irish caddy would stand him in good stead.
I don't think that will be the last major he wins.
* The decision not to give Dan Evans a wildcard for Wimbledon has split opinion.
On balance, I think it was the right call.
He has played really well since his comeback and looks to have learned his lesson.
But there's no getting away from the fact that he was banned for drugs misuse.
Wildcards are a privilege and when you're fighting to restore your reputation like Evans is, then I don't think it's a good look for the sport for him to get one.
I actually think that in the long run, having to climb his way back up the hard way will do his career and image more good.