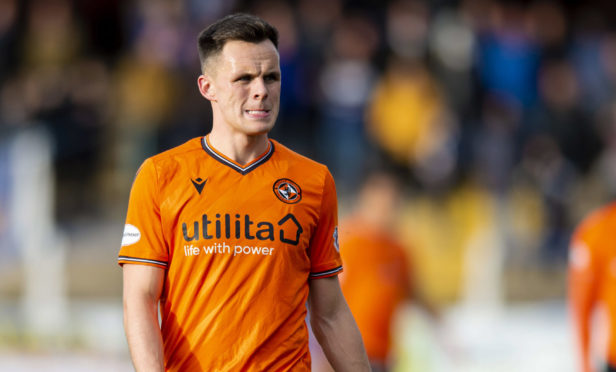 The news that Dundee United talisman Lawrence Shankland is fit for the perilous trip to Ibrox is cause for cheer for Tangerines fans.
It may be one of the few positives by the time the full-time whistle blows.
This game will be a seriously tough test of United's fortitude and, even with their top striker available, I fear it won't end well for Micky Mellon's team.
Rangers' start to the season has been impressive.
Yet to concede a goal and scoring 11 in their opening six matches points to the steely resolve of Steven Gerrard's men.
They've set the tone quickly in their mission this season, which is as much about stopping Celtic's march to a record 10 in a row as winning the title themselves.
The record books prove that those who wear the jerseys at both Celtic Park and Ibrox are historically more mentally robust than their domestic competitors.
Some will say bias towards both outfits from officialdom has boosted those statistics.
But the plain fact is that they demand their players handle pressure in ways the other Scottish clubs consistently fail to master.
This game arrives at an unfortunate time for United after a heavy 4-0 defeat at Kilmarnock.
They're facing a side whose players are superior to the ones who dealt out that Rugby Park thumping.
A point from the game would be a bonus while a win would feel like the lottery numbers coming up.
The record books show that Dundee United have enjoyed victory in just 47 of 229 matches played against a team from Ibrox.
A gloomy prognosis isn't one which I enjoy making.
However, three defeats in their opening six games allow the bookies to reflect sober reality in offering odds of 20/1 for an away win.
If Shankland plays he'll be the Tangerines' greatest hope but he'll require plenty of good quality service from his team-mates.
Against the meanest defensive unit in the league, opportunities will be tighter than Christmas bonuses at Ebenezer Scrooge Ltd before his ghostly visits began.
I suspect a very tough and unrewarding day lies in store for United.
---
St Johnstone travel to meet Motherwell who've inexplicably lost four of their six games so far and are propping up the table after having finished third last season.
Callum Davidson's side found their feet before the international break with a dominant win over St Mirren and those well-deserved three points eased the pain of harsh losses to Hibs and Aberdeen.
I think Saints still look better equipped than United for the long Premiership campaign.
They've banked plenty of mental resolution from being long-term members of the top league and that kind of experience seeps into the marrow of a club, standing it in good stead when the skies darken.
Saints will prosper further in the coming weeks.
They have an energy and liveliness about them along with a stoic ability to cope with misfortune and bounce back strongly.
On their day they've the ability to run everyone except the Glasgow duo close.
LONG READ: The day Finn Dossing was crowned Dundee United's very own Prince of Denmark at Dens Park