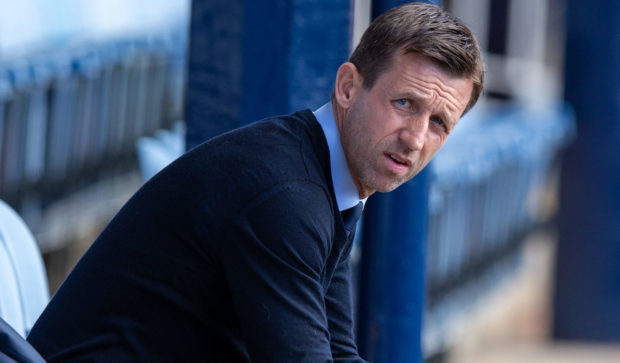 Early season book sales are hugely important to clubs and indicate how fans feel about future prospects.
The income lets clubs plan in advance, making offers to new and existing players on the strength of estimates of the money available.
Any slowing down of sales shows that supporters are uncertain of the direction the club is heading.
Unhappy fans often delay the purchase of season books. Some decide that they'll take their chances and pay at the gate, picking and choosing their games rather than lashing out hundreds of pounds, only to be disappointed next season.
Dundee FC have been very pro-active with Neil McCann phoning fans, and players making short videos to thank them. That's good marketing, but ultimately supporters want signs of hope. Avoiding any lingering threat of relegation would give them that and hopefully shift those tickets at Dens rapidly.
For Dundee United, winning promotion, now a very tall order, is what's really required to get their early season books flying off the counter.
No pleas in mitigation will satisfy the court of public opinion if Dundee go down, or if United fail to come up.
Both clubs have had sufficient resources to do better than they have this season.
Dundee were good enough to push for a top six place. United had half a million pounds more in their playing budget than runaway winners St Mirren.
In football's harsh environment both clubs, having failed to meet achievable targets, need to give fans compelling reasons to part with hard earned cash now, rather than wait until the last minute.
Their failures may potentially cost them key signings, and the vicious circle gets repeated.
* If Rangers do appoint Steven Gerrard as manager, it'll either be a master stroke or a major disaster.
The former Liverpool and England midfielder's playing credentials are imperious, but a novice managing a club with the sense of entitlement, and expectation, which exists at Ibrox, is only for the very brave or the foolhardy.
For a first job in management it would be a huge challenge. Bringing Gary McAllister who has managerial experience at Coventry, Leeds, and Aston Villa, as an assistant could be crucial.
He will better understand the not so subtle undertones and nuances of Glasgow which may elude Gerrard, who despite coming from a city with its own historical tensions will be a babe in the woods on the banks of the Clyde.
* The English FA are right to sell Wembley.
Their job is to secure the future of grass roots football, and bringing in hundreds of millions of pounds will allow them to build new pitches all over England, as well as taking the international team out to the fans instead of the current London-based model.
The SFA should pay close attention. Talk of them buying Hampden and draining already scarce resources should be jettisoned, and the money put into the next generation of facilities and players.
Our game too should be taken to the available grounds around the country, including Murrayfield.
We should not be a prisoner to history. We need a new bolder vision.