Matt Phillips gave Gordon Strachan a reminder of his qualities with a goal and a very good all-round performance for West Brom against Burnley in the Monday Night Football this week.
He's certainly keeping good company in the players whose face doesn't fit with Gordon Strachan club.
The three who stand out for me are Ross McCormack, Jordan Rhodes and Charlie Adam.
I really can't figure out why they're out of the picture.
The first two are natural goalscorers. There was a while when I thought Leigh Griffiths was going to be on the outside looking in as well but, thankfully, Sparky has had his chance and hopefully Strachan will keep faith with him.
Charlie is a player I would have in my squad every time.
https://www.youtube.com/watch?v=nMLi7nfxJsc
He might not be the most athletic midfielder we've got but nobody can pick a player out with a pass better than him.
You need an artist in your midfield as well as labourers and his ability to open up defences is priceless.
There's a long break until Strachan picks his next squad but I hope that between now and March Charlie keeps playing well for Stoke and the national coach has a change of heart and calls him up.
* It goes without saying that Saturday's game against Inverness is a massive one for Dundee.
It would have been brilliant if they could have got something from Ibrox and they came really close to doing that.
But the main thing was not going down to a heavy defeat.
After back-to-back wins, the near miss against Rangers hasn't stopped their momentum even though Dundee are back at the bottom of the table.
It's important for them to keep as many teams involved in the battle to avoid the relegation and play-off places as possible.
Inverness are one of those sides at the moment.
I actually think you could say there are at least six clubs who will be involved.
That will probably get whittled down to three or four after the New Year.
A win at Dens would be a big step towards Dundee making sure they're not one of them.
* I switched off the Borussia Dortmund v Legia Warsaw game when the seventh goal went in for the German side.
It ended up eight and former Dundee United keeper Rado Cierzniak had one of those nights all goalkeepers can sympathise with.
I think the most I conceded as a professional was six, thankfully, and when you get to that stage you just want the game to finish.
I met Rado a couple of times when he was over here and he seemed like a good lad. Games like that go with the territory I'm afraid and it's a credit to him that he is playing Champions League football in the first place.
But, as I always say, there are 10 other players who should be sharing the blame!
* I got a great view from the stand of the stunning volley Sean Dickson scored to equalise for Stirling Albion against Arbroath on Saturday.
We were obviously gutted to lose two goals in injury time but you can't take away from the lad for the quality of the strike.
Sean Dickson volley (jump to 14:50)
He'll never hit a ball like it again in his career and you could have put me on Ricky Gomes's shoulders and we wouldn't have been able to keep it out!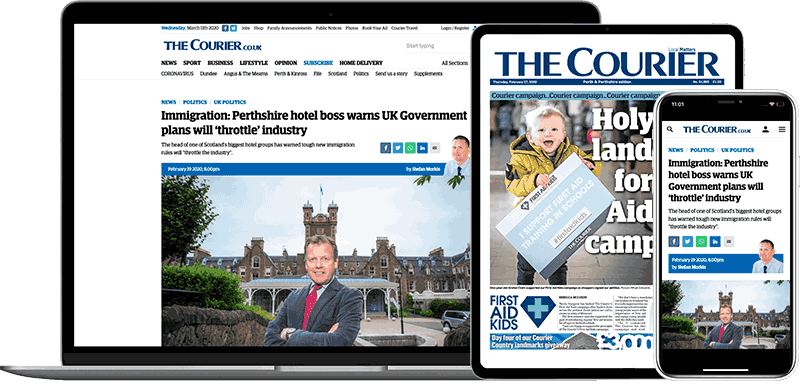 Help support quality local journalism … become a digital subscriber to The Courier
For as little as £5.99 a month you can access all of our content, including Premium articles.
Subscribe