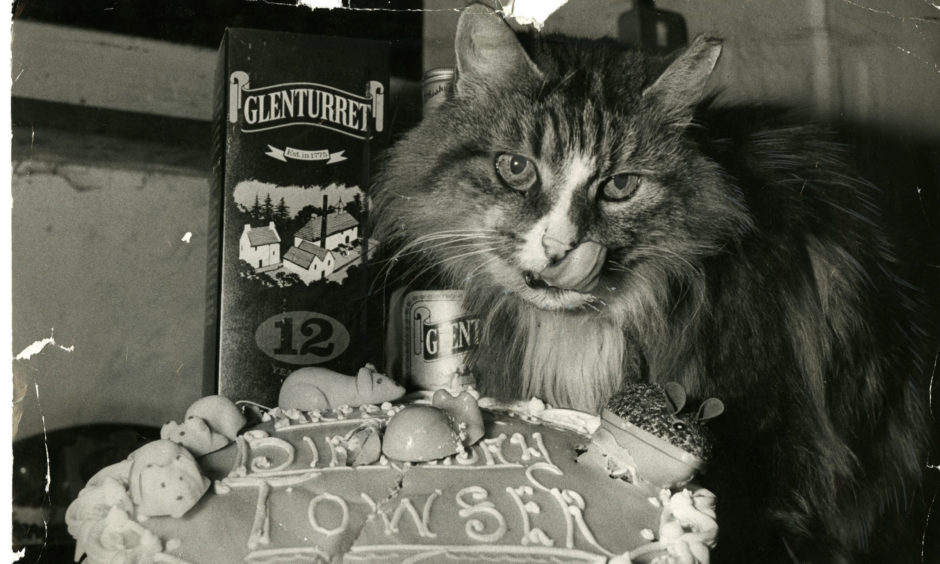 Cats have kept mice out of distilleries for generations. Gayle Ritchie looks back at some of Scotland's most prolific mousers.
It's a pretty decent job description for a cat – catch rodents in exchange for food, the odd saucer of milk, a cosy place to sleep and cuddles.
Distilleries have been employing cats as mouse-hunters for hundreds of years, and some have hit the headlines for their record-breaking mousing skills.
Barley stored in distilleries is a big attraction for mice (and, whisper it, rats) and if they're not controlled, they can rapidly become overrun with the blighters.
Here we look at some of these moggies including Towser, who spent her entire life employed as the official mouse-hunter at Glenturret Distillery near Crieff in Perthshire.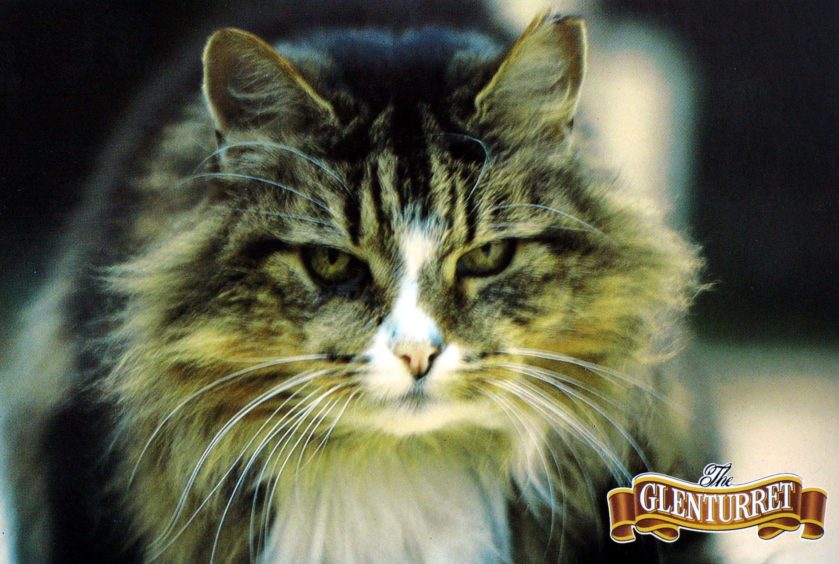 Towser the Mouser
The world's best-loved mouser was Towser – a long-haired tortoiseshell moggie born on April 21 1963.
She lived until the ripe old age of 24 years and spent her whole life employed as the official mouse-hunter at Glenturret Distillery near Crieff.
In that time, Towser caught a staggering 28,899 mice, storming her way into the Guiness Book of Records as the Mousing Champion of the World.
By observing her for a few days, and applying a statistical technique, the Guinness adjudicators calculated that incredible figure.
The story goes that Towser's amazing mousing prowess was the result of a "tiny wee dram" being added to her milk each night.
However, Glenturret bosses have historically failed to confirm or deny this, instead stating: "We certainly wouldn't advise it to anyone whose cat is under-performing in terms of rodent control!"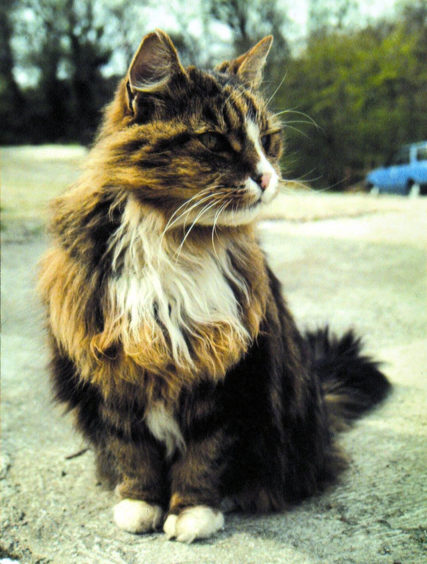 When Towser died in 1987, a bronze statue was made in her memory and to this day, it stands proud outside the Famous Grouse Experience visitor centre.
In 2017, to mark the 30th anniversary of Towser's passing, Glenturret distillery named its latest limited edition "Bottle Your Own" cask after the famous feline.
The 13-year-old cask was a first-fill American oak Sherry puncheon, filled on November 6 2003 and chosen by master whisky maker Gordon Motion.
With an ABV (alcohol by proof) of 60.2%, the Towser Cask whisky cost £85 per bottle, with £5 from each purchase donated to the Snow Leopard Trust, which strives to protect endangered cats through community-based conservation projects.
Towser followed in the footsteps of previous "Bottle Your Own" celebrities, including actors Gerard Butler and Ewan McGregor, tennis champion Andy Murray and the Earl and Countess of Strathearn.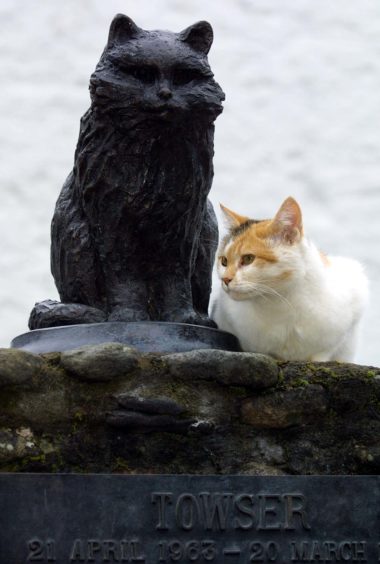 Towser's paw prints and a logo also decorated bottles of one of the distillery's products which has been discontinued – Fairlie's Light Highland Liqueur.
A couple of artefacts commemorating Towser were offered online on eBay in 2013, including a pottery figurine boasting details of her mousing achievement and was made in a limited edition of 1500, and a circular lapel pin badge, thought to date from the 1980s.
Following in Towser's paw-steps
Several cats were chosen to follow in Towser's paw-steps, but none of them quite matched her mousing skills.
The first cat to be appointed was Amber. However, it seemed that Amber didn't bother reading the job description; she never caught a single mouse and lived a life of leisure, free of rodents, until her death in 2004.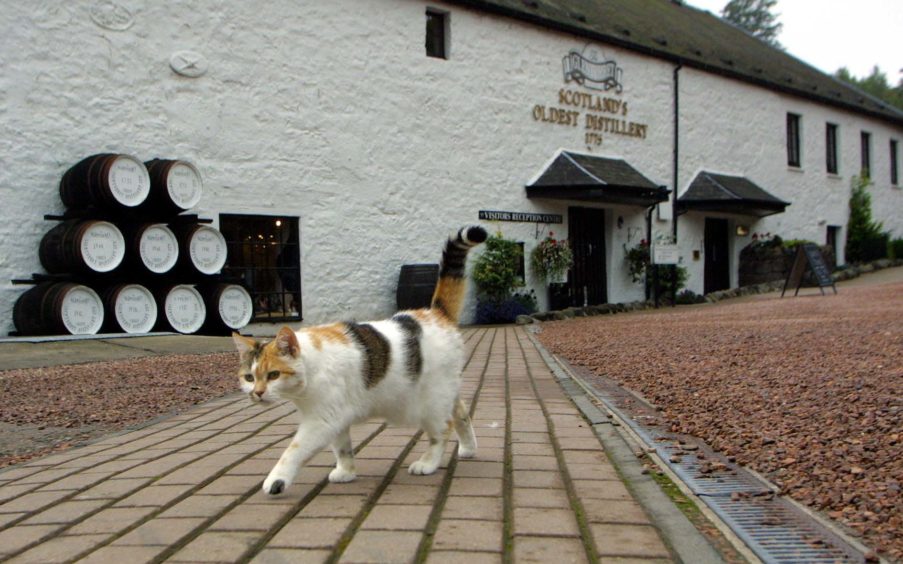 Cats Protection, the UK's biggest cat charity, was asked to help with the search for a new distillery cat in spring 2005.
The requirement was for a cat that would be outgoing enough to welcome visitors from all over the world (around 120,000 annually) and enjoy being the centre of attention.
Mousing ability would be considered an advantage; it was more of an ambassadorial role.
A cat psychologist was even consulted, as it was felt it wouldn't be easy to find the right animal for the job.
Eventually, nine finalists were chosen, each described as a "real character" who had fallen on hard times.
Staff found it too difficult to choose just one cat as they were all worthy contenders.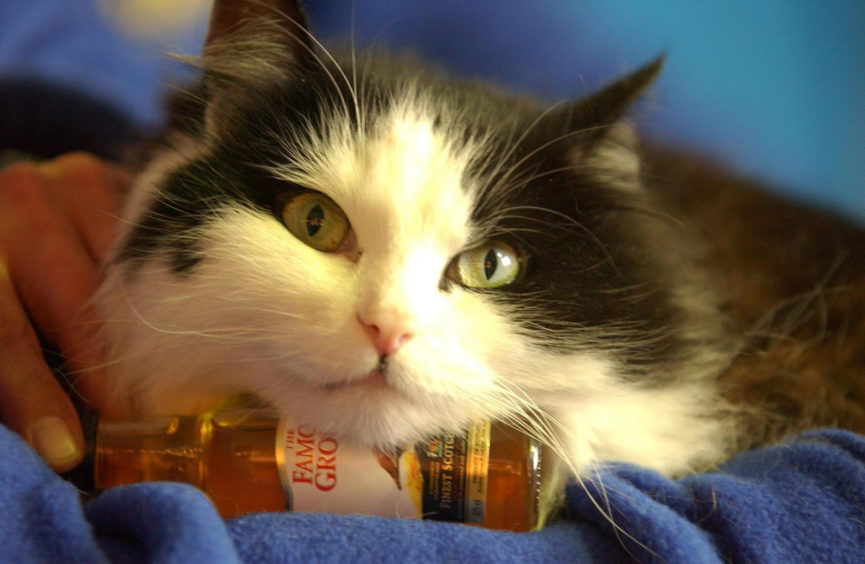 In the end, they chose two – Dylan, a ginger tom from Forfar, and Brooke, a black and white female from Cardyke near Glasgow. The duo even had their own cat flap.
After Dylan and Brooke died, a ginger kitten was donated to the distillery in 2012.
This was Barley, whose name was chosen by a public vote. Sadly, Barley vanished in the winter of 2013, never to be seen again.
Barley's successor, Peat, had an even more tragic end.
Joining the team in June 2014, he quickly charmed everyone he met and made himself at home in the new Tasting Bar.
He proved to be inquisitive, fearless and a very sociable cat and soon he had several hundred Twitter followers.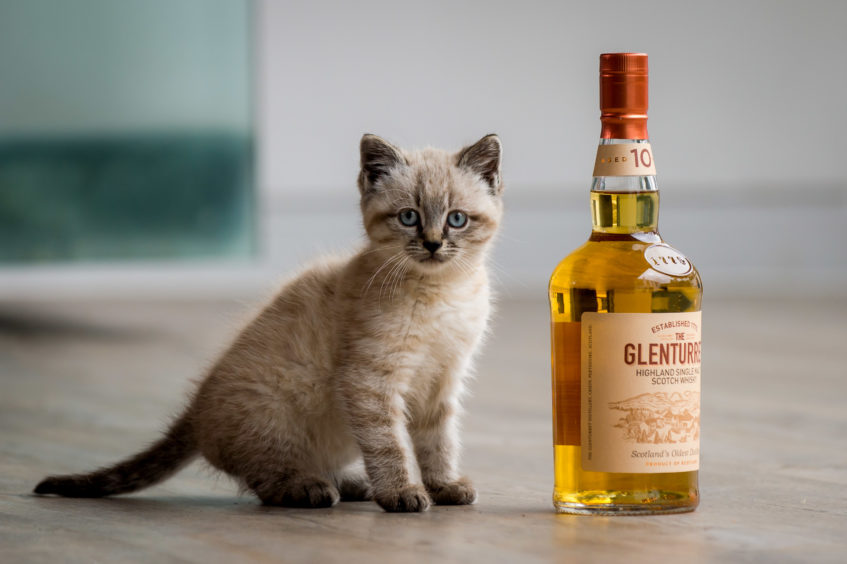 By September it was felt Peat was ready to be allowed out into the grounds — but it proved a fateful decision.
After getting himself stuck up a tree, from which he was rescued, he was found later by a member of distillery staff lying badly injured by the roadside, having been struck by a car.
He was taken to a vet, but nothing could be done to save him and he died in the arms of the heartbroken distillery manager.
The previous month, in August, Peat had been "interviewed" by America's National Public Radio as part of a feature on distillery cats.
Unaware of his demise the day before, the NPR broadcast went out on September 9 as planned.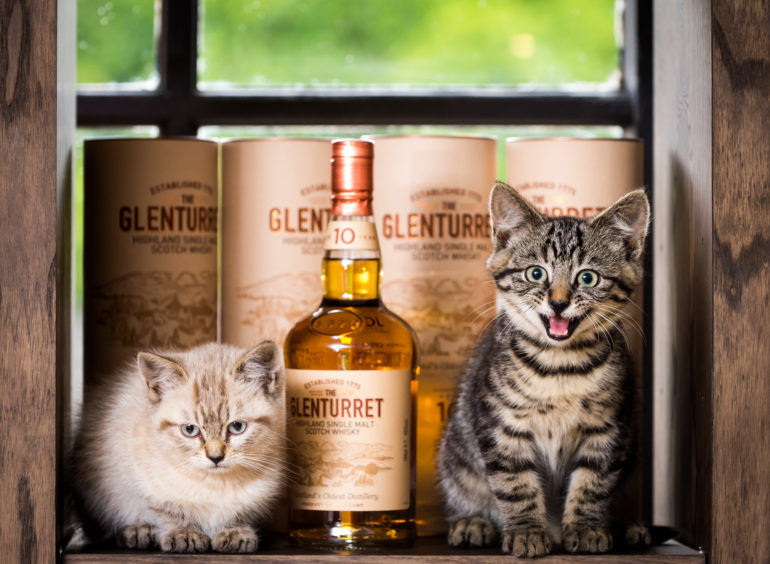 By July 2015, two new kittens, Glen and Turret, were taken on.
Sadly the distillery's run of bad luck with cats continued when after just a few weeks Glen became ill and had to be put to sleep.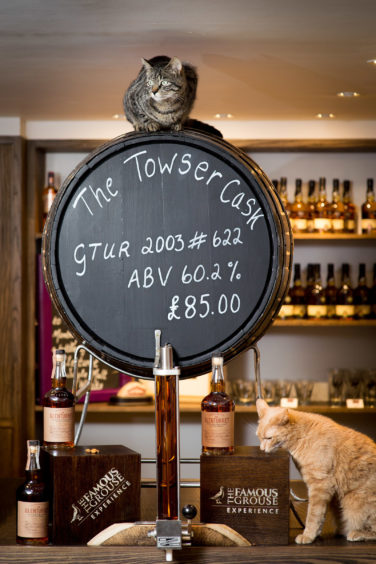 An extensive search began for a new friend for Turret and so Glen II joined the team.
In February 2017 , Turret, a particularly curious fellow, made his way to Crieff Hydro, where he was pampered before being sent back home.
Elvis
Elvis is another famous cat, whose home is the Jura distillery. He has his own Facebook page – Elvis Juracat – and has hundreds of followers.
Born in 2006, he was fitted with a pet-cam on his collar, offering visitors a cat's eye view of the island.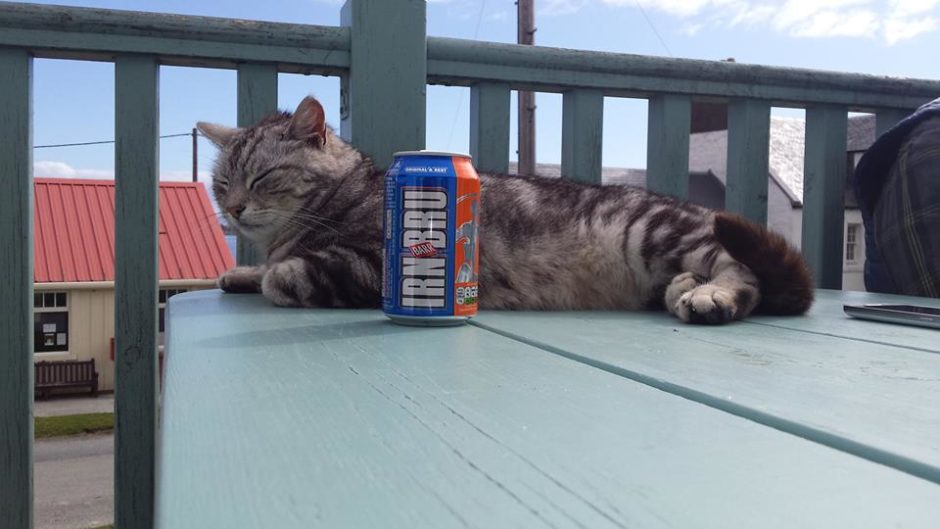 Lindores Abbey's cats
Lindores Abbey Distillery in Newburgh, Fife, opened in 2017. The family who run it had just lost their 18-year-old mouser Toffee earlier that year.
They took on two new kittens – Friar John Claw (FJC) and Vesper – but they had big boots to fill.
"If my maths is right, they've caught at least 2,000 mice between them!" says the distillery's communications manager Poppy McKenzie-Smith.
"The other thing they catch all too often is birds which is such a shame but sadly so hard to stop them from doing. They also bring in lots of shrews and even a bat the other day!"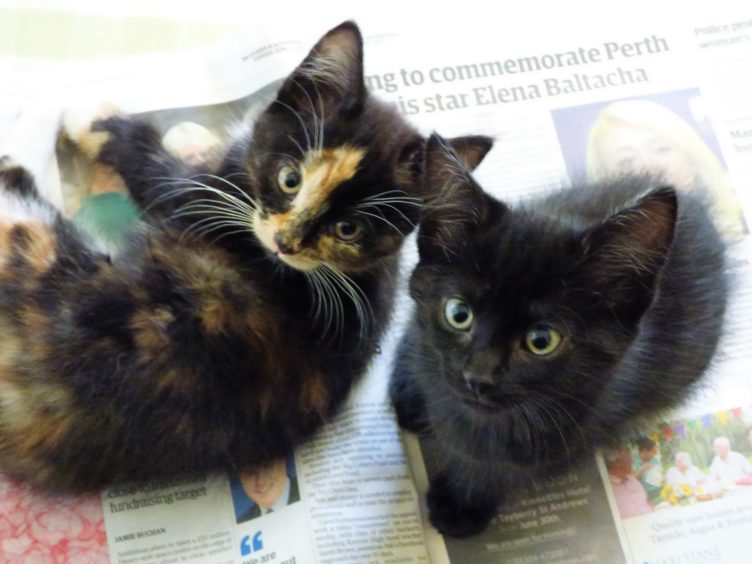 Poppy describes the cats, who are brother and sister, as a "mish-mash" when it comes to breeding.
"FJC is all black with big green eyes and he is very big but quite skinny. Vesper on the other hand is calico, very small and fluffy and with beautiful amber eyes. We are also particularly fond of the coppery L shape on her face – it means she is constantly repping for the distillery!"
The distillery ran a naming competition when it first got the kittens and more than 500 entries flooded in from across the world.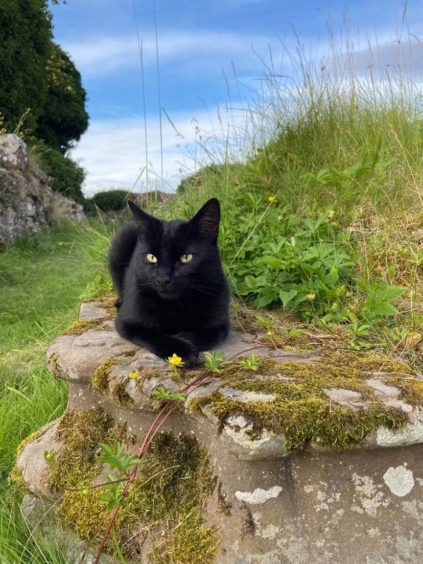 Vesper is named after the vesper hymns they would have sung in the abbey that sits opposite the distillery, and FJC is named after Friar John Cor who was a monk at the abbey credited with the first recorded distillation of whisky.
We are particularly fond of the coppery L shape on her face – it means she is constantly repping for the distillery!"
Most of the day Vesper goes off hunting, but visitors to the distillery sometimes spot her climbing over a very tall arch in the abbey ruins. She also likes to sleep in the horse stables next to the distillery.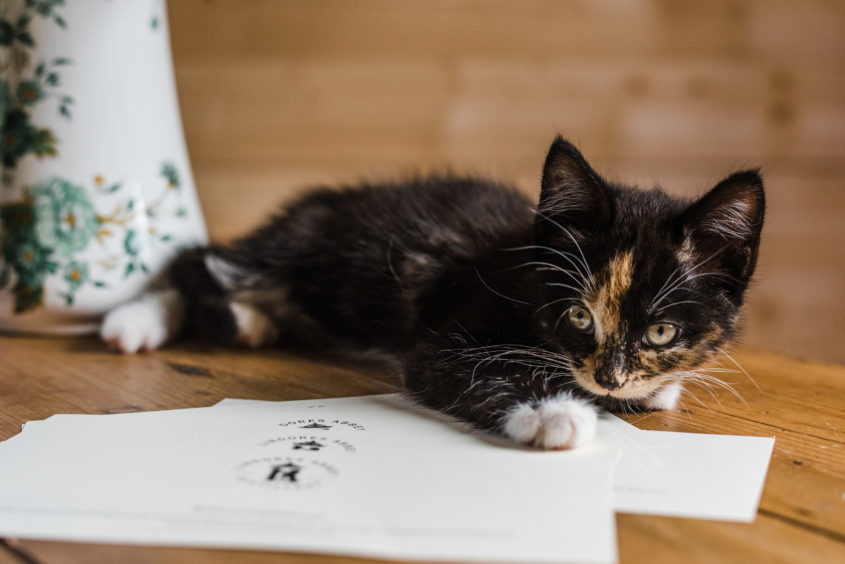 FJC is obsessed with people and prefers to hang out in the distillery in the hope that guests will give him a chin scratch.
Other than that, he's most often found stretched out on someone's bed, or going for a walk with the distillery's Scottie dog, Gus.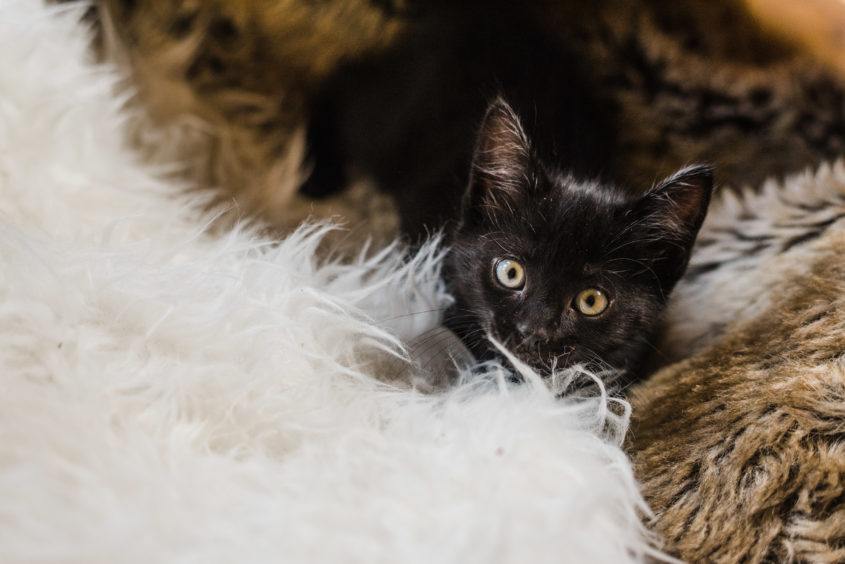 The three-legged beast of Ardmore
Tommy, the rodent-killing machine of Ardmore Distillery in Kennethmont in Aberdeenshire was a cat with the biggest head the still's workers had ever seen.
Semi-feral and fiercely independent, Tommy had two pleasures in life – basking in the heat of the Ardmore stillhouse of the late 1980s and early 1990s (the distillery was coal-fired until 2000), and decimating the local mouse population.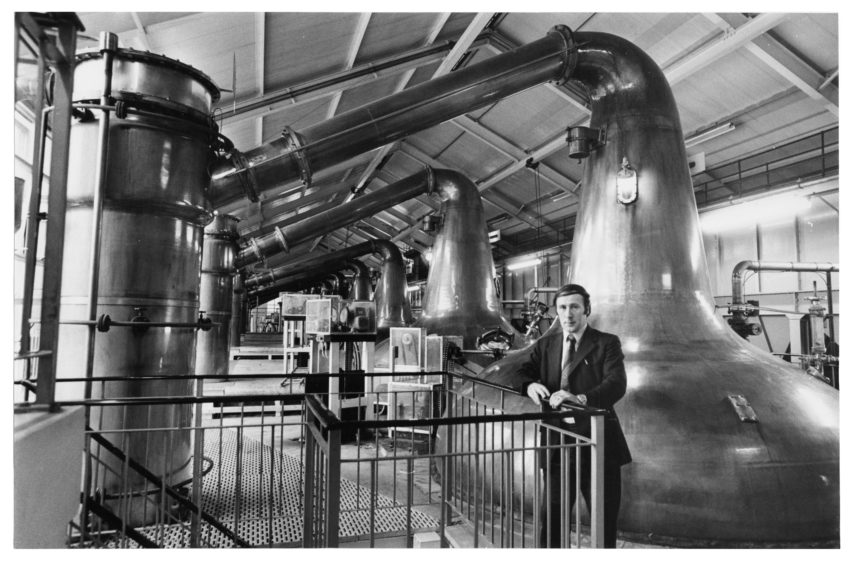 Nobody could get near Tommy until he decided to test the "nine lives" theory by stepping out in front of a train.
The result was a bloody stump where one of his legs had been.
Remembered by Ardmore veteran Gordon Grant as "a beast of a cat with the biggest head I have ever seen", Tommy ended his life quietly, dying of old age.
---
The globetrotter of Glen Keith and Strathisla
A black and white cat was found in a container of ex-Bourbon casks which had just arrived at Keith Bond One in Moray from Kentucky one day in 1993.
Bedraggled, dirty and dishevelled, the little cat staggered and blinked into the light.
She had survived the four-week-long transatlantic journey, by train, sea and lorry, by licking condensation from inside the casks.
This explained why Dizzy, as she was instantly named, was so unsteady on her feet.
She wasn't called Dizzy for long. After being quarantined, the cat was taken to live at Glen Keith distillery, then the home of Passport whisky – and, given her epic journey, Passport seemed an appropriate name.
Passport stayed at Glen Keith until the distillery closed in 1999, then renewed her wanderlust with a move to Strathisla distillery.
When Strathisla closed for an extended break during Christmas, employee Kay Grant took Passport home with her.
She never returned to the distillery, but lived to a ripe old age at the Grant family home.
Distilleries: a magnet for mice
It's all about the barley, and distilleries have it in abundance. It's hugely tempting for mice.
Another thing that attracts the rodents is floor maltings.
The majority of Scotch whisky distilleries have done away with this old tradition – of spreading unmalted grain on the floor and then turning it by hand until it's ready for the kiln – while a few such as The Balvenie and Highland Park have retained it.
Those who do it believe the method improves the flavour and character of the whisky.
An ambassadorial role
With floor maltings becoming increasingly rare and better vermin control, the contemporary distillery cat has more of an ambassadorial role.
A cat, which is inherently photogenic, is the perfect marketing tool; an iconic mascot.
Imagine a snoozing pussycat on a bourbon barrel or curled up in the rafters – it presents an evocative image.
Visitors then snap the cat on camera phone and post it on social media. Bingo – it's free advertising.