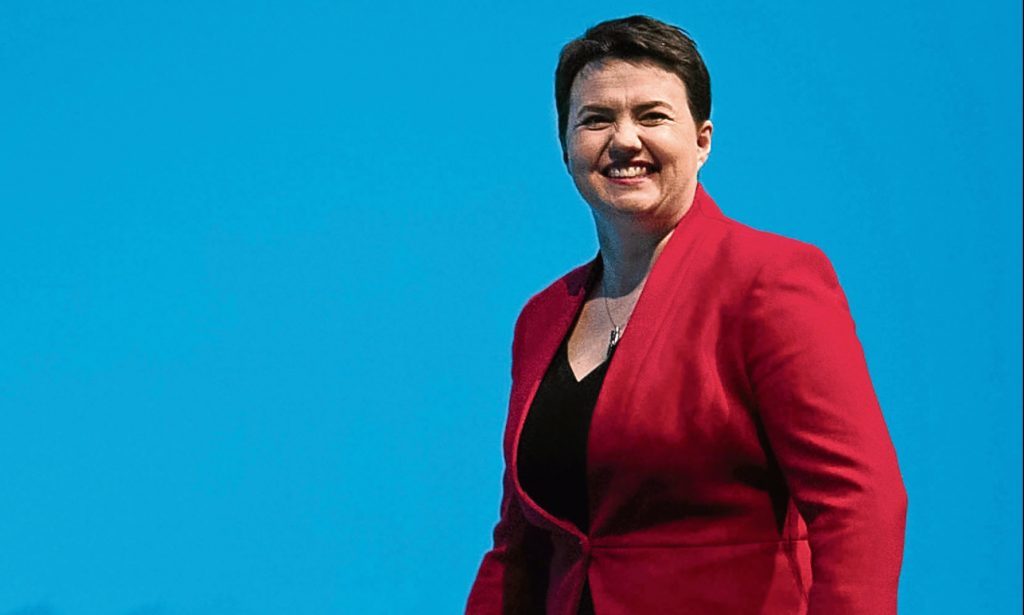 Ruth Davidson has given birth to a baby boy.
The Scottish Conservative leader tweeted on Friday afternoon that she and her partner Jen Wilson named the child Finn Paul Davidson. He weighed 10lb 1.5oz.
Welcome to the world, little one.

Finn Paul Davidson, born today, 10lb 1.5oz.

Know that you are loved. X pic.twitter.com/hjv5XlM7vL

— Ruth Davidson (@RuthDavidsonMSP) October 26, 2018
Ms Davidson is the first British political party leader both to give birth while in office and to take maternity leave.
She said: "Jen and I are delighted at baby Finn's safe arrival.
"A huge thank you to the medical team at the ERI and the midwives at Leith Community Treatment Centre for looking after all three of us so well throughout the pregnancy and birth.
"I can't wait to get this little one home to enjoy some family time together."
Ms Wilson said: "It was wonderful to welcome baby Finn into the world this morning. He is beautiful and already very loved.
"Ruth did brilliantly and Finn clearly has his mother's lungs on him!"
Jackson Carlaw, her deputy, filled in for her at First Minister's Questions on Thursday and will continue to do so until Ms Davidson returns to her post in the spring.
Mr Carlaw said: "This is wonderful news.
"On behalf of the whole party, I'd like to offer my congratulations to Ruth and Jen on becoming proud parents to baby Finn.
"Everyone in the Scottish Conservatives will be delighted for them both and, of course, desperate to meet the new arrival.
"In the meantime, I hope Ruth, Jen and Finn get some private family time together at this most special time. We wish them all the best."
Politicians from all parties congratulated the Tory leader.
https://twitter.com/NicolaSturgeon/status/1055826964488052736
What a gorgeous family pic! Congratulations all of you – welcome wee one ❤️

— Maree Todd MSP (@MareeToddMSP) October 26, 2018
Congratulations! Finn will change your world. Enjoy every moment because they grow up fast.

— Catherine Stihler OBE (@C_Stihler) October 26, 2018
So glad we chose child care for next week's Conservative debating time.

— Liz Smith (@MspLiz) October 26, 2018
Scottish Secretary David Mundell said: "Baby Finn's safe arrival is absolutely joyous news. I am so very pleased for Ruth and Jen. They will make fantastic parents and I wish them both the very best as they embark on this exciting chapter of their lives as a family."
Ms Davidson became pregnant on her first round of IVF. She said the excitement was such that she took tests every six hours, just nine days after the procedure — too early for an accurate result.
She and Ms Wilson have said they never believed they would be able to have children because of their sexuality. They said that if they decided to have a second child then Ms Wilson will carry it.