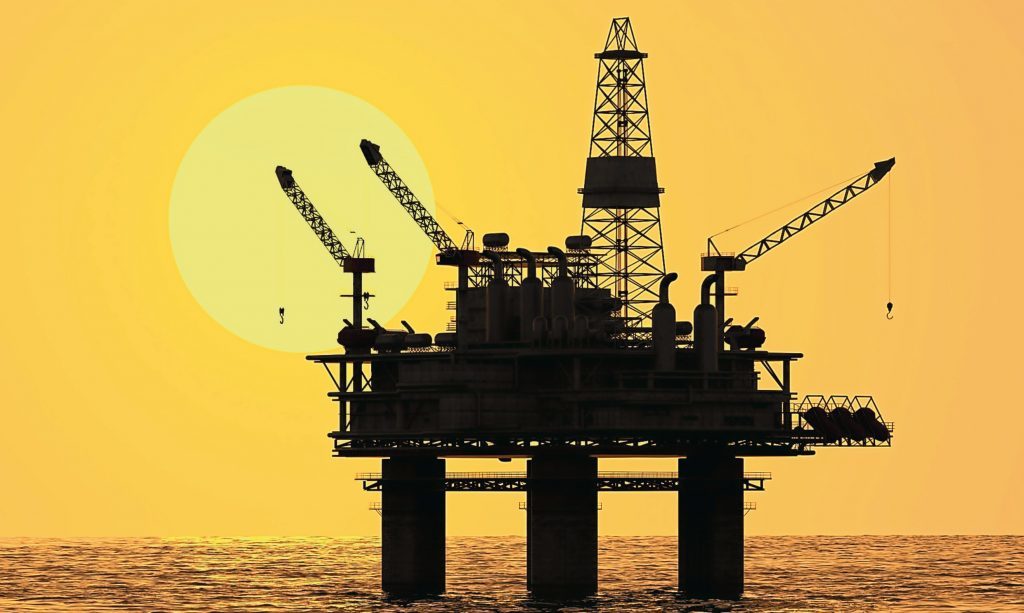 Scotland should move away from an off-shore reliant economy, the finance secretary has said.
Derek Mackay said he wanted a "prosperous and fair" economy which had "zero-net" carbon emissions.
First Minister Nicola Sturgeon, who was in Shetland campaigning in a by-election on the morning the figures were announced, recently declared a "climate emergency".
The burning of fossil fuels, such as oil and gas, contributes to an increase of carbon dioxide in the atmosphere, which has been one of the largest contributors to climate change according to experts.
Excluding oil and gas "off-shore" revenue, Scotland's deficit would be £14.1 billion, 8.5% of GDP.
Economist John McLaren, of Scottish Trends, said North Sea revenue prospects remained "subdued" with the latest Office for Budget Responsibility forecast between £1 and 2 billion a year, based on around $63 a barrel.
He said: "The comment by the Finance Secretary that Scotland's economy and public finances are strong seems fanciful given any reasonable analysis of recent low economic growth figures and a still high, by international standards, fiscal deficit."
"The size of Scotland's inherited fiscal deficit and how best to deal with it is likely to remain a highly relevant issue if the prospect of a second independence referendum rises.
"Unlike the currency issue this topic is one that has been little debated by those who favour independence."
Mr Mackay said: "We want a low-carbon economy and we want to contribute to our environmental responsibility. There's obviously an issue around energy transition as well.
"We have charted a course which shows you can grow your economy, diversify the economy and indeed have a low carbon economy with zero-net contributions and we will continue to set that out.
"For me, ensuring we have a prosperous and a fairer and more progressive society is really important and one which accepts its environmental responsibilities.
"Through the Growth Commission we showed how we can grow our economy and not be dependent on oil revenues.
"As a matter of fact, in the GERS figures oil revenues are roughly the same as the previous years, there has been a slight increase but the £3 billion increase I've referred to is on-shore revenue, which I think speaks to the point our on-shore revenues are growing more quickly."
Scottish Greens co-leader Patrick Harvie said: "Once again GERS is our annual reminder too many Scottish politicians remain unwilling to break our reliance on oil revenues, despite all the rhetoric about a climate emergency.
"The figures are also a reminder of the urgent need to build a post-oil economy, whether Scotland is part of the UK or not. Independence would force us to face that urgency, but would also give us the powers to fully develop the Scottish Green New Deal agenda that is necessary.
"The SNP's vision for independence laid out in the Growth Commission would continue this austerity-driven race to the bottom with the rest of the UK.
"The Greens believe independence must come with a determination to build a new greener Scotland, instead of pursuing our own version of the UK's unfair, unsustainable and failing economic model."