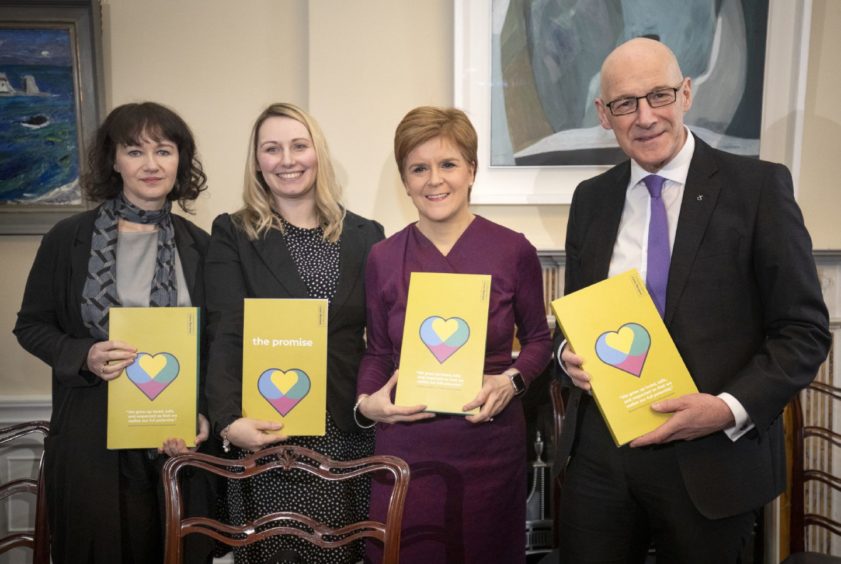 Care sector charities have welcomed cross-party commitment to deliver improvements after a review found the system in Scotland "serves its own convenience" and failures cost £875 million a year.
The Independent Care Review, chaired by Fiona Duncan, looked into the economic and human cost of the system's failures for the first time.
It outlines a "radical blueprint for a country that loves, nurtures and cherishes its children."
Following Wednesday's publication of the review, First Minister Nicola Sturgeon  pledged to "keep listening to and working with care-experienced people, because the case for transformational change is now unarguable."
Ms Sturgeon said she felt "very emotional" when reading the main premise of the report, adding: "The Scottish Government has already made some changes while the review has been doing its work — for example, by introducing the care-experienced bursary — but today's report leaves no room for doubt that we must do more, and we must do it more fundamentally, more systematically and more quickly.
"A radical overhaul is what the review demands, and that is what we have a duty to deliver."
'The cross-party support in the chamber was jaw-dropping'
Dundee-based charity Breakthrough partners care-experienced young people with trained volunteer mentors "to provide the guidance and opportunity that can transform lives."
A spokesperson for the charity welcomed the cross-party support the review received at Holyrood, saying: "That the First Minister accepted the findings of the review and made her own promise to implement the necessary level of change was positive; that she declared that tangible changes would be initiated 'at pace' on the back of the review was amazing — but the cross-party support in the chamber was jaw-dropping.
As the Care Review launch day comes to an end, we're reminding again of the people at the heart.#ThePromise #KeepThePromise pic.twitter.com/xoxrvyw7VD

— The Care Review (@TheCareReview) February 5, 2020
"Breakthrough promises to work closely with others in schools and local authorities who have a parenting responsibility for young people and we will get behind collective change — however challenging or scary it may feel.
"We will hold each other to account and we will always strive to do our best for our young people because they deserve it. It really is that simple."
Care groups welcome review
Duncan Dunlop, chief executive of Who Cares? Scotland said what the Scottish Government chose to do next is a "matter of life or death".
He said: "Care experienced people are capable, thoughtful and have enormous potential. What we have seen, unfortunately, are generations of people living with the consequences of a care system that focused on containing them then leaving them, rather than ensuring that they are loved and supported forever.
"We have also seen Scotland struggle to connect with how it can support care experienced people. With that in mind, we will now take the necessary time to reflect on the findings that have been published today and consider in what ways the recommendations realise our ambitions for change."
Independent Care Review: System condemned for 'serving own convenience' as failures cost £875m
Mr Dunlop added: "In January this year, the Care Inspectorate published figures on the early deaths of care experienced people. They said that between 2012 and 2018, 36 people in the care of the state died unexpected or untimely death.
"We know from our own networks that this is an under-representation, with six young care experienced people in our network dying in December 2019 alone.
"The evidence shows that what the Scottish Government chooses to do next is literally a matter of life and death. We expect to see urgent action, in the next few weeks, that makes a tangible difference to young people's lives. Any further delay would be unacceptable."
We have long had concerns that children are not being put at the centre of our hearings system and are being let down, and believe changes to its operation are critical."

— Joanna Barrett,  NSPCC Scotland
Joanna Barrett, of NSPCC Scotland, said: "We are extremely heartened by this thorough and insightful analysis of our care system, with a wealth of important recommendations for its overhaul.
"We have long had concerns that children are not being put at the centre of our hearings system and are being let down, and believe changes to its operation are critical.
"We work with very young children in the care system and know that understanding early childhood development and behaviour is crucial to making the right decisions. And so, we are greatly encouraged that the review recognises the focus needed on this age group, which makes up the greatest proportion of those entering care.
"It is now vital that there is the will and the resources for us all to work together in implementing these changes."
Drug addiction and care
During the First Minister's debate, Dundee-based MSP Jenny Mara asked how the national drugs task force would work to prevent parents with addictions succumbing to their illness and forcing children into care.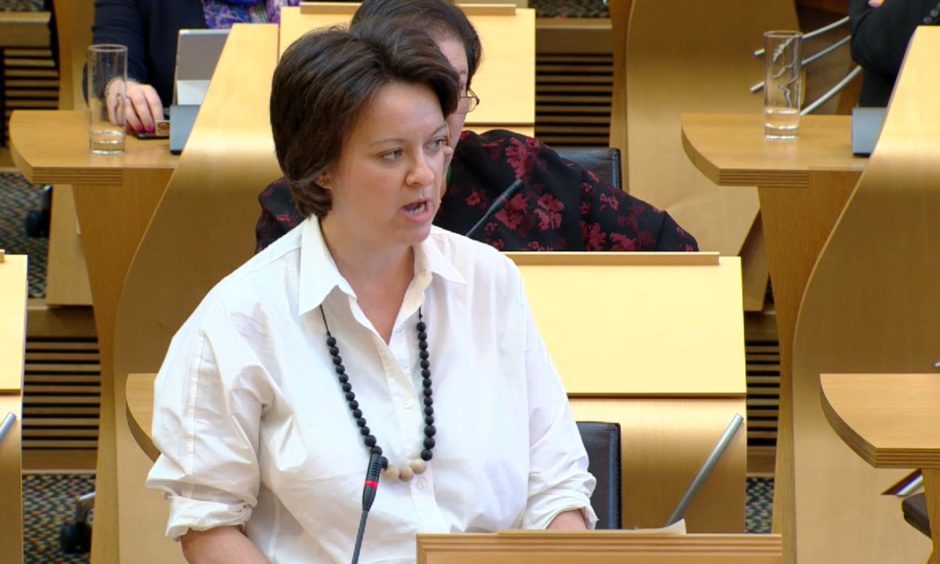 She said: "Many Scots and children in Dundee find themselves in the care system because of a parent dying because of drugs.
"Indeed, I heard of one such case just before Christmas. Is the national drugs task force looking specifically at what can be done to prevent drugs deaths among parents? What can be done to increase the number of supportive care places in areas with high numbers of drugs deaths?"
The First Minister responded: "That should absolutely be a key focus of the drugs task force, although it has to decide its priority areas.
"More importantly, we must make sure that there is a proper link between the work that we are doing here and in other areas of work, such as the work that is being done around drugs deaths.
"Jenny Marra is right to point to the number of young people who will end up in care because a parent has died from drugs, so the connections between those vital pieces of work are important.
"One of the key priorities of the work that will be done over the next few weeks in getting the process right is to make sure that those connections are properly understood and happen as we want them to."
Care Review 'is a remarkable effort'
Scottish Labour's education spokesperson, Iain Gray, said: "The First Minister is right that we have, over generations, let down far too many of the children in our care.
"We can indeed hear that in this report in the voices of those children and that is why it carries such power.
"Well done to the review chair Fiona Duncan, all her co-chairs and everyone involved.  It is a remarkable effort.
"And well done too to the First Minister whose personal investment in this issue is very clear and much to her credit.
"I welcome the creation of the delivery plan team and agreement to the independent oversight body.
"But it is not the process of change which must start immediately – it is actual change."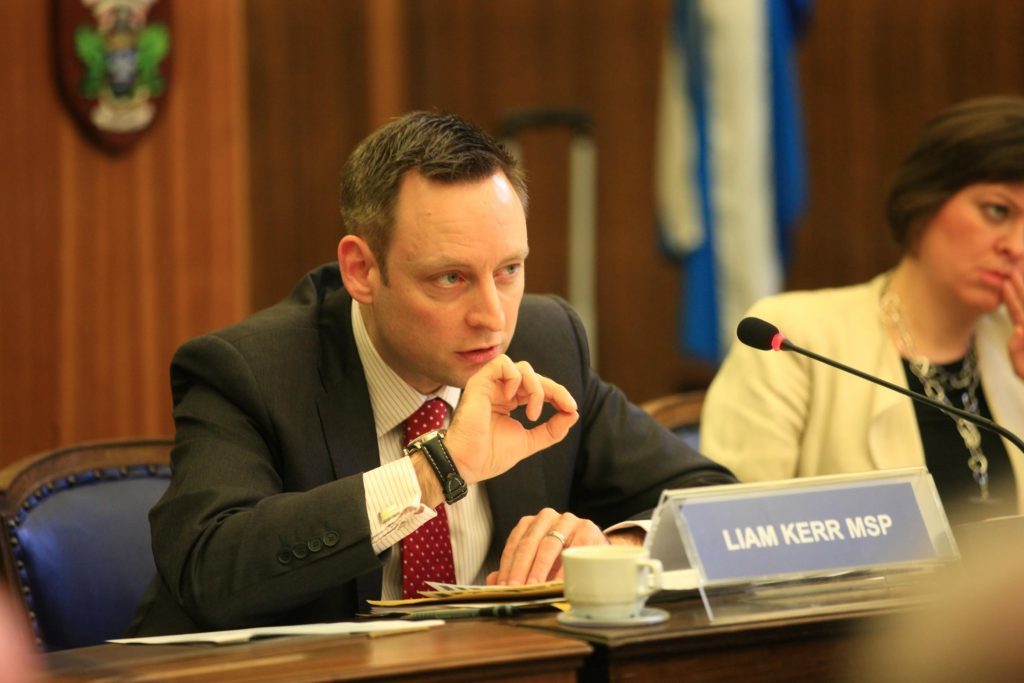 Speaking following the First Minister's statement, Scottish Conservative North East MSP Liam Kerr said: "Although we will always offer robust challenge, the First Minister can be assured of our support in delivering the recommendations of this ambitious and vital report.
"Above all, I, too, extend our thanks to the more than 5,500 people who contributed—it cannot have been easy.
"Young people in the care system need a great deal more than simply the best wishes of this chamber. They need concrete action to transform their lives for the better and to live up to the promise that I expect and hope that every party here will rightly make today."