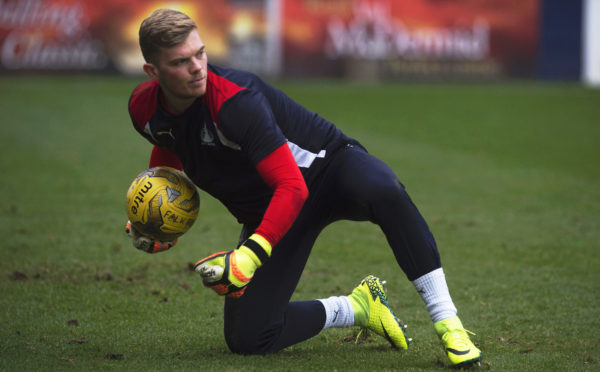 There may still be three-quarters of the league season remaining but Raith's Robbie Thomson admits he is determined that the gap between his side and league leaders Arbroath does not widen.
The two teams meet in a mouth-watering top-of-the-table clash at Stark's Park this afternoon with the Gable Endies currently four points ahead of the Kirkcaldy club.
Rovers will go into the game in a buoyant frame of mind after a near perfect start to boss John McGlynn's second spell in charge of the club last week when they thumped Dumbarton 5-1.
However, keeper Thomson is definitely not resting on his laurels and he is determined to build on the Sons result against Arbroath.
The 25-year-old said: "You certainly don't want them getting away from us even if it is only October.
"But it is like any game you go into, you want to win.
"We just need to focus on the process of winning the game and worry about ourselves.
"We played some great stuff last week and it was a joy to watch it.
"It was all really positive but it is about how you back it up now – you can't have a really good game and then a poor one.
"It is about over the course of a season backing it up and picking up points.
"Ultimately, I don't care how we play as long as we win.
"That's the same with all the boys – if you don't want to win games of football, there is no point in being here."
Thomson added: "The way we are set up and the players we have at our disposal we can play some really good football.
"Sometimes teams make it hard for you to play so it is about mixing it up and the manager to be fair to him has put a couple of plans in place if teams sit back or go and press.
"It is about us putting that into practise on the pitch and causing the opposition problems whatever way they set up."
Thomson was signed in the summer by Barry Smith and like the rest of the club was stunned when the manager suddenly resigned at the start of last month.
However, the goalie has been impressed with his new boss since he took charge last week.
Thomson added: "It has been really good.
"It just goes to show you how quickly things can change in football.
"At the start of the season, you would never have said this would have happened. But it is what it is.
"The new manager has come in and he has got to grips with it straight away, implementing his own ideas.
"We haven't been messing about, we have been working really hard on what he wants us to achieve and how he wants us to play.
"So we have been doing that on the training pitch as well as video sessions.
"He is putting the plans in place for what he wants and it is up to us to go and deliver."