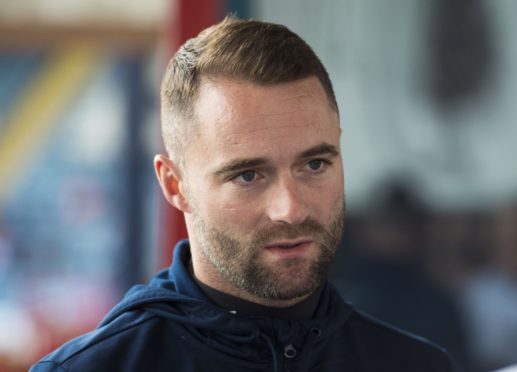 James McPake has revealed how a derby defeat hurts a lot more as a manager than a player.
The Dundee boss has suffered on the pitch and in the dugout as city rivals Dundee United have recorded 6-2 wins in recent times.
The first was as a player on January 1, 2015 and the second was as a gaffer in the fourth match of this season on August 30.
On both occasions the result caused him pain but he insists it felt much worse second time around.
Asked if it is harder to be on the losing side as a manager than as a a player, he replied: "Yes. You are responsible for the full squad, not just yourself.
"You go over everything. You go over your team selection, the subs you made and the ones you didn't make or left out.
"When you are a player you go over it, maybe thinking: 'I cost that goal.' The players would have been gutted that night too.
"However, if any result doesn't go favourably – not just a derby – then there is a difference from dealing with it as a manager than as a player.
"Every result hurts you more as a manager. That is what I'm finding.
"I had an idea what it would be like. Plenty of people had told me that.
"You need to quickly get over it, though, or it kind of overshadows you.
"We were only three games into the league season when we faced that game and it was tough.
"Ask every fan from our side who was there or even those who watched it on TV. It was tough for them to get over it.
"I said at the time that it was worth three points and was so early in the season but there was also a lot of pride at stake.
"And you hurt, of course you do.
"That is the business we are in.
"Your biggest rivals got a big result over you but you need to look at yourselves and get it right. I believe we are getting it right.
"You can't let that linger.
"We have fans and players who have real pride but we also have players who didn't play in that game so maybe it won't have a great impact on Friday."
Dundee go into the second derby on the back of a superb three-game winning run and McPake thinks they are in better shape than when they went up the road to play United last time around.
He said: "I would say we are a stronger group.
"We have added quality to the group.
"However, they (United) will be stronger, too, because, although they didn't make wholesale changes, they have been able to work with their players and they have been on a good run.
"We will look back on that last derby just as we would if we were playing Alloa or Morton.
"We look back on the matches we have played against our opponents and analyse them – looking at strengths and weaknesses.
"We can't say that we should have had the goal that was chalked off because that's irrelevant now.
"You also can't say: 'Don't worry about it boys, we can just turn up and we will get the right calls this time.'
"You need to put your stamp on the match and hurt whoever you are playing. They will be thinking the same.
"The talk will not be about that game. It will be about this match and what it means to us as a club."
The Dark Blues look like having Jordan Marshall available after the full-back had to come off injured during last Friday's 2-1 home win over Morton.
McPake said: "He is OK, I think.
"We left him out of training today but he is gradually getting better. Hopefully, we caught it at the right time.
"He did look a bit tired the other night, as did Cammy Kerr and Declan McDaid.
"We are asking Jordan and the others to press hard in the game but hopefully he will be all right.
"The fans have taken to him and I can see why. He is very consistent and you know what you are going to get from him every week.
"He has a good end product as well that goes under-rated at times so we will get him through this week and he will be fine.
"Sean Mackie did well coming up and even if Jordan is fit Sean will come into the equation.
"The two of them can play in the same side, as we've seen already this season."