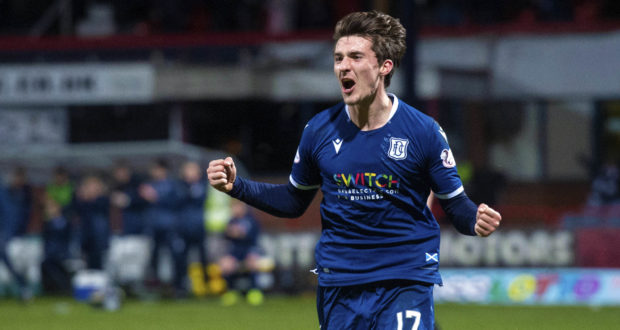 Olly Crankshaw believes that the run of clean sheets is the reason behind behind Dundee's revival.
Crankshaw, who scored his first goal for the Dark Blues in stoppage-time against Ayr on Tuesday night, thinks the whole team has taken heart from a shutout record that is their best since March 2014.
The 2-0 victory over the Honest Men saw them keep the opposition out for the fifth successive match and the on-loan Wigan winger believes that has helped even forward-minded players like himself.
He said: "I think you see just how close a bunch we are.
"I think it has all stemmed from the clean sheets we have been getting.
"Everyone at the back has been so tight.
"To have five shutouts in succession is usually unheard of in most leagues.
"It gives us all a boost and goes right through the team – from striker back to goalkeeper.
"Hopefully we can keep our unbeaten run going," added Crankshaw, referring to the sequence of three wins and three draws since they lost at Dunfermline on Januray 24.
"When you get a few good results on the board it just builds confidence.
"I think that shows in the style of football we have been playing and hopefully we just keep it going."
Crankshaw started on the bench against Ayr but could have ended up with a couple of goals because he missed a sitter not long before his late strike.
He said: "On a personal note it was really good to get my first goal for the club.
"I had been waiting to get my opportunity and the gaffer has placed his faith in me by bringing me on.
"I was glad I was able to pay him back by getting the goal.
"I had a chance before that but I think I just completely missed the ball.
"It would have been great to score then because I had only been on the park for about 30 seconds!
"I am just glad I did score and that it secured the three points."
Crankshaw had some gratitude for teammate Graham Dorrans, who could have tried a shot himself but instead teed him up.
He said: "To be honest, if I were in his position I probably wouldn't have cut it back!
"I guess that's the type of player he is – unselfish.
"His ability makes him different and he doesn't think like most would.
"Most players wouldn't have shown that level of composure to look up but he can find the gaps and spaces.
"He is just a really good player to have in your team."