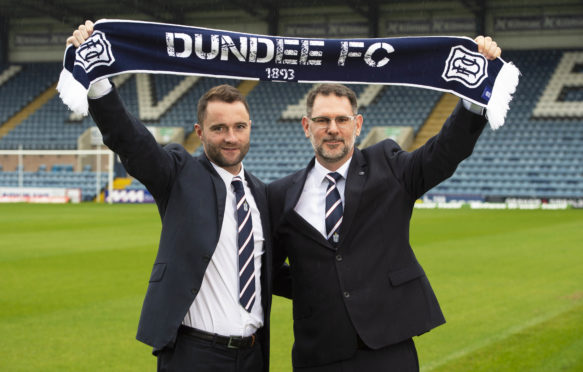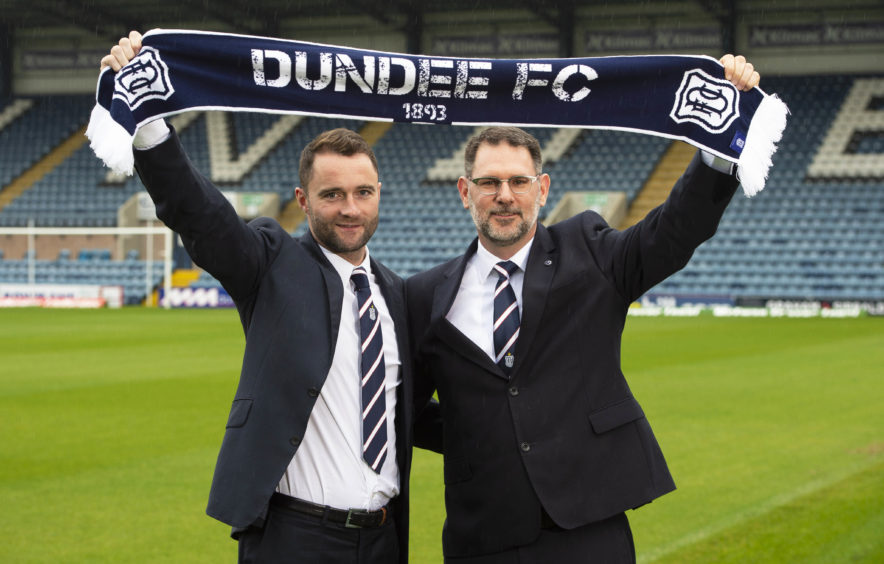 Dundee manager James McPake will tell you on-pitch matters are his only concern.
However, there is a sense he feels for his boss, John Nelms, after the Dark Blues managing director's reconstruction dream crashed and burned this week.
Since the initial vote to end the SPFL season amid the coronavirus pandemic, the Dee's American chief has campaigned for a shuffling of the pack.
He passed the baton to Hearts chair Ann Budge as she fought to keep her club in the Premiership. However, Budge was unable to convince the rest of the league and the proposal fell at the final hurdle.
It is not to be resurrected as the Championship waits to return, with the Dee and the Jambos in it, on October 17 for a shortened 27-game in an unchanged 12-10-10-10 league structure.
McPake, personally, is simply glad to have a date to shoot for and insists anything Nelms and Dundee owner Tim Keyes do is always for the greater good.
"I've seen the work John and Tim have put into this club and a lot of it goes unnoticed," he said.
"I think they're quite happy with that and they don't come out shouting or whatever.
"Of course, everything John does is for the benefit of Dundee Football Club and Tim as well.
"Whatever he was trying to achieve from the reconstruction discussion, and I know it wasn't always going to be set in stone, but he felt it was for the greater good of Scottish football.
"If there was reconstruction and we ended up in the Premiership then great but the likelihood of that happening from the very start was slim.
"I was just always of the thinking we needed a date for starting back, whenever that was, and now we at least know that.
"I can only really talk about the work I've seen John and Tim do at Dundee. I was never part of the conversations so it's nothing to do with me the way the club votes or what's happened since.
"Should I be disappointed for him? It's not for me to say really.
"It's best left for John to discuss. One thing I can say is, as a manager and having seen three other managers working at this club, they get the backing from John and Tim.
"They try to do the best thing they can, whatever situation we're is in, whether we're in the Premiership or we're in a crisis.
"They want to do the best thing for Dundee and also for wider Scottish football.
"What he tried to do was what he believed was in the best interests of the game. There wouldn't have been any other reason because he's a very reasonable guy.
"Everybody wants something from Scottish football, Hearts wanted to stay in the Premiership and rightly so. I can see why they wanted to do that.
"But, again, John did what he did and my job is to pick the team and brings players to the board to try to strengthen the squad."
Looking ahead to the new campaign, McPake is already excited about his second season in the dugout.
He admits Hearts dropping down from the top flight will make their promotion aims all the tougher to achieve.
However, McPake isn't thinking like that right now. Instead, he is simply focusing on his own squad and expects there to be multiple teams fighting it out at the top of the Championship.
He added: "They'll come down as favourites and with an expectancy that they're going to do what they did the last time and run away with the league.
"That's fine. It doesn't concern me who's in our league or who we're playing against right now.
"All my focus at the minute is on Dundee. We need to make sure over a 27-game season we're at it and we're strong.
"We want to go and make our mark on this league.
"Of course, the fact it's Hearts makes it big because of the size of the club.
"They'll be favourites and will come down with a massive budget but we've seen budgets don't always win you leagues.
"There's also my connections to Hibs – I reckon I get more stick off Hearts fans than I do Dundee United fans!
"For me, it's just another team in the league we're going to play three times.
"Hearts will be a threat, as will Ayr United, Inverness, Dunfermline and the others.
"We found that out the hard way last season with it taking us until March 10 to get above Ayr in the league and Inverness were still ahead of us.
"Our next aim was catching them so to just look at Hearts would be madness for me."