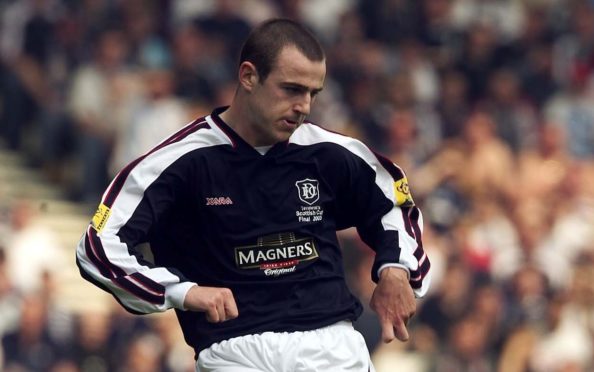 Dave Mackay believes Dundee would have been "better sticking with what they had" for their relegation battle.
The former St Johnstone captain, who started his career at Dens Park, thought Paul Hartley would have kept his old club in the Premiership.
And the fact that the Dark Blues have gone for a rookie manager to replace him has surprised the Stirling Albion boss.
"I'm sure Dundee will still be fine but it is obviously a real concern being dragged into the bottom two," he said.
"Six weeks ago it looked as if they might have been the team to pip Partick Thistle for the final spot in the top six. But they have been on a terrible slide, losing seven in a row.
"It can be difficult to get out of runs like that and obviously it has cost Paul Hartley his job.
"The timing of the change was a surprise. They weren't in a great situation but it wasn't the end of the world. There are a lot of teams within touching distance. One win takes them out of second bottom spot.
"It is difficult bringing anyone so late in the day. I think they'd have been better sticking with what they had with only five games left. Paul would probably have got them out of it.
"But they are obviously hoping Neil brings something fresh to give them a lift but it is a gamble."
Mackay added: "Obviously Neil was a very experienced player and he has been watching Scottish football as a television pundit. He isn't coming into the unknown.
"It wouldn't have been such a surprise if the appointment had been made at a different time of the season.
"But normally clubs go for fire fighters and the tried and tested in these circumstances.
"It might work a treat for Dundee but it's certainly some challenge for Neil going into his first managerial post given the situation Dundee are in.
"It was only natural people would question the appointment because Neil doesn't have much managerial experience.
"He was in training at St Johnstone keeping himself fit for a few months when Derek McInnes was manager.
"I hope he does well. He is a nice guy, a great pro and I have a lot of time for Neil. And it is a good opportunity for a young Scottish manager."
Mackay will forever be remembered as Saints' first Scottish Cup-winning skipper but seeing both Dundee clubs playing second tier football next season isn't a scenario he would wish for.
"It would be terrible for Dundee as a city if they had two clubs out of the Premiership," he said. "It would be bad for Scottish football because they are both big clubs with big supports.
"But as we have seen with Hibs, Hearts and Rangers, you aren't too big to lose your place at the top level.
"If a club isn't good enough over the course of a season they don't deserve to stay up.
"And for teams going down now it is harder than ever to get back up. It's not easy to bounce back right away.
"From what I hear the Americans seem to be the type of people that are committed to the club. I don't think they will cut and run if Dundee do go down.
"They have put a lot of money in already and have plans for a training ground and potentially a stadium to take the club forward."