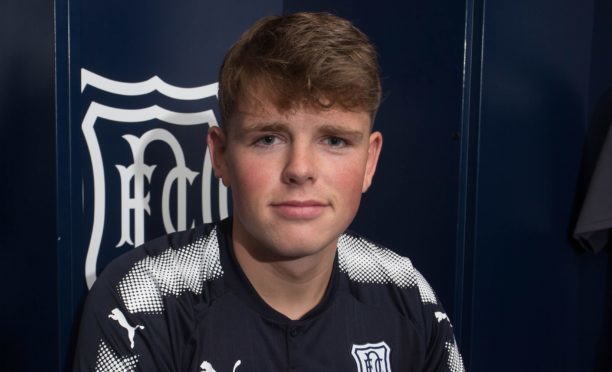 After being released by full-time side Dunfermline in May, Lewis Spence admits it was a big shock to his system as he contemplated going part-time with Brechin and having to find another job.
However, he was left stunned when Dundee boss Neil McCann phoned out of the blue and asked him if he would like to sign for the Dark Blues and try his hand in the Premiership.
The 21-year-old midfielder admits he cannot believe the quick turnaround in fortunes and he is now just desperate to repay the Dens manager's faith in him.
He said: "I am buzzing and delighted to be at Dundee.
"It is a big opportunity for me. I didn't really expect it but when I got the phone call, I just couldn't turn it down.
"I have been at Brechin a couple of times on loan and have enjoyed it.
"I just felt when I left Dunfermline that it would be good to get some game time under my belt.
"Brechin boss Darren Dods has been good to me and I kind of agreed to join but nothing has been signed.
"Brechin are part-time so I had to think about getting a job. The assistant manager at Brechin, Lee Bailey, does some coaching with the SFA and he said he might have got me something with that.
"I have been full-time since I was 16 so it was a big shock for me to do that.
"But then out of the blue, Neil wanted me to come to Dundee, back full-time again and in the Premiership as well.
"He said he wanted to take me for the season to see how I do to try to get the best out of me again.
"I just couldn't turn it down.
"Obviously, I want to thank Darren as he could have gone a different way about it but he was really keen on me going to Dundee as well.
"It is a big jump but I believe in my own ability and I feel I can do it."
McCann previously worked as a coach at Dunfermline when Jim Jefferies was manager.
They saw Spence as a key player for the Pars but the midfielder was frozen out when Allan Johnston and his assistant Sandy Clark took over at East End Park.
Spence admits he is still in the dark as to why that happened but one thing he is certain of is that he believes McCann will get the best out of him once again.
He said: "To this day I don't know (what happened at Dunfermline).
"I felt I was good enough to get into that team but sometimes in football it is all about opinions.
"I was playing week in, week out when Neil and Jim Jefferies were there.
"But when Allan and Sandy came in, they maybe didn't take a shine to me or rate me – I don't know.
"As I said, I felt good enough to play in that team but it has been a frustrating two years.
"I did enjoy my time at Dunfermline but those last two seasons were poor for me.
"People have doubted me saying I wasn't good enough but it wasn't my fault I wasn't playing – that was up to the manager.
"So I just want to get back to my best again and I think Neil can get that out of me.
"He got the best out of me at Dunfermline and hopefully he can do that again. Obviously, I need to work hard but I feel I am good enough.
"The lads have been good to me and made me feel comfortable at the club.
"Dundee is a massive club. It is a big step up for me into the Premiership but that's where everybody wants to be in Scotland.
"So I will work as hard as I can, do well in training and then try to get around the team in the pre-season games and the Betfred Cup – that would be great for me."