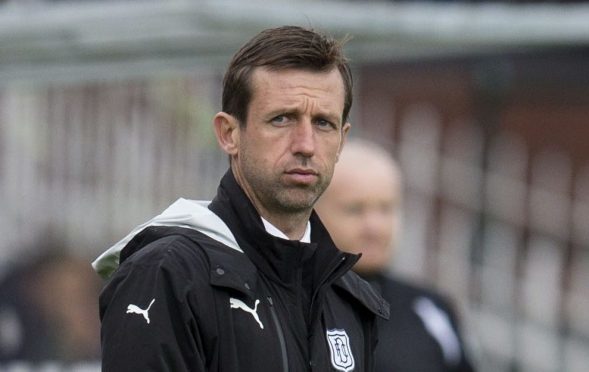 Dundee boss Neil McCann has responded to a prediction made by TV pundit Chris Sutton during the derby win over Dundee United.
McCann, himself a former studio analyst for Sky, didn't name the ex-Celtic striker but he obviously took umbrage at Sutton's suggestion during BT Sport's live coverage of Wednesday's Betfred Cup clash that his team might not last the pace.
They certainly did, as they deservedly beat the Tangerines 2-1 to secure a quarter-final tie against Celtic on September 20.
As he prepared for today's league trip to Hamilton Accies, the Dark Blues manager said: "We did loads differently going into the derby.
"I had a talk with them before they went out to get them fired up.
"But I think they knew the importance of the game as well, which gave us a wee bit extra edge.
"It is funny because I have heard comments from people who were saying Dundee would burn out.
"It was a certain pundit on the television who was thinking we would burn out at half-time because of the intensity of our play.
"I obviously didn't hear it at the time so it didn't bother me.
"Afterwards I just laughed. I just knew it wouldn't (happen).
"Whether he (Sutton) had a change of opinion, I don't know.
"But certainly everyone I have spoken to and every comment I have heard has been about the intensity and the workrate of the players, saying it was brilliant.
"We train at such a high intensity all week and it's all timed so that we can sustain it.
"Every other manager would probably back their side but I think we're really fit – absolutely."
Meanwhile, Dundee will again be without striker Sofien Moussa today, with the Tunisian suffering from a knee injury.
McCann said: "Moussa is being assessed and it is not reacting to what we thought it would.
"So we're a wee bit concerned for him and he is getting scans.
"It wasn't looking good the other night for the game so he wasn't able to feature so we'll see after he has been scanned.
"We should know more in the next couple of days."