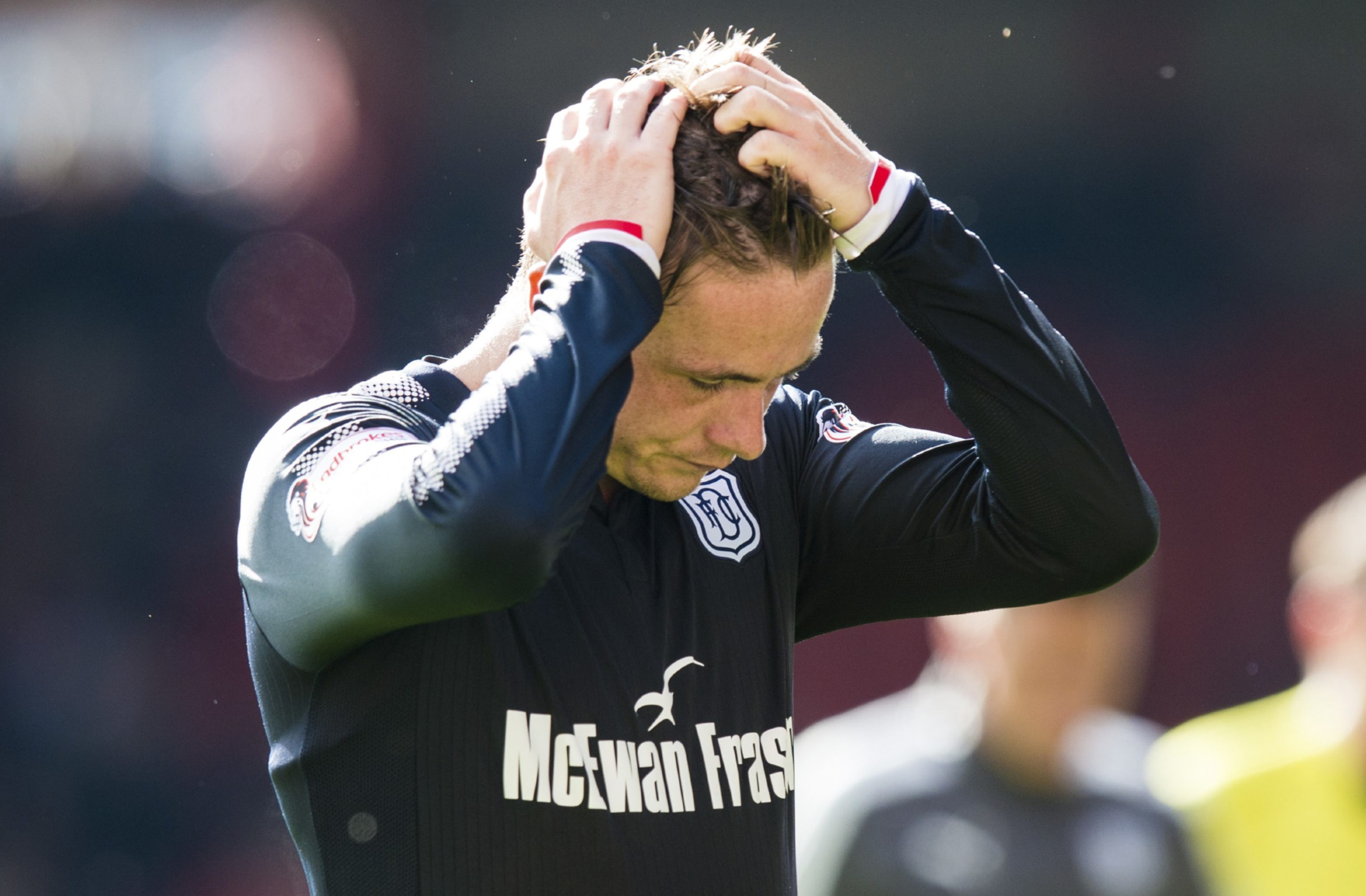 Talking Football is back for the season and our football writers Eric Nicolson, Neil Robertson and Ian Roache look at Dundee's points drought and the perfect league starts for St Johnstone and Dundee United.
Q: Dundee are still pointless after losing in Aberdeen. Is your pint half-full because they probably deserved to take something from the game or half-empty because they're not picking up points even when they're playing well?
EN: It's half full because Partick Thistle and Killie are also pointless and half-empty because Hamilton have got six points ahead of them. We're hardly into the season but you would have to think that Dundee are going to be more concerned with the bottom-half teams than the top-six ones. Clubs have had successful campaigns from worse positions than this but a new side like this one needs a win to give them belief. I suspect there are plenty of Dundee fans who would take third bottom if you offered them that now.
NR: When Dundee equalised at Pittodrie and then Scott Allan had his glorious chance, the Dark Blues were in the ascendant with reporters in the press box hurriedly looking up the last time they had triumphed in the Granite City. Instead, they conceded what proved to be the winning goal when they were down to nine men with Marcus Haber and Faissal El Bakhtaoui off injured. So positives can be taken from the defeat but the hard-luck stories have to end – and fast.
IR: My pint is usually half-empty as I wait on Neil buying his round but I do think it is way too early for panic at Dens. If they get to the end of this tough run of fixtures and have lost to Hibs, Rangers and St Johnstone in the league – not to mention Celtic in the cup – then ask me again.
Q: Surely the terrible run of injuries Dundee have suffered should carry some weight when early judgments are being made?
EN: Of course it has to. The same goes for the new signings factor that I touched on before. One win and a couple of key men back in the starting line-up will have that post-derby optimism flowing freely again.
NR: Dundee should consider calling for spiritual help as they do seem to be cursed at the moment with the amount of injuries. The forward department has been worst hit but it is also worth bearing in mind that Neil McCann's back-four at Pittodrie of Cammy Kerr, Jack Hendry, Kerr Waddell and Kevin Holt were aged just 21, 22, 19 and 24 respectively, with senior defenders sidelined. So, yes, injuries have to be taken into account when weighing up the poor start.
IR: The Dark Blues do seem to be under a wicked spell so maybe we need Barry Fry to pee at the corner flags as he did at Birmingham in the mid-1990s (look it up if you must)…
Q: Neil McCann is on the hunt for another striker, unsurprisingly given that they are dropping like flies. What type should he be going for?
EN: How about one that holds the ball up, can run like the wind and will get you 25 goals? Failing that, an experienced penalty box predator. A Scott McDonald type, dare I say.
NR: At this late stage in the transfer window, it might be more a case of McCann having to turn to what is left out there and available rather than what he would consider the ideal reinforcement. Failing any immediate new arrivals, pacy winger Roarie Deacon may be asked to plough a lone furrow up top – Dundee United's Paul McMullan showed at the start of the season, notably against the Dark Blues, that sort of move can pay dividends.
IR: One who scores goals.
Q: Do you give them a good chance against Hibs on Sunday?
EN: I do, actually. Hibs and their fans will have been shocked at their defeat to Hamilton. They'll be doubting themselves. And if Dundee can start the match like they did in the Betfred Cup against United, they can exploit that vulnerability. Mind you, I'd like to know who McCann has available to him before I get too confident.
NR: Hamilton showed that all the early-season hype about Hibs had been well over the top. However, watching and listening to their boss Neil Lennon's comments afterwards, it would be fair to say that his players will definitely not be complacent when they arrive at Dens. Dundee have a chance but considering the injury crisis, a draw is perhaps the best they can hope for.
IR: Both sides go into the game on a downer after many a coupon was burst by Accies. The result could depend on which Hibs team turns up – the Ibrox winners or the Easter Road losers.
Q: St Johnstone certainly don't have to worry about a slow start. Has their three-out-of-three record surprised you?
EN: It has. Killie away was the type of match you expect Saints to win but home fixtures against Motherwell and Partick Thistle are the ones they've been known to falter in. I would probably have predicted six points for them at this point. We'll be talking about him week after week but Michael O'Halloran makes this team so much more threatening. He could be a 20-plus goals man this season.
NR: Not really. Considering the way boss Tommy Wright strengthened in the summer, Saints looked more than capable of winning all three fixtures. O'Halloran in particular gives the side that extra dimension.
IR: I last saw Saints lose 3-0 at home to Partick in the Betfred Cup but even in that game they created loads of chances. O'Halloran was not quite at it that night but now that he is in the zone the threat from the team as a whole has increased.
Q: O'Halloran's performances do tend to beg the question, what on earth happened at Ibrox?
EN: I don't think it's got anything to do with the 'He's more comfortable at a wee club' argument. I think it's all about style of play and being made to feel important. Saints play to his strengths. Rangers under Warburton and Caixinha didn't.
NR: O'Halloran certainly looks like a player with a point or two to prove after his ill-fated move to Ibrox. I never felt he was given a fair crack of the whip at Rangers – but if he continues in this rich vein of form, the Glasgow side's fans are entitled to ask serious questions about the mismanagement of the player.
IR: He feels happy and comfortable at McDiarmid and is just a good fit.
Q: Is anybody going to suggest they'll be four from four after Saturday's trip to Celtic?
EN: I doubt it. It would be a very St Johnstone-like story for them to be the ones to end this run, though, wouldn't it? With O'Halloran, they do have the perfect counter-attacking outlet for Parkhead.
NR: I never say never with this Saints outfit but their chances of causing an upset are rated no better than 12/1 by one bookmaker. If Wright's men are to upset the odds, they need to take advantage of any tiredness in the Celtic ranks after their European trip to Kazakhstan and race out of the blocks at Parkhead.
IR: I would love to say yes but have to say no.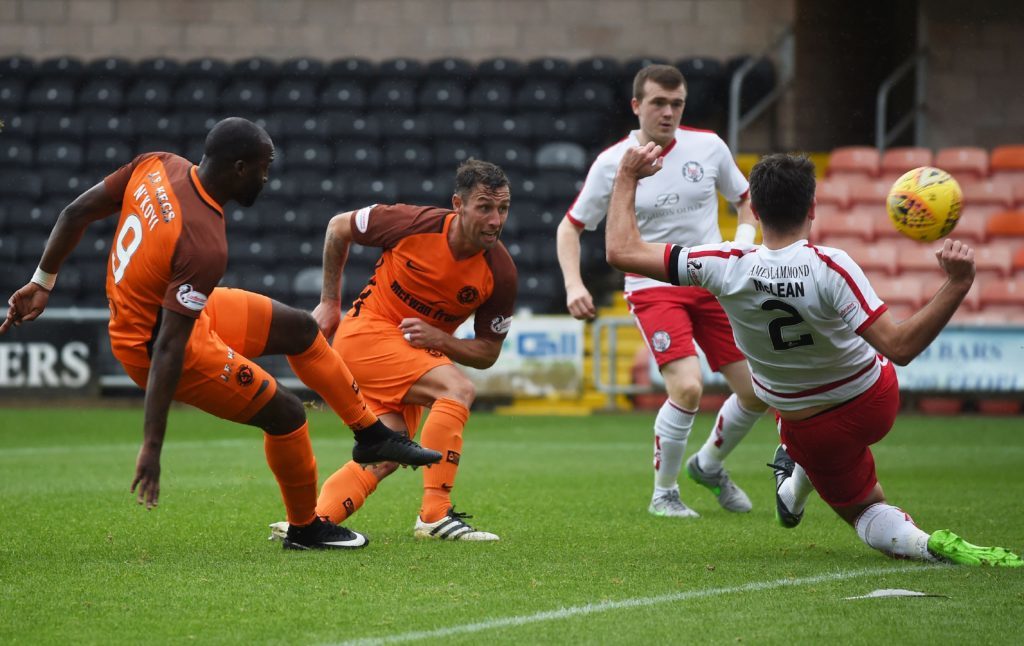 Q: Dundee United are another 100% team. Does that tell the whole story of their league start?
EN: The other two lads have seen more of United than me but results are all that matters this season. Scott McDonald is already doing what I thought he would – turning draws into scrappy 1-0 wins.
NR: United were on a hiding to nothing against Brechin on Saturday. They were huge favourites to win comfortably against the part-timers but instead it took that solitary goal from McDonald to seal all three points. Winning when you are not at your best is a good quality to have in your locker but I was probably more impressed by the win against Queen of the South when Ray McKinnon's men had to play for nearly an hour down to 10 men.
IR: It was a slog against City but they got there in the end. They missed the suspended McMullan but he will be back for the St Mirren game on Saturday, which will be United's biggest test of the season thus far.
Q: Are Dunfermline shaping up to be their nearest challengers?
EN: I wouldn't argue against that. I tipped them for the play-offs and they're not letting me down. They might not get more points than United but I suspect they'll score more goals.
NR: I always fancied Dunfermline to be dark horses this season and their recent signing of the prolific Andy Ryan for a transfer fee was another big statement of intent. I expect them to be up there challenging but I am also looking forward to see how St Mirren shape up when they play United in Paisley on Saturday.
IR: By all accounts the Pars were poor at Livingston on opening day but, boy, are they motoring now. The fans will have loved that win over Falkirk and they will be a side that United will be keeping a wary eye on.
Q: It's going to be Scotland time again soon. Has your World Cup optimism been fired up by the draw against England and Gordon Strachan's latest squad?
EN: I think we'll finish the group strongly, narrowly miss out on the play-offs and the 'Strachan must stay' campaigners will be talking up the momentum he's built going into the next qualifying campaign and that there's nobody better out there.
NR: I'm sorry to go into full Victor Meldrew mode but with the game in Lithuania being played on a tricky artificial surface, everything is set up for an epic Scottish failure.
IR: I don't believe it, Neil. As for World Cup optimism, the brilliance of Leigh Griffiths meant that lasted for a wee while until Harry Kane scored in injury-time. Now that was a very Scottish ending to a football match.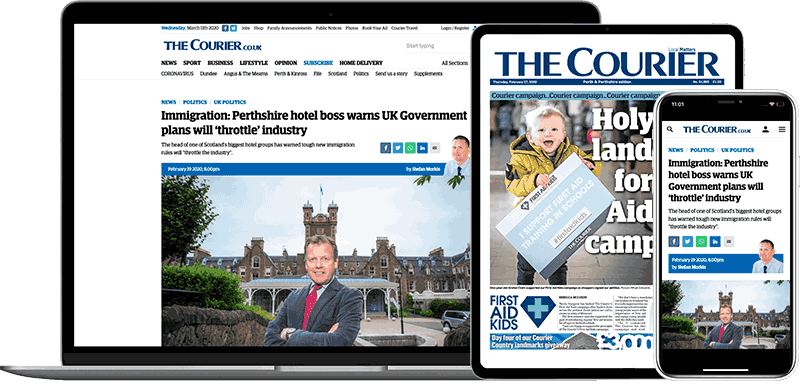 Help support quality local journalism … become a digital subscriber to The Courier
For as little as £5.99 a month you can access all of our content, including Premium articles.
Subscribe