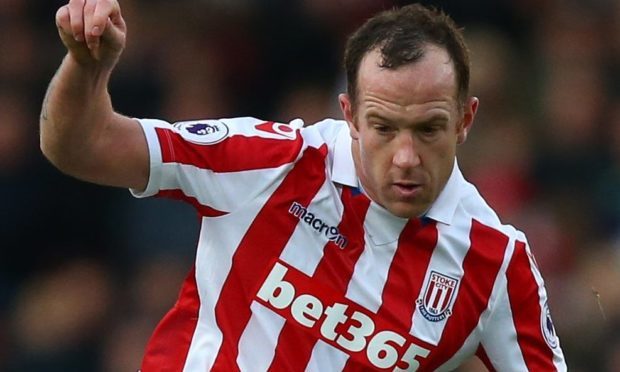 English Premier League star Charlie Adam hasn't ruled out joining his boyhood team Dundee.
But the Scotland international wouldn't be content to be a sentimental signing.
The 31-year-old has enjoyed a highly successful career down south with Blackpool, Liverpool and current club Stoke City.
Dark Blues supporters are hoping that he will find his way back to Dundee eventually but if it does happen, Adam wouldn't want to just "fill a jersey".
He has pulled on a Dundee shirt on two occasions – in testimonial matches for Julian Speroni and Dave Mackay.
But could it happen for real one day?
"That's me done it twice," he told Courier Sport. "You never know what will happen in the future.
"I always supported Dundee as a kid and it was great to get the opportunity to play again.
"We all grew up supporting Dundee in my family, even though dad played for the other side.
"Grant (his brother) got a couple of games as well.
"It's an opportunity you thought might never happen so I'm lucky that it has. It was great to be invited.
"I always just concentrate on each season as it comes. You never know what's going to happen.
"I wouldn't want to come back just to fill a jersey, you want to be there to be able to play and show people why you're a good player.
"At the moment I'm at Stoke and we'll see what the future holds there."
Adam has revealed that both Dundee and Dundee United passed up the opportunity to snap him up before he signed for Rangers.
He recalled: "I wasn't good enough – that's what my dad got told. From both teams actually."
So did that drive him on?
"Of course it did," said Adam. "Because I knew I was good enough.
"It was around the age of 10, 11, 12.
"At that time Kenny Cameron and that were running the youth development aspect and I was told I wasn't going to be good enough.
"That's the way football is.
"I trained a couple of times with Dundee United actually, and trained once or twice with Dundee.
"But that was it.
"I did some training at Aberdeen as well. It was a mixture of clubs.
"I went to Rangers and hopefully by the end of my career I've had a good one to look back on."
Meanwhile, Adam has backed former Rangers colleague Neil McCann to succeed as Dundee boss.
He said: "I was just starting full-time with Rangers – it seems like a long time ago when Neily was there.
"I know him well. He's a great guy and seems to be doing a very good job at Dundee.
"Listen, Paul (Hartley) did a great job. The owners felt they had to make a change and that's football.
"Neil's come in and given them fresh ideas and it looks to be working.
"They've picked up recently and have been playing well. It's another easy game when they come back from the international break against Celtic!
"They'll be looking forward to it. Celtic are the champions and the team to beat but the run has to end soon."