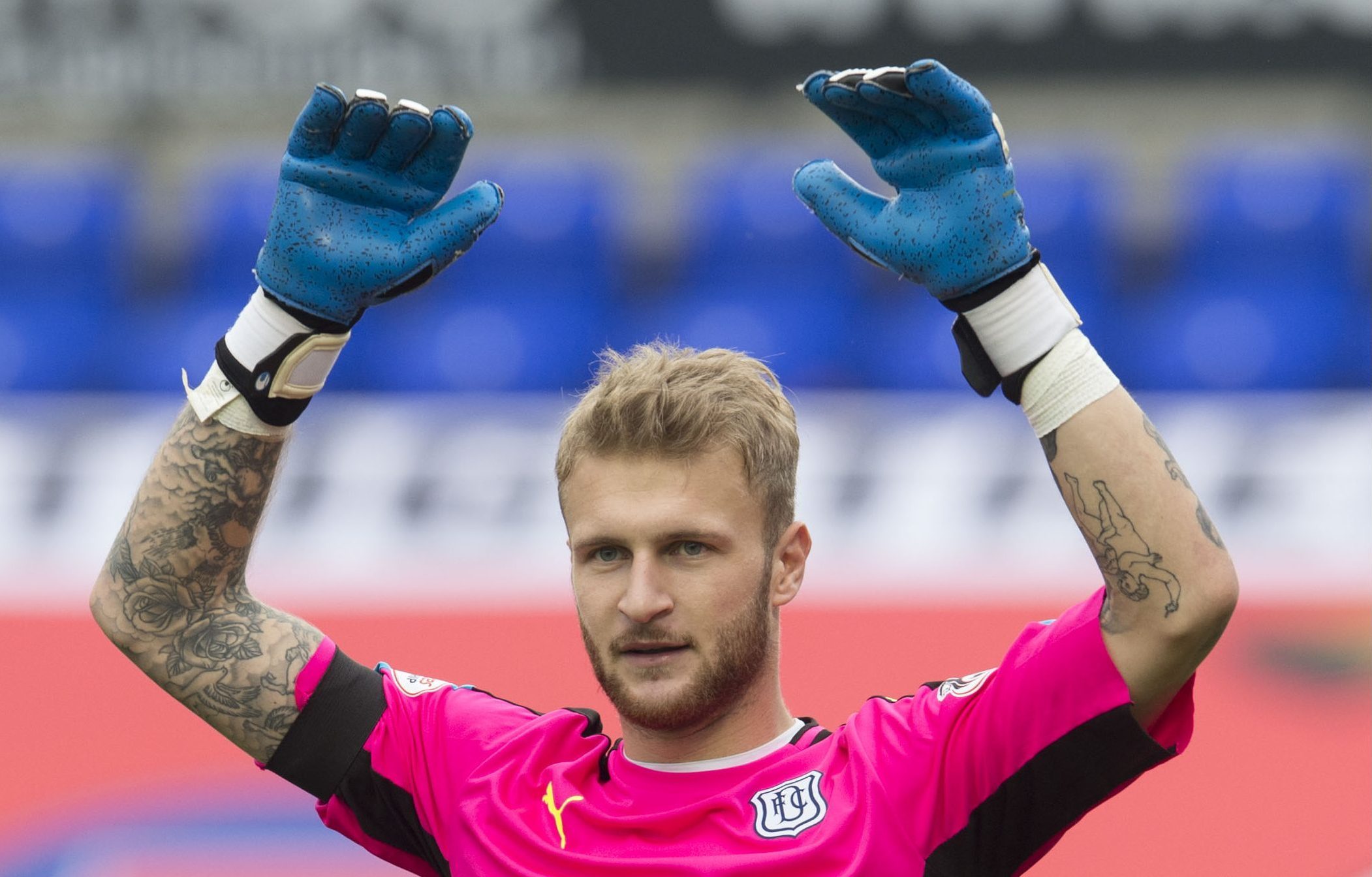 Dundee's Scott Bain admits he and his team-mates need to produce a perfect performance when they travel to play Celtic this afternoon if they hope to take anything from the game.
The defending champions have now extended their domestic unbeaten run to an incredible 58 matches.
However, they had a whole host of players away on international duty last week and also have a Champions League tie with Bayern Munich next Wednesday occupying their attention.
And Bain is hoping that if the Dark Blues can play to their very best, they could take advantage of any Celtic distractions.
The 25-year-old goalie said: "I hope the fact they have had international players away could be a factor, but everything is set up for players these days so they are as fresh as possible.
"We are hoping it can give us a little edge but I'm sure Celtic know what to do to get their players ready.
"I think you are hoping to play them when their eyes are elsewhere and they maybe take their eye off you a wee bit.
"You need to be at your 100 per cent best and hope they are off it a wee bit to get something from the game.
"We will go with a solid gameplan and try to be difficult to beat because we know they have players who can hurt you in a second. It's about concentration and being brave.
"Could Bayern Munich be a distraction? I hope so. I'm hoping they have one eye on them and one eye on us, but they have shown since Brendan Rodgers came in that they are at it 100 per cent every game.
"They have players who can step in for others. As I said, we also need to be 100 per cent if we are going to get anything.
"They have players who can do something magic in the blink of an eye, with pace and quality.
"It's not just about me. All of the team has to be solid at the back end of the pitch.
"These games are a good platform to play on, not just for a goalkeeper. Celtic are obviously at a very high level so you want to show where you are as a footballer."
Bain has kept clean sheets against Celtic in the past and he knows if he can do so again today, then his side will have a great chance to upset the odds.
He added: "I had a couple of 0-0s before Rodgers took over, one at Dens Park and one at Celtic Park.
"You know it is possible. But in those games they were slightly off it.
"I wasn't actually that busy in those games. I had a couple of good saves. I remember one from Charlie Mulgrew.
"When you go to Parkhead, the goalkeeper needs to have a good game. But the main part is your gameplan and being defensively sound overall.
"It was a great feeling to get the clean sheet at Parkhead that day because I have also been beaten 6-0. I never want that to happen again. It is a horrible feeling – you just want the ground to swallow you up.
"But we are really confident going into this game. We feel we have players who can execute our gameplan."
Bain knows that Dundee will have to pay special attention to former Dark Blues favourite, striker Leigh Griffiths.
He added: "I know Leigh a little bit. We have some similar friends and I have been in Scotland squads with him.
"His movement is fantastic and I think his whole game has been different class since he went to Celtic. His hold-up play, runs and finishing are second to none.
"He is obviously a threat and someone to watch carefully. He can punish you from free-kicks and shots from nothing so I have to be on point the whole game."