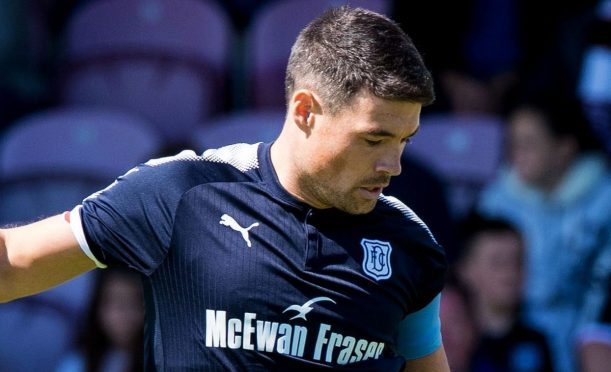 Dundee skipper Darren O'Dea doesn't like playing a supporting role but he will do it if it means the Dark Blues are winning.
The Irishman hasn't played for Neil McCann's men since being red-carded in the goalless draw against Kilmarnock at Dens on November 18.
Since then Dundee have recorded notable wins against Rangers, Ross County and, most recently, Partick Thistle.
O'Dea has had to look on from either the stand or the bench as Jack Hendry and Josh Meekings have formed a solid core at the heart of the defence.
It is a rare footballer indeed who isn't bothered about missing games and O'Dea would certainly rather be on the pitch than the sidelines.
However, in his wider role as club captain, he has taken considerable consolation from both the results and form of his colleagues.
O'Dea said: "It is frustrating because I am used to playing and being a big part of what we do on the pitch but I have no complaints.
"I have been out of the team because of suspension and the lads have done brilliantly, so I'm not sitting wondering why I am not playing.
"I know why I'm not.
"I take the responsibility of being club captain seriously.
"It's still my job now to support the team and work as hard as I can to make sure I am ready when I am needed.
"No player likes not playing but I am comfortable as to why I am not involved right now.
"Long may the good form continue and if that means me not being in the team then so be it.
"It is important that I understand the decision of the manager and I do understand.
"I support him and the team the best way I can and that will be the case again at Motherwell on Saturday.
"I also have to set an example to others that I have kept out of the team in the past because I would have expected and demanded they work as hard they could to get in the team.
"It's up to me to do the same.
"I like a challenge and I think it is a test of character for me right now."
O'Dea has been mightily impressed by Hendry and appreciates that speculation over the talented 22-year-old is inevitable.
However, he thinks the player would be best served by staying at Dens for a while longer.
He said: "He has been great since he came in.
"He has absolutely everything to be a top centre-back.
"If he is desperate to improve and make himself a top player, then he will get there because he has the right attitude.
"The only thing that will hold Jack back is himself.
"I hope he is with Dundee for a long time to come, though.
"I think he is working under a manager right now who is getting the best out of him and who has massive faith in Jack.
"The manager gives players confidence and everyone knows what they are doing in the team and I think Jack is blossoming because of that.
"He has a great gaffer at a great club who are giving him invaluable experience right now and I think he would be best served staying at Dundee for the near future."
* Darren O'Dea was speaking at the launch of new Neapolitan pizza restaurant Mozza in Dundee's Whitehall Street, where he was also joined by Dundee United striker Scott McDonald.