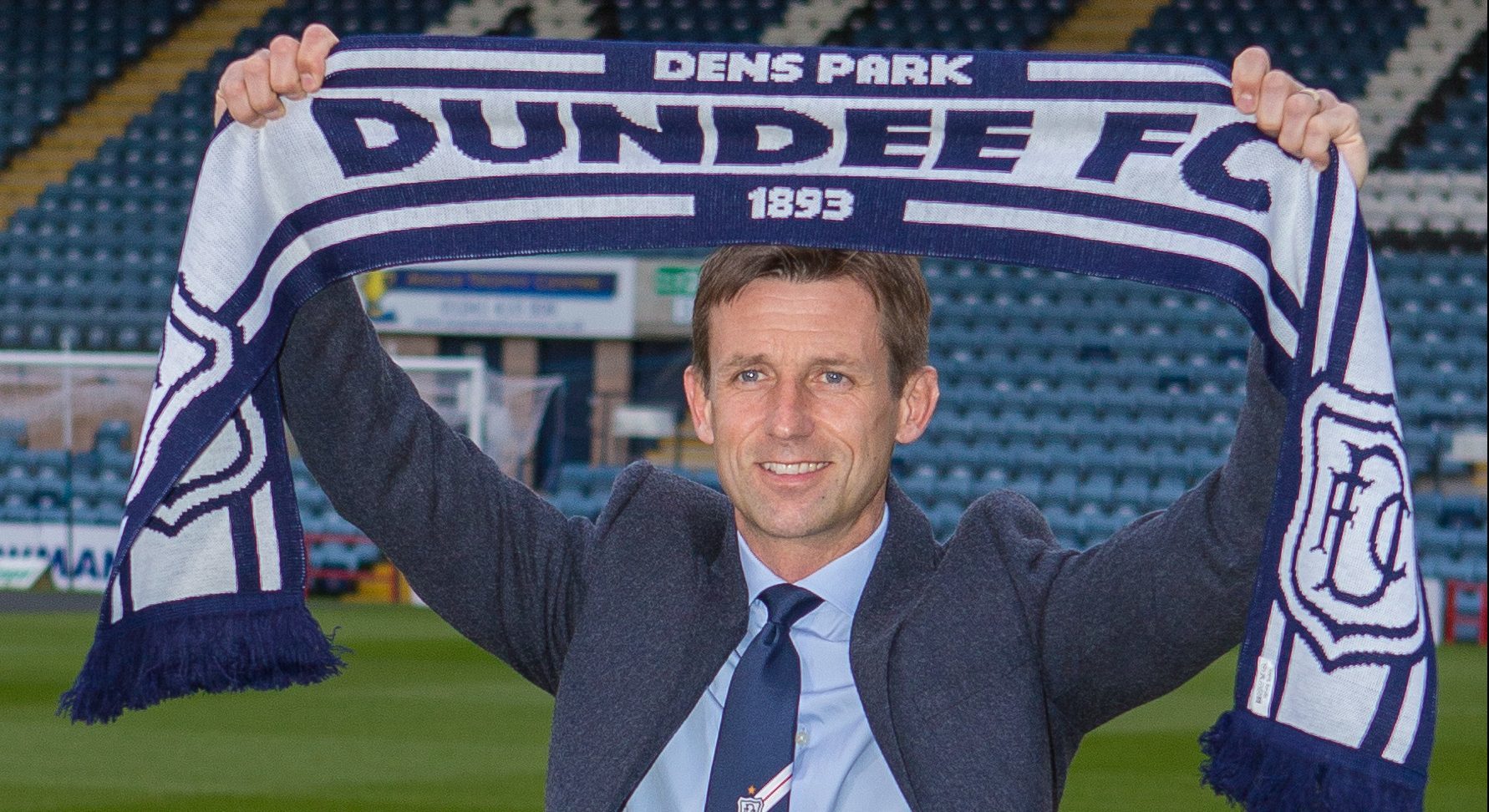 After his first six months in the Dens Park hot-seat, Neil McCann insists his mission as Dundee manager has only just begun.
The 43-year-old had a successful spell as interim gaffer at the end of last season when he was parachuted in following Paul Hartley's sacking to secure the club's Premiership safety.
McCann then turned down the chance to become the permanent Dark Blues boss after deciding to return to his job as a pundit with Sky.
However, the former Scotland, Rangers, Hearts and Dundee winger stunned Scottish football at the start of June when he performed a dramatic U-turn and agreed to accept the post of full-time Dens boss.
After that life-changing decision had been taken, McCann immediately set about radically reshaping the team, tactics and the entire mind-set at the club.
However, he candidly confesses he still has much to learn in what is his first job as a manager and a long way to go until he realises his ambition of winning something with Dundee.
McCann said: "As soon as I decided to take the job full-time, it was just full steam ahead.
"I have never looked back, to be honest. I have loved it.
"The highs are very high and the lows are very low. The in-betweens are kind of strange because you are always searching for the high.
"But I have to admit it has been great because I have seen real improvement in the team.
"It has been hard work on and off the training field.
"And although the first third of the season did not yield the points I believe our play deserved, there were signs there with the way we were playing that it would bear fruit and we would get points.
"I always thought it might take us a bit of time to get to where I feel we are going now.
"I think there is an unbelievable amount still to come from this team.
"I have only just started. I am still learning but I am very much open to that.
"I want to become better at my job but I see signs here that what I am trying to do is starting to seep in."
McCann added: "My job here is to make players better, the team better, get results and make the club better. That is my sole focus.
"I have a contract with the club and I still have so much work to do. I am absolutely just starting.
"I want to win something for Dundee.
"I want to get the club up into the top six where it is challenging for European positions.
"Of course, that is going to take a bit of time but I have an ambition that drives me.
"I also have a managing director (John Nelms) who likes that ambition and shares it.
"So that's where I want to be right now."
As a former pundit, McCann was paid to give his opinions and as such he knew when he left the TV studio to move into management there would be a large target on his back.
When asked if he felt there were some waiting for him to fall flat on his face, he said: "Absolutely. I think that's natural.
"There were probably people in the media wanting me to fall flat on my face because I have been up there pontificating, if you like, saying you should do this or that.
"Look, I am not a success yet just because I am still in a job after six months.
"I don't see that as a success. There has been an element of me trying to implement a style of football which I think has been successful.
"But you can tell with some of the quotes and some of the comments that people make when we aren't going too well . . . they weren't taking any great delight in it but it doesn't matter what other people think.
"I know what I am doing here and only time will tell if that's successful.
"We want to get to a stage where we are winning and playing really attractive football.
"It is not all just about win, win, win. I want to implement something here at Dundee where people might say, 'I would like to play for them'.
"I'd like people to say I would like my boy to go there or big clubs down south to say we could put our best kids there as they play in a certain manner.
"But at the end of the day, football is all about winning. If I continue to think we will play the beautiful football but are losing games then eventually I will lose my job."
One undoubted area of success for McCann during his first six months has been in player recruitment.
He has brought in 11 new faces with the likes of Jack Hendry, Glen Kamara, Roarie Deacon, Josh Meekings and Jon Aurtenetxe to name but a few being undoubted success stories.
McCann added: "I feel we have had good success with the signings I have made.
"There are one or two who I still believe have yet to show what they have really got under the hood and hopefully over time they will get that opportunity.
"But overall, I have been pleased with them.
"It goes back to what I would call a summer of madness looking at all these possible players.
"It was my first transfer window and I had never experienced anything like that before.
"When you look at that and having no recruitment experience between Graham (assistant boss Gartland) and me, I feel we have had good success with the signings and I would like to think the fans feel that's the case as well."
McCann though did admit it hasn't all been plain sailing during his first six months.
He said: "I would say I have made mistakes.
"Maybe there have been games where I can look at myself and think I could have done that differently but as a manager I think you will always question yourself after a defeat.
"I am not vain enough to say I did everything right there and it was the players. I am still learning but overall I am very happy with how my first six months have gone and what I am trying to do with the club."
Dundee currently sit in 10th spot in the Premiership but over October and November they lost five games in a row and sank to the bottom of the table.
However, McCann admits the stresses and strains of his job do not daunt him.
He added: "I have a new-found respect for managers and the pressure they deal with.
"But I have never felt pressure for my job.
"That is not being ignorant to the position we were in or the results we were having.
"When I first took this job for the first five games, I sat in the boardroom and said I didn't have any fear for the job.
"I don't. That's the way I am built. My father brought me up well to not be frightened of anything like that just as long as you give it your best.
"That's the pressure I live with – am I giving it my best? I know I am.
"So the pressures I have are the responsibilities the club have given me to run it and make it and the players better.
"There is of course the pressure to get results that the fans are going to be happy with.
"I live with that but I am not frightened of it.
"I go away but I never switch off.
"You have moments where you drift and you can be doing the most mundane thing when suddenly something will grab you and you will be back onto football again.
"I think it is important that you have to switch off to a degree but it is also important that you are always on your toes and you have to be ready."