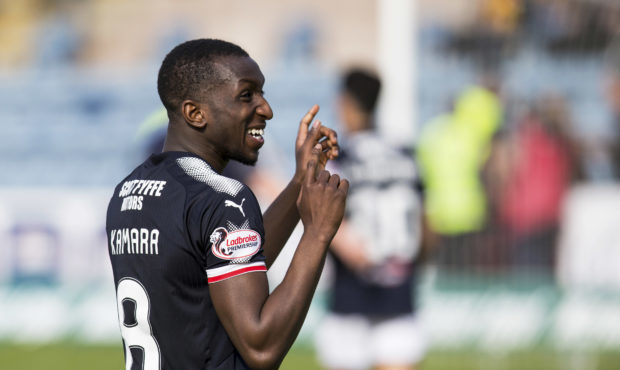 Dundee manager Neil McCann has revealed that Sunderland wanted to sign his star midfielder Glen Kamara.
The Black Cats, who were relegated to England's League One last season, are managed by former St Mirren boss Jack Ross, who knows all about Kamara.
The Finland international is currently carrying an ankle injury and will sit out today's home game against Aberdeen.
However, that is still a better scenario for Dundee fans than having to watch one of their prize assets head south to the Stadium of Light before the English transfer window closed at teatime last Thursday.
The Dark Blues stood firm in the face of approach for Kamara, while the flurry of speculation surrounding central defender Steven Caulker also came to nothing.
McCann confirmed: "There was interest from Sunderland in Glen.
"I am delighted that he is still here because we didn't want to lose him.
"There were admiring glances coming our way but I am so happy that he is here, although I'd prefer him to be on the pitch instead of injured!
"We may have to fend off some more interest in future but I have always been clear that I want to keep my best players if possible."
Kamara has been to see a specialist regarding his ankle problem and McCann was happy with the outcome.
He said: "Glen will be missing again (against Aberdeen) because he got a wee bit of a setback in training.
"It is one of ligaments in his ankle and he has tweaked it again.
"He was back with us training but he hurt it again and we were a wee bit worried about it.
"So we sent him for some expert opinion and it was very positive.
"The good news is that he will be pushing on his work next week."
While Kamara and Caulker are going nowhere for now at least, they are on the brink of welcoming Shrewsbury Town attacking midfielder Sam Jones to Dens.
McCann confirmed that a deal has been agreed between the clubs but there is still work to be done before the 26-year-old English born former Welsh under-19 international heads north.
He said:"Sam Jones is one that we have looked at – definitely.
"He is one of a few so I wouldn't be disrespectful to Shrewsbury by commenting on it more than to say yes we have looked at him.
"We have asked the question about him."
Asked if a deal had already been struck, McCann added: "We have spoken to the club and I believe there is an agreement there."