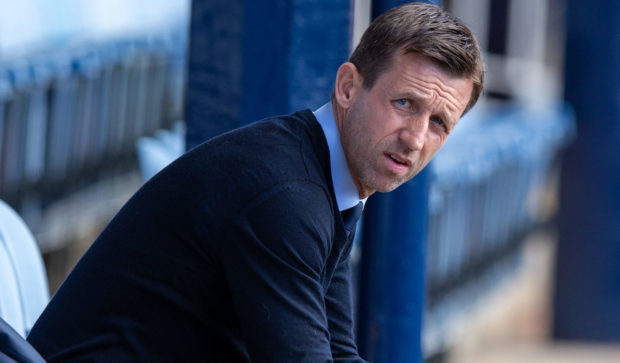 Ultimately it proved to be a gamble that simply did not pay off.
Neil McCann may have been a Dark Blue hero from his playing days but appointing the managerial rookie as Dundee boss was always a huge risk.
The former Scotland winger started his career at the club, before coming out of retirement to score a famous goal during the Deefiant season.
McCann also helped save Dundee from relegation when he was appointed interim manager following Paul Hartley's sacking at the end of the 2016/17 season.
That should have been that, with the 44-year-old returning to his work as a Sky Sports pundit, his place forever etched in the annals of Dundee folklore.
However, after initially turning down the chance to become the permanent manager, he performed a dramatic U-turn and accepted the post on June 1, last year.
Now though it has all ended badly, something that had been on the cards after what has been a dismal start to the season.
It is a dreadfully sad way for it all to end for McCann at Dens, so where did it all go wrong?
First and foremost, results have simply not been good enough.
Last season, McCann told anyone who would listen that he was in charge of a "top six" team but the evidence proved that claim was well wide of the mark with Dundee struggling for most of the campaign, only missing out on being in serious trouble thanks to a late flurry of three victories after the split.
There were some terrible runs during the campaign with the Dark Blues losing five in a row between October and November and then another drought later that saw them only win once in 10 games.
The home form was abysmal with the fans becoming weary of seeing their team struggle at Dens.
The season did end on a more positive note after the players secured the club's Premiership status for at least another year however the start to this campaign has been nothing short of disastrous.
McCann cannot claim he has not been backed with the American owners agreeing to a big summer of recruitment with no less than 11 players arriving at Dens.
Moulding them into a team proved beyond McCann who constantly chopped and changed his team and tactics in a futile bid to find the right formula.
Some of his decisions were baffling to say the least – just two days after signing Kenny Miller and insisting the former Scotland striker was the man to get the goals for his shot-shy side, he played the veteran in a wide right position against Motherwell.
That game also saw midfielder Jesse Curran selected once more at right-back while natural right-back Cammy Kerr was played at left-back.
McCann also seemed to be determined that his Dundee would play the game the "right way".
That meant playing the ball out from the back and through the midfield which is fine if you are the manager of Manchester City.
The Dundee players rarely looked comfortable with the concept and the slow build-up inevitably set the fans on edge, especially at Dens.
It was all too predictable and easy to counter – St Johnstone boss Tommy Wright and his players all but said as much after they beat the Dark Blues earlier this season.
McCann's recruitment policy also deserves criticism – yes, he can claim to having an eye for a player after signing and then selling for a club record transfer fee Jack Hendry to Celtic and for spotting the potential of former Arsenal Academy midfielder Glen Kamara.
However, too many others have simply not been up to standard with what had looked like a scatter-gun approach.
The manager also did himself few favours with his aggressive style – his former Rangers and Scotland team-mate Billy Dodds may only have been joking when he described McCann as an "angry wee man" but that was how he frequently came across.
There were constant arguments with officials with McCann and his assistant Graham Gartland frequently badgering the poor unfortunate who happened to be the fourth official at games.
There was also the notorious touchline bust-up with the St Johnstone back-room staff that left a sour taste.
There were constant stories of fall-outs with players leaking out of the Dens dressing-room, the most high-profile of which was the bust-up with goalie Scott Bain that ultimately saw the highly-rated keeper leave Dens for nothing to move to Celtic.
Certainly, others such as Kevin Holt, Mark O'Hara and even local hero Craig Wighton couldn't seem to wait get themselves away from the club.
McCann also did not endear himself to his players by cancelling their days off whenever the mood took him – he even did so after they had WON against Buckie Thistle last season.
It all looked like gesture management.
However, these are all issues to the one that ultimately matters for a manager – results.
These have simply not been good enough and have now cost McCann his job.
It is a desperately-disappointing way for it all to end for him at Dundee but the club has to move on and the search for his replacement has begun.
Certainly owners Tim Keyes and John Nelms can ill afford any more gambles with managerial rookies and an experienced head is needed to steady the ship before it is too late his season.