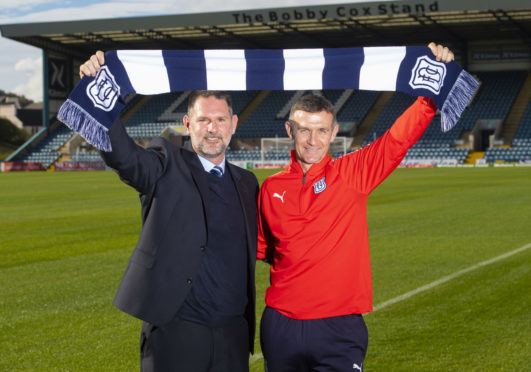 John Nelms has been left in no doubt about the strength of feeling in the Dundee fan base against the appointment of Billy Dodds as new manager Jim McIntyre's assistant.
And it has led him to the conclusion it will "be tough" for the partnership to be reformed at Dens Park
The managing director acknowledged that Dodds is McIntyre's preferred choice for number two after they proved such a successful combination with Ross County.
And he also acknowledged that there have been talks with him.
Dodds was well-liked as player in dark blue but his present day unpopularity goes back to his time as assistant to Gordon Chisholm when, after they lost their jobs during the club's second administration in 2010, he voted against the proposed creditors' voluntary agreement required to trade normally again.
In short, in the eyes of many supporters he stands accused of being willing to let their club perish.
"It is a very sensitive issue," said Nelms. "Even more sensitive than I would have expected.
"I wasn't here at the time but I have taken a lot of advice and talked to a lot of people.
"I have spoken to Billy as well because I want his side of things. I want the full picture.
"The fans, based on the information they have, have every right to not want him through the door.
"But it's a tough one. There are candidates out there but Jim and Billy came as a team – and that's his number one candidate.
"But we do have other candidates.
"I think it will be very tough for him to come into this environment. Never say never, but it will be tough."
He added: "I'm responding to the well-written emails I'm receiving which have true animosity and I'm willing to speak to a few of them as well to get their thoughts and understanding.
"I'm looking at this from a third party perspective and we weren't here. I understand what happened at the time. It was a horrible situation for everyone – the fans felt shafted, the staff felt shafted, everyone felt shafted.
"People there at the time suffered as it was a horrific mess. Some people handled it in ways which – in hindsight – they might have wanted to do differently.
"At the end of the day it was a situation that no-one wants to live through again."
Nelms insisted there is no risk of McIntyre backing out if Dodds doesn't come with him.
He said: "No – he'd prefer and like to have his team with him but at this point in time it may or may not happen. But Jim's here."
Asked whether he thought the Dodds animosity was misplaced, Nelms responded: "I don't know if I can answer that question.
"There are true feelings why it happened and I think Billy probably thinks that he could have done some things better not knowing that it would come back and have this kind of reaction.
"There are things ongoing from that time that could have been done better.
"I can't answer it more than that.
"A lot of them (fans) see the big picture but they are very passionate about the club. We're all passionate about the club and if anyone is seen to do something bad to the club – right, wrong or indifferent – you are going to have an opinion on that.
"I don't think it's bad for them to have that opinion.
"If they talked to him they might have a slightly different opinion, but it's the same thing – the vote was the vote.
"What he said in the past and the way it was construed – it's bad."
Nelms does not believe that McIntyre's effectiveness will be diluted without Dodds at his side.
He said: "I'm a bit concerned because when you look at things, it's generally teams of people that achieve things.
"Jim McIntyre is the top name but he did have a portion of his wins and collecting points alongside Billy.
"You have to ask – are there people out there who can do the same job and will we get the same benefits out of Jim? I think we will.
"I've watched Jim work – his teams have beaten us several times and a few times we've won.
"Watching him work, whoever comes in as a number two will be a strong character that fits the bill for the man Jim wants on his team.
"We want who will do the best job and if that's from within the club then yes we'll look there."
On the subject of his number two, McIntyre said: "We've not confirmed anything in terms of the assistant manager.
"What I can say about Doddsy is that he's a fantastic coach.
"We've got a brilliant history together.
"He was also an unpaid coach at Queen of the South so we've been
together for four years.
"We do work well together but I am also fully aware that there are
sensitive issues from the last time Billy was here.
"That's for John to speak about and I'll deal with the football side of things."