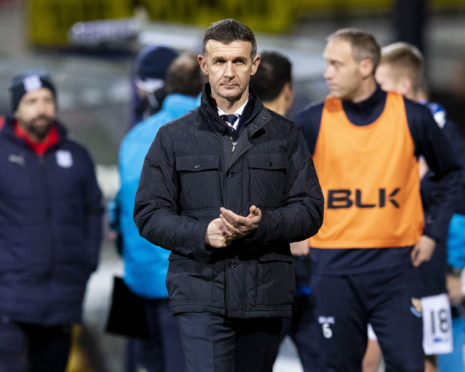 In the first Talking Football of 2019, The Courier's sports writers Eric Nicolson, Ian Roache and Neil Robertson reflect on a miserable end to 2018 for Dundee and Dundee United and a joyous one for St Johnstone.
Could you three wise men explain the drop-off in standard of Dundee performances after the team's 10-man draw with Rangers?
IR: A Happy New Year to all the Dundee fans who had to endure the absolutely shocking display against St Johnstone. I hope 2019 is kind and keeps the Dark Blues in the Premiership but Saturday's display was devoid of any optimism. Once again, the most worrying thing about this side is the lack of fight. They don't look like they are up for a relegation battle but hopefully a transformation of the squad during the transfer window will change that.
EN: Dundee have played good teams since the Rangers game, which explains a lot. But they have also reverted to the meek-looking side that Jim McIntyre inherited. Ultimately, though, it comes down to too many players simply not being good enough for Premiership level. Points-wise, St Mirren haven't done much better than Dundee recently but they have been more competitive.
NR: After the Rangers game Dundee suffered three draining away defeats at Killie, Aberdeen and Celtic in the space of a week. The team then did well to battle to a point against Livingston. It looks like the Saints game may have been a bridge too far, however that does not excuse a pitiful performance where the home side could only muster one shot on target in 90 minutes compared to 11 from the opposition.
Three Dundee players have been moved on already and others told they can go. Have any come as a surprise and how many do you think Jim McIntyre will bring in?
IR: I thought Calvin Miller was one of the players who at least looked interested. Personally, I would have kept his loan going until the end of the season.
EN: McIntyre brought in six players in January when he was in this position with Ross County and I think we could be looking at the same at Dens. Craig Curran is one of the names being mentioned and McIntyre turning to former players who he knows can do specific jobs could become a theme of his January business.
NR: Miller was a slight surprise but McIntyre needs players who are going to perform to a consistent level and the Celtic man did not do that. As for how many he will bring in . . . a case could be made for reinforcements being needed in every area of the park but a lot will depend on just how often owner Tim Keyes is willing to open his cheque book.
What have you made of Glen Kamara this season and will he still be a Dundee player at the start of February?
IR: Managers can talk the talk or walk the walk. By taking Kamara off at half-time, McIntyre did the latter. That decision spoke volumes about what he thinks of the midfielder's current form and he will be away soon.
EN: Injury problems were an excuse at the start of the season but not now. This is an international player we're talking about and he's been a big disappointment for Dundee. The summer was the time to move him on but they will have to take what they can get this month.
NR: Kamara has been fully fit in recent weeks but his manager has shown by dropping him against Aberdeen and Livingston and then hooking him at half-time on Saturday that he has lost patience with the midfielder. Plenty of teams have cast an eye over Kamara but he is out of contract at the end of the season and there is no guarantee any of the interested parties may pay money for him in January.
Are you more optimistic about Dundee staying up than when McIntyre took over from Neil McCann or less optimistic?
IR: To be honest, I left Dens on Saturday fearing the worst. I think McIntyre has done some good things and there was a mini-revival but my concern is that the players don't want it enough.
EN: I'm still optimistic they'll avoid automatic relegation – not because of the team Dundee have now but because I think they will end January with a squad that will be better than St Mirren's. And their manager is better equipped for a relegation battle than Oran Kearney.
NR: Put it this way, I have covered 12 Dundee league games so far this season and have yet to see them win so my optimism levels are fairly low to say the least. If McIntyre can mastermind a great escape, then he probably deserves a statue outside Dens.
Dundee were played off the park by St Johnstone. Was that as clear a snapshot as you can get of one club that has consistently got its recruitment right and one that has got it consistently wrong?
IR: The gap between these two sides in a game was as wide as I have seen in all my years doing this job, even though the margins of victory may have been greater in past fixtures. There are 24 points between the clubs now and that will only increase in number before the end of the season. It must have been painful for the home fans to see how poor the Dark Blues looked compared to the opposition from up the A90.
EN: Tommy Wright is THE biggest factor. And his recruitment is a big part of that. He would have been offered plenty of the flops that ended up at Dens in the summer (and Tannadice) but was much too street-wise.
NR: Yes. Dundee's recruitment in the last few seasons has been nothing short of shambolic.
Will it be more about keeping their best players and extending deals at McDiarmid Park than incomings?
IR: Yes, I believe so. There are a one or two there who will be interesting bigger clubs. For example, Matty Kennedy was far too good for the Dundee defence and looks capable of stepping up a level.
EN: New deals for Joe Shaughnessy and Jason Kerr should be the priority. I'd also extend Drey Wright's contract while he's out injured. If silly money was offered for Kennedy, Saints would have to take it but the player is in no rush to leave.
NR: Contract renewals will be important but if the right player became available then Wright could look to add even more quality to kick on again in the second half of the season.
Did Robbie Neilson get kidded by the honeymoon when he took over at Dundee United?
IR: A Happy New Year to all the United fans who had to endure the absolutely shocking display against Alloa – sound familiar? United have picked up a horrible habit in recent years of having a terrible festive season and it's no different this time. I think Neilson's blistering after-match analysis from Recreation Park (Neil's tape machine must have been burning) will have had warning bells ringing…and not just on this side of the Atlantic.
EN: United won at Partick, Dunfermline and Ross County so I think it was a fair assumption to think some (not all) of the problems had been solved by changing Csaba Laszlo for Robbie Neilson. He probably did think 'this isn't quite as bad as I thought it would be'. The truth is, United as of now are at a position in the table that the strength of their team reflects – play-off certainties but title outsiders.
NR: Going by what Neilson said at Alloa he for one was certainly not kidded by the honeymoon period. Tellingly, he commented: "We need to make a lot of changes here, I knew that before I took over." Hopefully that means he already has targets lined up to replace the players he has known for a while are simply not up to the job of winning promotion.
He certainly seems to have a good picture of what he needs to do to reshape his squad now though, doesn't he?
IR: Yes, it seems so but we all know how tough it can be to find a good buy in the January sales.
EN: I don't think we're looking at quite as many signings as at Dens. Three or four would be my guess.
NR: I think I answered that above but I would not be surprised to see sweeping changes with as many as half a dozen new players.
Talking of honeymoons, the new owners aren't getting a long one, are they?
IR: You just hope Mark Ogren had his eyes open when he signed on the dotted line. It would be a concern if the size of the task has taken him by surprise.
EN: Everybody at Tannadice is under big pressure, the Ogrens included. They have to trust their manager's judgment and back him.
NR: The Alloa result was a shocker but if Neilson already knew he was going to have to revamp his squad, hopefully he has had a conversation with Ogren and secured promises of the level of backing he needs to do so.
Are you worried that by the time Neilson finishes his wheeling and dealing, Ross County will be over the hill and far away?
IR: Here's a scary stat for United fans to fret over. A year ago today, the Tangerines beat Brechin City 4-1 at Tannadice. That left them just three points behind leaders St Mirren with a game in hand. Oh and they were a healthy nine points clear of third-placed Livingston. They currently sit seven points behind Ross County and four adrift of Ayr, who have played a game fewer. As I said, Happy New Year….
EN: The margin for error for United is wafer-thin. County are stronger title favourites now than at any point of the season so far.
NR: Yes, I alluded to that in my comment piece on Monday. Unless Neilson has all his targets primed and ready to sign –which seems unlikely – then he is going to have to rely on the under-performing players already at the club.
Who is going up and who is going down out of our clubs in League One?
IR: I can't see beyond Arbroath for the title for obvious reasons but will be keeping an eye on East Fife after that fabulous Fife derby victory at Stark's Park. Brechin are in a battle at the bottom but there is still plenty of time to climb out of trouble.
EN: Raith Rovers' result on Saturday was a shocker. Arbroath are as near a certainty for the league title as you can get. I do worry for Brechin, I must admit. What a miserable 2018 that club has endured.
NR: I fully expect Arbroath to add one or two quality players in the window while Raith could lose the likes of Daniel Armstrong and even skipper Kyle Benedictus who are being linked with other clubs so I can only see one title winner and it is not the Kirkcaldy side. As for who will be going in the other direction . . . it is still too tight at the bottom to tell.