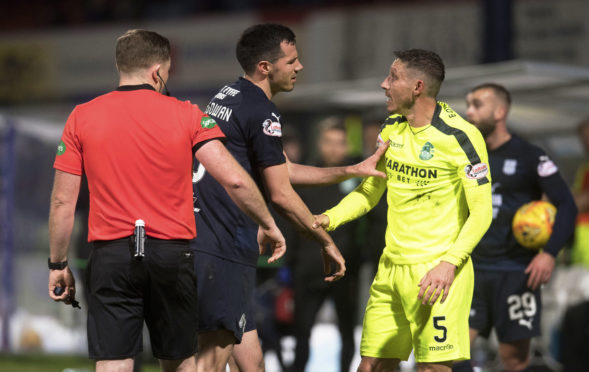 He may have been caught flush in the face by an opponent's boot but "old school" Ryan McGowan will not be running to complain to the SFA's compliance officer any time soon.
The 29-year-old Dundee defender was on the receiving end of Hibs Marc McNulty's studs during a tussle in the second half of Friday night's game at Dens.
McGowan was booked for his part in the challenge and although the kick out was missed by referee John Beaton, it was picked up by the TV cameras.
However, the Dark Blues centre-half is adamant that no further action should be taken against the Hibees striker, insisting the whole citing procedure has become nothing short of childish.
McGowan, who has also played for Dundee United and Hearts said: "I am a little bit more old school and if the referee doesn't see it then I don't like the compliance officer getting involved because it is part and parcel of the game.
"I know Marc quite well from Edinburgh. He has always been the green side and I have been the other.
"He apologised after it. I spoke to him again after the game and I know he hasn't meant to kick my head.
---
>> Keep up to date with the latest news with The Courier newsletter
---
"It is not one of those nasty ones. He is eating grass, his legs are in the air and I am all over him.
"It probably looks a lot worse when it is slowed down and shown on television.
"From my point of view, I wouldn't like to see the compliance officer involved.
"It is a physical game and sometimes you catch elbows or feet and it is just part of the game.
"Everybody is getting a little bit sick of the compliance officer coming in after three or four days to take action."
Dundee 2 Hibs 4: Dark Blues beaten as goals rain down on Dens
McGowan admitted that the disciplinary procedures need re-examined and he is even in favour of cutting out the compliance officer altogether.
McGowan said: "Back in the day you used to get away with one and some players made a career out of that.
"A bit of intimidation or a little bit of leaving it on you and vice versa but now you can be a few days after a game and somebody says something and suddenly the incident is viewed in isolation.
"If you look at the McNulty one it looks as if he has kicked me but it doesn't show that I had been fouling him for 15 metres before that!
"If you slow it down and change all the angles it does look a lot worse than it is, but there is a fine line now between taking action and letting things go.
"If it is over the top then of course but this incident won't help us get the points back or impact us so I would just let it go.
"The whole process needs to be sorted out and even if they were a bit more public about it and explained why he has been cited.
"Back in the day it was all rumour and gossip but now there are too many television cameras and it is killing football.
"The radio and television pundits now have more influence than anyone.
"I have watched Friday's game back and the first time you see it people probably wouldn't have picked up on it.
"They then slow it down and show it again and again and suddenly we are talking and tweeting about it and it becomes a huge thing.
"It is becoming childish really. I think we should strip it right back and if the officials don't see it then that is it."
However, McGowan admitted that players also have an important part to play.
He added: "If I held my face and stayed down then there is a chance he could have got a red.
"Now every foul is a yellow or red. Every contact in the box is a penalty or it is a dive and a booking.
"They are trying to make it too black and white.
"I remember coming through and if you stayed down for more than five to 10 seconds then it was seen as a little bit of a sign of weakness.
"Not that you were soft but you weren't playing the game properly.  Now it is almost encouraged to hold your face, roll about or to make a bigger deal of it."