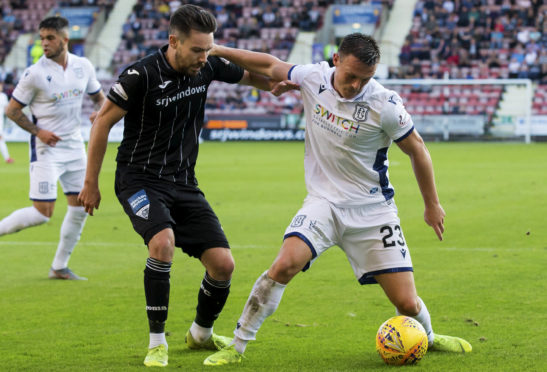 Dundee defender Jordan Marshall welcomed the "confrontation" in the dressing room at East End Park.
Marshall confirmed that there were strong words from manager James McPake towards the disjointed Dark Blues at half-time during Friday's league opener against Dunfermline.
He also revealed that there was some friendly fire among the Dundee players, with verbal volleys being launched from man to man as they tried to recover from a horrible first 45 minutes.
The Pars had ripped them to bits and should have been furhter ahead than the 2-0 lead they took into the final minute of the half.
However, the Dens men got a lifeline thanks to Danny Johnson's penalty and they went on to score again from the spot thanks to the same player.
That turned what had been a horror show into a decent result so it is no wonder Marshall thought the barneys at the break were worth it.
The 22-year-old Englishman said: "There were a few loud words but it worked, obviously.
"The performance was much better."
Asked if they were restricted to the gaffer or if others joined in, he replied: "There was a bit of both.
"I think it is always good to have confrontation just to dig people out.
"Sometimes you need a little kick up the bum.
"That came from the manager but it also came from the players because we all knew it wasn't good enough."
Marshall felt it was an unusual game in that his team had looked so far off the pace at one stage but could have actually finished on top st the final whistle.
He added: "It was a bit of a weird night.
"We didn't start well at all in the first half but we will try to take the positives out of the game because we had been doing so well up till this game.
"That was really the first blip for us.
"We conceded the two goals but the second half was much better and probably could have won the game.
"It is not a bad result and you would maybe take a point after being 2-0 down.
"But we were looking to go and get the three points."
Marshall felt one of the positives from what was a challenging first Championship fixture was that the Dundee players learned a bit about themselves.
He said: "I think the character came out in the lads in that second half.
"People were wanting the ball and that says a lot about the boys.
"They were brave even at 2-0 down and not afraid to make mistakes. That's how we got back into the game.
"We responded and didn't coast to defeat.
"The fans have been great and expect a better performance but it will come.
"They turned out in their numbers on Friday and, with them on our side, that has to be a positive."