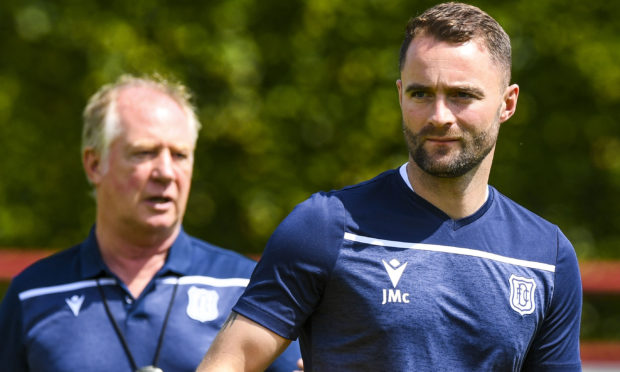 Dundee assistant boss Jimmy Nicholl has experienced just about everything during his long and illustrious career as a player and as a coach.
However, Dark Blues manager James McPake has revealed that the 62-year-old, who starred for the likes of Manchester United, Rangers and the Northern Ireland national side, did not believe him when he told him they would be walking to Tannadice tomorrow night.
That short trek down the road is a Dundee derby tradition that also took McPake by surprise when he first experienced it himself.
He was used to a much more hostile derby atmosphere when he was at Hibs but the friendly rivalry between the two City of Discovery clubs ensures there are no problems for the players from opposition fans.
And the manager has also reassured Nicholl that is the case with the coaching staff as well.
McPake said: "The first time I went into Tynecastle as a Hibs player, we had a police escort.
"Then, when I came up here, I got told that we just walked down the road for the derby.
"I thought it was a wind-up when someone first told me.
"I thought to myself that can't be right. But it's good-natured banter walking down there and I can't really remember anything bad about it, to be honest.
"I was telling Jimmy Nicholl about it the other day and even he didn't believe it when we were going through the plans for Friday night.
"He asked if you get much stick and I told him as a player I could never remember anything.
"Maybe I just wasn't a big enough player to get noticed. Wee Gowser (Paul McGowan) maybe got a bit as one of the better players.
"I just walked down as part of the build-up. It was good, getting together with the rest of the players and heading down.
"On the other hand, it's the same when they come up here to our place.
"Again, there was never really anything on the way back up the road after the game.
"By the time you're showered and changed, the crowds are away and have gone back to the pub.
"If there was anything at all, it would just be the odd shout which was light-hearted."
Once the game kicks off on Friday, friendships will be forgotten for the duration of the game with both sets of supporters desperate to see their side win.
However, McPake admits the fixture is all about football, not side issues, something he insists the fans deserve great credit for.
McPake said: "For 90 minutes or so, it is intense. That side of it is like any other derby.
"Personally, I only played in Coventry v Leicester, Coventry v Notts Forest and Hibs v Hearts.
"But this Dundee derby brings just as good an atmosphere.
"The fans hate – and I don't like using that word – each other for that 90 minutes and, like any derby, the players are desperate to win for their fans and for their team.
"It's not any less of a derby because you walk down to Tannadice. It certainly makes more sense than driving a bus down.
"I think if it was more problematic they would just line the police up and they would walk you down.
"Thankfully they don't need to do that. The derby is for football reasons and that's what I like about the Dundee one.
"Everything is about football. There are no real side issues to it which is good for the city and a credit to both sets of supporters for being that way."
United have established a four-point lead over Dundee after three league games of the season with McPake determined that gap will not widen to seven tomorrow.
McPake said: "You never want to fall that many points behind.
"Ideally, you would love to be seven points ahead.
"If there ever was a time you wanted to be seven points behind then you'd rather it was now, but honestly you would never want that to be the case any time – that applies to any team and not just them (United).
"I'm not going to sit here and pretend otherwise, or try to gloss over it.
"You wouldn't want that to be the case in the league when you're going for the title or promotion.
"But that's the scenario we're in. Nothing is decided in August and never will be, although I don't want to be seven points behind."