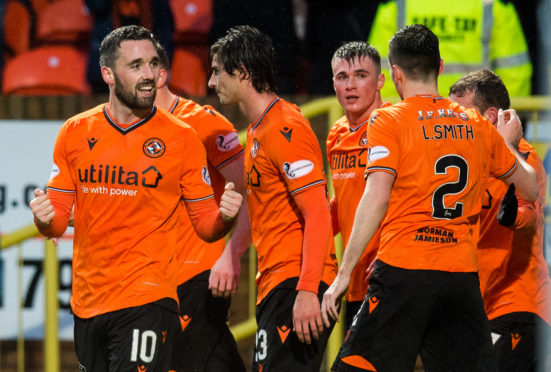 In this week's Talking Football Ian Roache and Eric Nicolson reflect on another winning weekend for runaway Championship leaders Dundee United and assess the job the rest have to catch them.
Dundee United coped just fine without star striker Shankland as they beat Queen of the South 3-0 on Saturday. Lawrence who?
IR: They certainly did and you detected an immense sense of pride and satisfaction among the stay-at-home United players after that win. No one wants credit for a collective effort going to an individual, however much they all appreciate "Shanks" and want him to flourish for Scotland. The one-man team jibe was always wide of the mark and they took great pleasure in proving that the label was unfair.
EN: United are clearly a very confident team at the moment and if you could have chosen a fixture and a time for Shankland to be absent it would have been Saturday afternoon. Mind you, if you dipped your toe into the social media waters on Sunday evening when the SFA announced Shankland was out of the Scotland squad you would see that there are plenty of United fans who still get a shiver down the spine at the prospect of the main man being injured.
Who shone in Shankland's absence?
IR: That's an easy one – the whole lot of them. This really was one of United's best displays of the season and no one let the side down. Asked to choose one person then it had to be Paul McMullan on his 100th appearance for the Tangerines. His goal was terrific and his pass for Nicky Clark's second was arguably even better.
EN: I'll give Ian Harkes a name-check this week. Arguably he more than anyone was being questioned in the wake of the defeats at Alloa and Dumfries, and he has answered them with performances of a complete central midfielder.
Do you think the other teams in the Championship looked at United's result with resignation?
IR: Perhaps it is still a bit early for resignation but, as my esteemed Talking Football podcast pal Jim Spence pointed out, if you are a 1,500 metres runner racing around the track and the leader is way out in front then it saps your self-belief and you start to doubt you can catch them. The "chasing pack" can't afford to drop any points but one or both of Dundee and Inverness will do exactly that this Saturday. It is a formidable lead for United and, in this form, you can't see them throwing it away now.
EN: All three of United's title rivals have issues of their own to occupy their attention. They would have expected the Tangerines to beat Queens anyway. I don't think Ayr consider themselves as potential champions, and possibly the same can be said of Inverness. Dundee will still feel they have a big run of wins in them that can yet put pressure on their city neighbours.
United have a 100% home record in the league. How long can the Tannadice love affair continue?
IR: There have been one or two wobbles – the Arbroath game springs to mind – but they have come out on top each time. With each week that passes, more and more fans are believing that this is their year. Now that they are even getting by without Shankland it could last for some time.
EN: They don't have it easy at Tannadice in December – Ayr and Dundee are visitors. If the 100% record is still intact after those two then the United players will truly feel they are unbeatable on their own turf.
That's five clean sheets in a row too. Do the boys at the back deserve credit than they have been getting?
IR: It is a great achievement at any level of football. Goalkeeper Benjamin Siegrist has a fighting chance of becoming the club's all-time shutout king at this rate. Paul Watson should be able to relax now because he doesn't look like getting replaced at centre-back any time soon.
EN: Watson is the one under most pressure, with Mark Connolly now fit again. The defender they can least do without, though is Jamie Robson.
The Jim McLean statue has been given the go-ahead. Thoughts?
IR: A fitting tribute to a fantastic manager. United's best and one of the greatest to grace Scottish football. Well done to everyone involved in this venture.
EN: I'll echo that. And the statue will actually look like him which is more than can be said of some in recent times.
Dundee didn't have a game last weekend so do you think the extra time on the training pitch will help banish any derby blues when they go to Inverness on Saturday?
IR: It would have taken a bit of time to get over what was a worryingly flat performance against United so maybe the break was welcomed. It is good news that both Jordan Marshall and Jamie Ness will be fit for the ICT match and I certainly expect the former to play. The Dark Blues have had to regroup and I imagine they will be absolutely desperate to get going again.
EN: I think we'll see at least three changes from the derby defeat. I saw United's 'statement' win in Inverness a few weeks ago and Dundee need to produce something similar. In a tight title race a draw would be an acceptable result but there's nothing tight about the top of the table just now and James McPake's men have dug themselves a hole. Only three points will do. They need to be within six points of United by the time they next play United, I reckon.
It will be an even longer wait for St Johnstone, who don't play Aberdeen at McDiarmid until Sunday. They will also be keen to get out there, won't they?
IR: Yes, definitely. That Hibs result was a sore one and came from left field after a good spell for Tommy Wright's team. Note of caution – the Dons have won three on the bounce.
EN: You can't call a St Johnstone game with any confidence these days. If, and it's a big if, they cut out the slips and the concentration lapses then they are a match for anybody out with the big two. But how often have they done that this season? Like Ian, I'm worried by the form Aberdeen are in and would take a draw.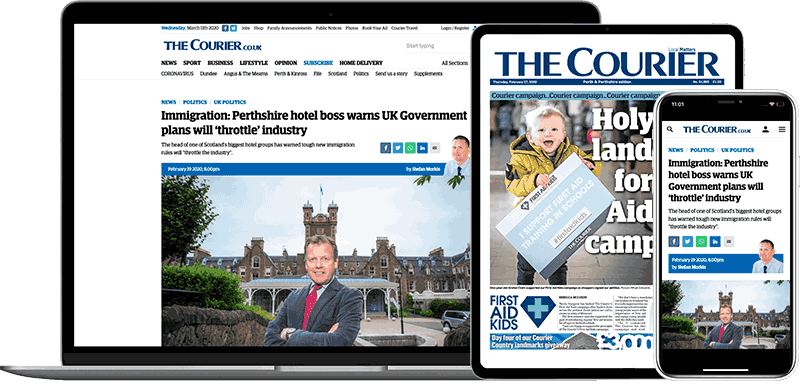 Help support quality local journalism … become a digital subscriber to The Courier
For as little as £5.99 a month you can access all of our content, including Premium articles.
Subscribe