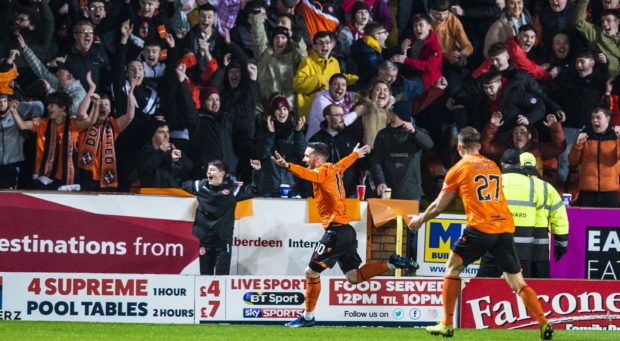 If you wanted evidence of how well Dundee United have done this season then it was provided after the final whistle on Friday night.
The Tangerines had just drawn 1-1 with their city rivals Dundee – the team, we should remember, that came down from the Premiership in the summer.
The after-match mood, though, was more akin to a defeat.
United had just maintained a 17 (seventeen) point lead over the Dark Blues but the feeling was flat.
That is not necessarily a bad thing.
Indeed, it could a good thing because it shows how high the expectation level is for Robbie Neilson's men as they push on looking for promotion.
Now we can put away the record books, with no 10-match winning run or perfect start to the season to compare with past achievements.
Instead, United will head, a little bit chastened, down to Dumfries this Saturday to try to ensure there is no repeat of the 4-0 hammering they got from Queen of the South earlier this season.
Talking of which, that loss at Palmerston is still one of only three in the league this season.
Any United supporter annoyed or even angry with their side for not making it three out of three derby wins on Friday night should remember that.
They are still on course to clinch the title with plenty to spare.
They might blow it – anything is possible – but it is highly, highly unlikely.
The hope must be that this draw – again, a reminder that they did not lose – is a little bump on the road that leads back to the Premiership.
Having seen a lot of Neilson' s team in recent weeks, I would say they have not been playing as well as their results have suggested. It has been all about digging out wins, not putting on a show.
Therefore, it wasn't a total surprise to me that they failed to dominate the Dark Blues as they had done twice previously this season.
The slick and quick football was not there and they were guilty of not clearing their lines at the Dundee goal.
They were handed the best of starts with Nicky Clark's superb opener on five minutes but failed to capitalise.
It was as if they sat back and waited for the match to go their way.
The visitors were better – much better – than they had been in the other city clashes so they made sure it didn't just happen for United this time.
The Tangerines' supporters need to keep things in perspective, though.
This wasn't a disaster, not be any stretch of the imagination.
It was, howeve, perhaps a reminder that the title, if it is to be theirs, will have to be earned with better performances than they produced on Friday.
The United manager Robbie Neilson, as is often the case, chose the right words for his post-match analysis.
Looking relaxed – even chilled – he merely pointed out that they could afford to be happy with a derby draw because of the strength of their position at the top of the table.
It wasn't a brag, merely the truth.
It still looks like being a happy new year for the Tangerines.