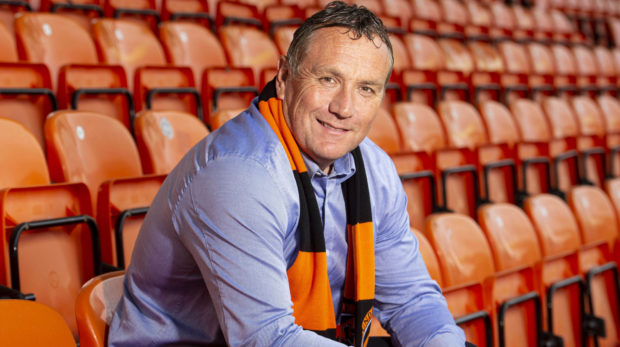 Dundee United boss Micky Mellon will see it as a privilege rather than a pressure when he walks out to the Tannadice dugout.
The new Tangerines gaffer will have all eyes on him – even it is via a video link – when he takes charge of his first competitive game against St Johnstone on Saturday.
As someone with substantial experience of management, albeit in the English lower divisions, Mellon won't be feeling the heat of the August 1 Premiership opener.
Instead, he will be telling himself how fortunate and proud he is to be leading newly-promoted United into the top flight.
Mellon said: "I understand the privilege of managing a club with an unbelievable history.
"I don't see it as a pressure but as a privilege.
"I love walking into the ground and seeing the pictures on the wall.
"When I was a wee boy growing up I watched those teams.  I could name those United teams.
"The players were guys we pretended to be when playing football in the playground.
"I will wear that responsibility well."
Mellon, who was chatting to the Dode Fox podcast, will also instil a sense of pride in his squad and make them realise they have earned the right to be where they are now.
He said: "I have a group here who are champions and they deserve respect for that.
"I have told them we are Dundee United, represent that, be proud of that and grab the energy from that.
"We believe we can get results in this league and I expect them to believe.
"Don't be going into it with an inferiority complex or anything, I told them I have the champions here so let's see how they roll.
"They have shown me they can dig in because they have an unbelievable team spirit.
"All the philosophy stuff is fine, but it's only fine until you get a punch on the nose and you have to adapt.
"I want a team who works hard first and foremost and plays a type of football the fans enjoy.
"Everything ends with winning, we will fight and graft to make that happens. "I need to win for myself because if I don't then it spoils my life.
"People say to me: 'Micky, you can't be like that.'  I'm really sorry but I am bad like that."
Mellon is rightly proud of his coaching career so far and it is one of achievement when you look at his promotions.
Nevertheless, the Scot's name is still one that will be unfamiliar to some but that doesn't bother him.
He added: "I don't take offence to people not knowing a lot about the levels of English football I managed at because there will be people in England who will say the same about Dundee United and Scottish football.
"That's just the way it is.
"In England, I had a lot of opportunities to go to bigger clubs and manage them but it wouldn't be fair to name them.
"Some of them just didn't fit right for me.
"People said to me: 'Micky, that was a good opportunity, why didn't you take it?'
"It just didn't feel right.
"I would speak to them – and I'm talking about monster clubs because I had eight promotions as a player and manager, as well as sales amounting millions of pounds, and that ticks a lot of boxes in England – but I always felt that I wanted to come back to Scotland at some stage.
"If the right opportunity came along then I could come home.
"It had to be at a club where I felt I was going to have a right good go at it – that was the ideal scenario."
Mellon was certainly familiar to United's sporting director Tony Asghar.
The United boss explained: "I have known Tony for a long, long time and he was a football agent before he became sporting director here.
"I also came up the last two summers and trained at St Andrews with Tranmere in pre-season.
"I knew United were battling away to get up and shouldn't really have been in the Championship.  So I took an interest and kept an eye on it.
"I also go on well with Robbie Neilson. I heard he had decided to move on but didn't do anything about it – you don't as a manager.
"I then heard whispers – as you do – that I was to expect an approach from Dundee United but, again, I still kept my head down and got on with things.
"Then my chairman at Tranmere (Mark Palios) said: 'Dundee United have asked to speak to you Micky – what do you want me to do?
"I said: 'I want to speak to them, chairman.'
He replied: 'We don't want you to go – we want you to stay.'
"I said: 'No, I want to speak to them to see if this is the one that gets me what I want – a move back to Scotland.'
"He said OK and then I spoke to Tony and the owners. Right away, I felt 'this is it – this is the one!'
"I then went back to Tranmere and said: 'Sorry chairman, I want to go home.'
"He got the compensation he thought he was entitled to and that Dundee United were willing to pay."