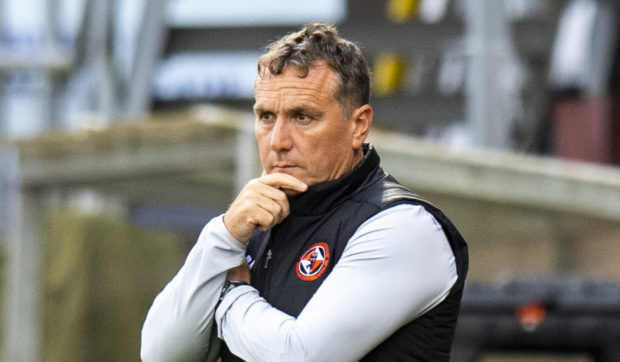 Dundee United manager Micky Mellon has laughed off talk of there being a long-running feud between his club and Rangers.
The Tangerines and Light Blues, if you believe some, are locked in a historic battle that has included former Tannadice chairman Stephen Thompson's role in the Ibrox club's demotion, an abandoned match, boycotts and Craig Levein's outburst at a dodgy refereeing display among other things.
Mellon will be thinking about none of those matters when he takes his players to Glasgow tomorrow.
All he is interested in is a good performance from his team that maybe, just maybe will see them take something from a challenging game.
A Scot who has hitherto spent his working life playing and coaching in England, Mellon joked that if there were some kind of dispute then it would be nothing special.
Cracking a smile, he said: "There are a lot of feuds in Scotland – everyone has a feud!
"It is only the size of the feud that changes.
"We are such a small footballing country that everyone is feuding!
"I love the competition here, the history of the clubs you go to and what is represents.
"When we went to Kilmarnock, for example, you get made aware of what they have done – I love it all.
"I am not involved in any feud and neither are our players.
"Instead, we can't wait for the challenge this weekend because we want to take Dundee United forward.
"We want to be consistently competitive in all the games we play.
"We will find out where we are once again this Saturday and then react to it.
"It's obviously great to be going to a club like Rangers to take them on so we will do all we can to represent Dundee United correctly.
"You know my feelings about United, the size of the club, the history and the fact we should be at this level.
"It is good to have this game back."
Mellon is delighted to be able to welcome back frontman Lawrence Shankland, who has finally recovered from an ankle injury.
His big headache now is in central defence, with a damaged ankle ruling Mark Connolly out for at least a month and maybe longer.
It looks likely that Ryan Edwards, who joined from Blackpool in the summer, will take over after recovering from a hamstring problem.
The United boss said: "We are running with quite a young squad and when you lose one of the experienced ones it can have a wee bit of an impact on you but Ryan Edwards is back fit again as well as Shankland.
"We are getting some lads back and you will never hear me make excuses about injuries because the boys are all here to play.
"Fortunately, Ryan is fit and I believe we will have enough to go and give it a real good shot down at Rangers."
The home team are looking to beat a clean sheet record that has stood for 114 years in Scottish football's top division by recording a seventh successive shutout to start a campaign.
At the heart of that bid will be Ibrox central defender Connor Goldson, someone whom Mellon managed at Shrewsbury Town.
He said: "I don't think many people in Scotland knew about Connor before he came up rather than the people at Rangers.
"I have always said he is a leader, influential and he will get better and better because he is one of these guys who wants to continually improve and he is one of those lads who has continually done that.
"When you have players you have that bond with them and you like to see them kick on and do well in their careers.
"He has done really well.
"I had him at Shrewsbury and even back then he was experienced and had played over a 100 games at 20 or 21.
"Even then you could tell he was a lad that was going to do well and the lads around him had to do well to match his standards.
"He was always that type of lad – first and last off the training ground."
Meanwhile, as well the injury to United defender Connolly, the player has been the subject of an internal club investigation into an alleged incident that led to a complaint being made by a city taxi driver.
Mellon was asked if there had been any resolution to the matter or if it was on-going.
He replied: "I don't duck any questions but that is what it is – it's ongoing and internal.
"If anything comes out of that, then I'm sure that you will be, along with myself, the first to hear about that."