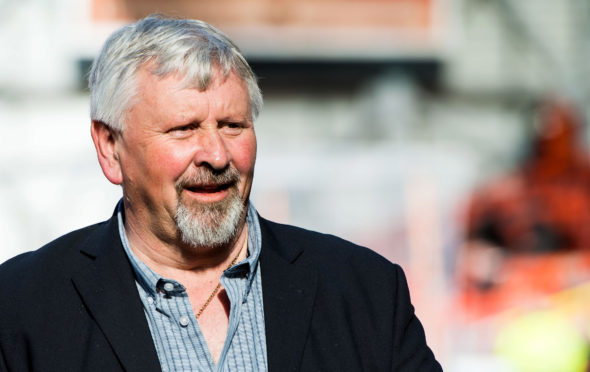 Talking Football continues the look back at the football season by tackling the Championship. Our writers Ian Roache, Neil Robertson and Eric Nicolson assess how Dundee United, Dunfermline and Brechin City fared.
So it's another year in the Championship for Dundee United. What is the biggest single reason for their failure of a season?
IR: There are plenty of reasons to choose from but if I have to select one then I'll go for the players not being good enough.
NR: Culpability is club wide. The chairman changed, as did the manager, while there was an influx of new players in January but the dispiriting problems remained the same.
EN: It's recruitment. Football success or failure always comes down to recruitment. For too many transfer windows United have got it wrong. Unfortunately, last summer they didn't buy well and the scatter gun January had a 'bring enough players in and a couple of them might be decent' feel about it.
Listing the players who flopped would probably take too long but who emerged with pass marks for you?
IR: I would say goalkeeper Deniz until his daft injury, right-back Anthony Ralston, central defender Bilel Mohsni, midfielder Sam Stanton, as well as fellow midfield men Fraser Fyvie and Scott Fraser until they were both crocked. Err, that's about it.
NR: I agree with most of Ian's choices and would probably add Willo Flood as at least the wee Irishman looked like he actually cared this season.
EN: Ralston and Fraser are the only ones whose careers are likely to prosper post-Tannadice. Fraser will need to choose his next club wisely but Ralston already looks the real deal.
Hindsight time. Was it the right decision to sack Ray McKinnon?
IR: McKinnon himself feels his team would have got up and he makes a decent argument. What I would say is that I don't think they would have been any worse off had he stayed.
NR: No. I said it at the time that I thought it was the wrong decision and I have not changed my mind. Yes, United had lost two games in a row when he was sacked but it looked like a knee-jerk reaction and McKinnon deserved more time.
EN: You can't ignore the fact that United were playing terribly at the time McKinnon was sacked and the fans had turned against him. That was the reality. Not many chairmen stand firm in those circumstances.
Back to the here and now. Has Csaba Laszlo done enough to earn Mike Martin's faith for another go at it?
IR: The United chairman has decided that chopping and changing managers is not healthy and the revolving door is partly responsible for situation the club finds itself in now. The logical conclusion of that argument is that Laszlo stays but for that to be the case Martin must have convinced himself that the Hungarian can lead the Tangerines to the title. I guess we'll see.
NR: The chairman certainly thinks so but I am far from convinced. There have been catastrophic results under his tenure – 6-1 at Falkirk for instance – while some of his team selections have left me scratching my head. Martin could not have been firmer in his backing for Laszlo but the Hungarian still needs to hit the ground running at the start of next season.
EN: Laszlo hasn't convinced me yet. But he may no longer be the most important person at the club. It seems to be Paul Sturrock in charge of player recruitment and it will be the quality of the footballers Laszlo has to work with on the training ground that will determine whether he succeeds. You could argue that Luggy's role with Dundee United now is more significant than when he was their manager.
There will be plenty of players coming in over the next couple of months. Name me a couple who you think are attainable and would be good recruits?
IR: If they could get striker Simon Murray back from Hibs then that would be a decent one but he is likely to have other options in the top flight. My priority would have been putting Mohsni on a new, permanent deal but he's leaving. United now need to find two solid, big, centre-backs from Paul Sturrock's contacts and then build from there.
NR: There are hundreds of possibilities out there but there is a huge responsibility on Sturrock's shoulders. More than ever, United need the "right sort" in their dressing-room, ready to roll up their sleeves in a division where battling qualities are equally as important as footballing ones.
EN: The Livingston boys aren't on wages anywhere near their United counterparts so pinching a couple of them would be a good start. Other proven performers at Championship level should be targeted. A solid keeper is an obvious priority – Aberdeen's Danny Rogers on loan could be an option. And, I say it every year, but checking whether Rory McAllister is still happy at Peterhead is a phonecall I'd make.
Dunfermline would appear to have a stronger base to build on for next season?
IR: I thought the Pars could really count themselves unlucky in the play-offs against United and there was plenty of promise in that team.
NR: The Pars will have been gutted that the season finished when it did after their late charge which saw them put together an 11-game unbeaten run. If they continue their upward curve next season, then they could be genuine title challengers.
EN: You would be a lot more comfortable trying to bring in four or five at East End than 11 or 12 at Tannadice, that's for sure. Dunfermline are fortunate that, apart from possibly Ryan Williamson, they have got guys who are well-suited to the level they are playing at and won't get better offers. You would like to think that Allan Johnston will have learned his lesson from their mid-season drop-off and be better equipped to sustain a proper title challenge next time.
What a dispiriting season for Brechin. Do you think their no-win campaign will do lasting damage going into next year?
IR: A resounding no from me. I think they will all regroup and be desperate to go again. Indeed, I would have City as one of my favourites, along with Raith Rovers, for the Division One title next season.
NR: Darren Dods has a major rebuilding job on his hands so there should not be too much of a hangover next season with new players drafted in. However, it would be good to see Brechin loosen the purse strings and back the manager to the hilt. It may have been a disastrous season on the park but off it, the Angus side had a bumper year financially thanks to big crowds at home games along with the Scottish Cup bonus of a tie at Celtic Park.
EN: All those Angus derbies should soften the blow and focus minds!
Is there an argument to suggest that next year's Championship will be a harder league to get out of than this year's?
IR: Not a lot of people know this (or care) but St Mirren were actually more convincing champions in the last season than Hibs were in the one before that. The Buddies finished with 74 points and 23 wins, while the Hibees ended on 71 points and 19 victories. So you could argue that it was tougher to pip Saints than Hibs. If you are looking at it from a United perspective, their biggest rivals are likely to be the Pars, Falkirk, Livingston (or Partick), Ross County and Inverness Caley Thistle. Out of that lot, I would pick out ICT as the number one threat.
NR: I can see Dunfermline, Falkirk and Inverness improving while Ross County will no doubt spend big in a bid to bounce straight back up. Add in Partick or Livi along with United and it will be another cut-throat league to get out of.
EN: I think it will be harder next season. I'm still convinced that was an average St Mirren team with an excellent manager and one star turn at that level. Caley Thistle sorted themselves out too late, Dunfermline collapsed for a couple of months, Falkirk had a campaign nobody would have predicted and Morton and Queen of the South were poorer teams than the year before.