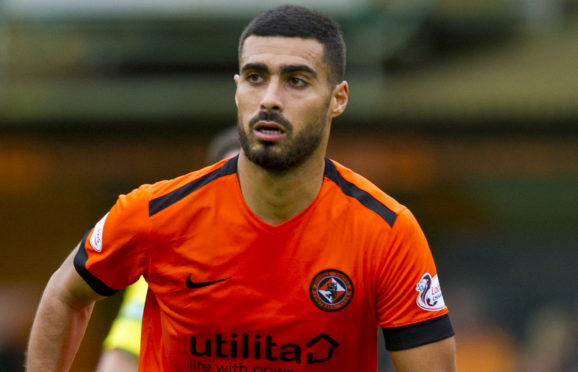 It may be the same group of players but Rachid Bouhenna insists Dundee United are a new team under boss Robbie Neilson – and they aim to ram home that point when they face Ross County this afternoon.
The last time the sides met at the end of September, it was a day to forget for the Tangerines as the Staggies won 5-1 at Tannadice with the defeat driving the final nail into boss Csaba Laszlo's managerial coffin.
Since Neilson took charge though United are unbeaten and Bouhenna is determined to continue that run and narrow the four-point gap on second-top Ross County in Dingwall today.
The 27-year-old defender said: "We have already forgotten that (5-1) game. It was very bad and that time was difficult.
"As a footballer you can either cry or you get back up and get on with it.
"We have done that, we have worked hard to get back up the table again.
"We have our confidence back, we are playing well now so it doesn't matter what happened against them earlier in the season.
"We feel like a new team. It is the same players really but there is a new belief about the squad.
"The manager has brought something. It is hard to describe what it is but something has changed. There is maybe more sharpness about us now.
"This is a very important game for us, we are looking forward to it."
Bouhenna added: "I think we have been getting better and better with every match since the new manager came in.
"If we want to win the league, then this match is big because we can't let the teams above us build a gap.
"A few players have come back from injury as well, which has helped us.
"Everyone is contributing to the team. Even the players who haven't been playing are pushing the other ones on.
"There is a good team spirit here and you can see that in the performances we have been putting in."
French-born Algerian Bouhenna previously played in the UK for English outfit Doncaster but his time at the club was blighted by a serious injury.
Now he is determined to taste success second time around in this country with United and help the club return to the Premiership.
He added: "I had been to the UK before when I was with Doncaster but that didn't work out.
"I got injured and was out for seven months, so I left at the end of my contract.
"The manager was Sean O'Driscoll but he didn't get a chance to see me play really.
"I have always thought that football in the UK is the best in the world so wanted to come back.
"I wasn't sure if I would get the chance again but thankfully it came and I want to be part of a successful team at Dundee United now.
"This is a big club with a good history, so we have to be back in the Premiership.
"But it will be tough because there are a few teams who will believe they can win the title.
"I have enjoyed being here, my team-mates are good and even though the Scottish accent is difficult at times I can understand most of what is being said.
"The football is good, the league is physical but it is a good challenge and it's competitive.
"I have never been to the Highlands before so this will be a new experience, but the football is what I am focused on."
Meanwhile, Bouhanna's boss Neilson paid tribute to the job that Ross County co-managers Stuart Kettlewell and Steve Ferguson are doing with the duo picking up the Championship Manager of the Month Awards for September and October.
Neilson said: "I have known Fergie for a long time – I don't actually know where it's from. I think it's just from the coaching badges over the years.
"I don't know Stuart as well, but they have impressed me with the way they have gone about things at County.
"The co-manager thing isn't something you hear about much these days but it seems to be working very well for them.
"I know Fergie is a very good coach so maybe they split things up along those lines, I don't know.
"But whatever they are doing, it's working well and we will have to be at our best to get the better of their team."