The start of February will be the time for Dundee United's new off-field management team to take a "deep breath", according to the Tangerines' sporting director Tony Asghar.
But until then, making sure head coach Robbie Neilson has a squad capable of securing promotion to the Premiership will be getting their undivided attention.
Asghar, who has been a football agent and consultant, most recently to help the transition of ownership at Tannadice, has the knowledge base to hit the ground running and assist Neilson in the January transfer market.
"The first business plan is short-term and that is to attain promotion," said the former police officer.
"It's a bit frantic in January but we're trying to stay calm and assess the squad, while bringing in players who fit the long-term recruitment strategy of this cub.
"I think you've seen with the few players we've brought in already that they're slightly younger, with the exception of Morgaro Gomis.
"That will be our strategy going forward – good quality young players who can make this team successful. We'll have more of a deep breath on February 1 when the window closes. Short-term, promotion is the key aim."
The sporting director model has yet to take hold in Scottish football but Asghar believes it will suit United perfectly.
"European football use this role all the time," he said. "The only reason it hasn't been put in place over here is because of budgets.
"Being a head coach is a lonely place these days and having somebody to provide support enables him to focus Saturday to Saturday and I can look long-term.
"Myself and Robbie have a good relationship. I've known him since he was a coach at Hearts. He's probably one of the best coaches in Scotland – even in the Premiership.
"Mark (Ogren) has asked me to create a performance and business plan and to try and deliver it. He's put his faith in me and I believe in Robbie.
"To be clear, the role is an executive leadership role, working alongside the managing director, looking at the performance side of the club, recruitment, looking at the academy and looking at supporting Robbie and the first team.
"Ultimately the manager will be the decision-maker for players and first team selection."
Asghar certainly couldn't be accused of being under-qualified for his new post.
"I took a masters degree (at Manchester Metropolitan University) three years ago to do this job," he explained.
"At that time there were 25 people who asked to go on it. We had guys from Formula One, guys from Manchester United and Ashley Giles, who is now the chief exec for English cricket.
"Traditional football, where a manager looks after everything, has been great but this role can take a lot of stress off a manager."
Asghar makes no secret of the fact that recruitment – in and out – will be at the heart of United's success as a business.
"I have to make sure that the owner is going to get some sort of return, either off the field or on the field," he said.
"The owner has said he's here to make money.
"This club has developed by bringing players through their academy. It's all on the walls – the players from the early 80s.
"But you don't have to look that far back. There have been players developed here who have been successful and made the club money.
"We all understand that business and performance work together. It's been challenging for the last two chairmen. Relegation puts you into a different way of working.
"We have to be strategic. It isn't just about throwing money at it."
Asghar indicated that there will be news in the near future about Paul Sturrock, who played a significant role in the summer transfer window.
"There will be changes made regarding the recruitment process and that will probably be announced very shortly," he said.
The policy of all players living within a 25-mile radius of Dundee, introduced by Mike Martin, could be a short-lived one.
"A lot of things are under review and that is something we have to look at," said Asghar.
"There are positives and negatives. We'll review it and let people know."
Asghar believes the new owner will restore the bond between the club and its fanbase.
"There are a lot of good people here who want the best for the club," he said. "We want everyone going in the same direction – that's the clear message.
"That's a big challenge and it won't happen overnight.
"Mark has been involved in other sports in the US but I don't think he's seen anything like football and the traditions and history of a club like this.
"He understands there has been a disconnect.
"Everybody is asking questions about ground-shares and mergers. He doesn't understand that even though he's answered it once, he gets the same question.
"People are always a bit hesitant when a new owner comes in, especially a foreign owner. Will he change things? Will there be hot dog stalls instead of pie ones? Will it be foam fingers and cheerleaders?
"We have to gain that trust to get the supporters back onside. With a new owner we have the chance to do that.
"To be fair to the previous chairmen and managers. I don't think they had the chance to do that. They were always fighting fires."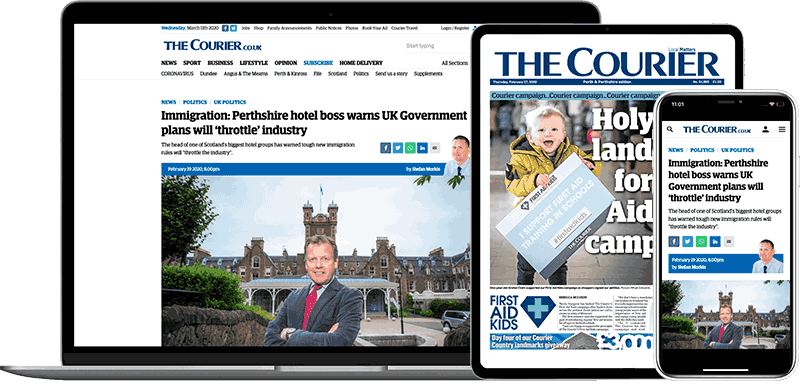 Help support quality local journalism … become a digital subscriber to The Courier
For as little as £5.99 a month you can access all of our content, including Premium articles.
Subscribe