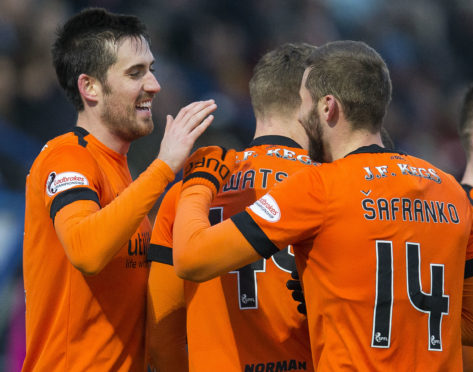 Dundee United and Dundee have both been busy in the January transfer window so far. Courier sports writers Eric Nicolson, Ian Roache and Neil Robertson discuss the early impact of the new recruits and some crucial games coming up.
We've been here before but are Dundee United now building proper momentum?
IR: I wouldn't go that far yet because there have been too many false dawns already. However, if they win at Ayr on Friday then the ball will be rolling. That would be a "statement" result.
NR: Two wins in a row would suggest as much but like Ian, I will reserve judgment until after Ayr.
EN: I thought the Montrose game would be tight, with United possibly needing a replay. So to progress to the next round of the cup with ease was a very good day's work. But I share the "let's wait and see sentiment" of my colleagues. United primarily have the slumps of their two title rivals to thank for the top of the table tightening up, rather than their own league form.
It's early, I know, but are you encouraged by the January transfer business that has been done so far by United?
IR: It looks pretty decent. One of the best things to come out of the Montrose victory, for me, was the goal for Ian Harkes. That was the ideal start for the American and he will be desperate to get out and play again.
NR: The signings all look like decent additions but it was a "new" old boy who really impressed me at Montrose with Morgaro Gomis producing a man-of-the-match performance. With influential skipper Fraser Fyvie still edging his way back to full fitness after a cruciate injury, Gomis should have a big part to play in the second half of the season.
EN: I can see Gomis being more than a Fyvie back-up. And the others look like regular starters too. The squad didn't need padding out but the starting XI needed strengthening.
We're at four new recruits now. How many more, if any, do you envisage and in which positions?
IR: I expect boss Robbie Neilson to keep going. It would nice if he could get another striker in at the very least.
NR: The manager has made no secret of the fact that with Craig Curran having moved across the road to Dundee, he wants to add another front man so that will remain the priority.
EN: A full-back and striker would be enough to complete Neilson's January business, for me.
Is this the perfect time to be playing Ayr United both in terms of their league form and their Scottish Cup exit to a team from the juniors?
IR: I have thought a lot about that Auchinleck shock (honest) and have concluded that it was a great result for the Tangerines. OK, Ayr will be fired up by their boss Ian McCall but if they go behind on Friday then the jitters will set in. I also imagine it won't take much for their fans to start moaning.
NR: Ayr's last win was over United in the Friday-night horror show at Tannadice away back at the end of November. Since then they have drawn three and lost three including the cup exit so United could not ask for a better time to face McCall's men.
EN: Ayr are in their worst run of form since the season before they got promoted. You can't dress that up as a positive. The timing for United is indeed perfect and there should be no lack of motivation given the Tannadice humiliation the last time the teams played.
It's the first Talking Football since Dundee United's big press conference with the three senior off-field figures at Tannadice post-takeover. What's your take on what the new set-up means for United in the long-run?
IR: Mark Ogren looked exactly what he is: a bright, enthusiastic American businessman looking forward to a new venture. He said all the right things and handled the non-story that was the "merger" pretty deftly. That might be the last we see of him for a while, though, and it looks like Tony Asghar and Malachy Brannigan will be running the show off the field. The most important thing for me is that Neilson appears to be happy with the new regime. If that changes then we should start worrying.
NR: Ogren admitted he won't be jetting back and forth across the Atlantic too often so the onus is on Asghar and Brannigan to make sure the club runs smoothly. As Ian says, Neilson seemed happy with having Asghar in as a sporting director and their relationship will be key, not just in this transfer window but beyond.
EN: There are a couple of unanswered questions – namely the future roles, if they have one, of Paul Sturrock and David Southern. The model at the top is nothing new in football but it will be the aptitude of the men in the new jobs rather than their job description that will determine whether it works.
I don't think any of you expected much to happen for St Johnstone in January but what do you make of Michael O'Halloran's return?
IR: I hear he had other options so it's always great for fans to think that the player picked them ahead of rival clubs. He is an exciting talent and yet another skilful player who will help destroy any lingering myths about Saints' style of play.
NR: Hopefully it will be a happy homecoming to the club where he has played his best football.
EN: Saints are one of the best examples in Scottish football of a club where the old line about never going back doesn't stack up. Liam Craig and Danny Swanson are modern day examples but the likes of Roddy Grant and Alan Main were also successes second time around. O'Halloran will thrive in the company of the other Saints forwards.
Should Saints fans be overly worried if Joe Shaughnessy decides to return to Aberdeen?
IR: I wouldn't say worried but they should be disappointed if that happens. Shaughnessy has been excellent for the club and the last time I spoke to him – after a win at Pittodrie, as it happens – he was saying how much he wanted to stay at McDiarmid.
NR: Shaughnessy would be a big loss as he has emerged as a key defender and accomplished captain for the club but Saints will cope if he goes with Liam Gordon a ready-made replacement for the popular Irishman.
EN: How many players have left McDiarmid and improved? No? Me neither.
We'll leave Dundee's chances of winning their Scottish Cup replay until next week, but Jim McIntyre seemed pleased with the impact his new signings made, didn't he?
IR: Yes, he did and the hope will be that the level of performance improves the more match minutes the new guys get. Time is of the essence, though.
NR: The situation Dundee find themselves in means new additions have to hit the ground running so the manager will have been relieved as well as pleased that they made an immediate impact.
EN: It wasn't a good team performance on Saturday but I thought McIntyre was quite right to name-check Dieng, Dales and Nelson post-match. The keeper was excellent and the two outfield players looked like the 100% effort types the manager has been seeking.
Dundee's transferometer is currently at five. How close to a whole new team are we going to get by the time February comes around?
IR: It has been interesting to track McIntyre's team selections since he took over. It has been like a pre-season smack-bang in the middle of a season. Players get their chance then disappear like a summer trialist if they don't take it. Sadly for some, the manager has made his mind up to look elsewhere but I would predict just another couple to take us to (gets calculator out) seven by the time the window SLAMS shut.
NR: With new signing Andrew Davies out for the foreseeable future after fracturing his foot, McIntyre will no doubt have a centre-half high on his shopping list. With Glen Kamara almost certainly heading to Ibrox this month after signing a pre-contract with Rangers, a midfielder is another high priority.
EN: I'm going to raise my original estimate of a couple of weeks ago and say we'll be up to eight by the end of the month.
Glen Kamara didn't feature at all. Would you play him while there is still a possibility he could be going to Rangers during this window. Steve Clarke is playing the other pre-contract Rangers man, Jordan Jones.
IR: I would only play him if he merits it on current form and not factor in his past performances.
NR: I would be amazed if Kamara wears the dark blue of Dundee again.
EN: McIntyre sees Kamara in training so you have to trust his judgment. Clarke evidently has more faith in Jones.
Are you giving Dundee a chance at Tynecastle?
IR: Having watched the whole Hearts v Livingston game on Sunday – anything that doesn't mention Brexit is worth a go nowadays – they didn't look great. The problem is, though, neither did Dundee against Queens or so I hear. What they can take encouragement from is their last trip to Edinburgh in November when they battled back to earn a great draw against Hibs.
NR: Having watched Hearts toil to beat Livingston on Sunday in the BBC live Scottish Cup tie, you would have to say Dundee have a chance. However, it is still a big ask and I am sure McIntyre would bite your hand off if you offered him the possibility of taking even a point at Tynecastle.
EN: Tynecastle is one of those grounds where you can only hope for a result rather than expect one – unless you are Celtic or Rangers. Livingston's gameplan looks as good a place to start as any, though.
We've got three Fife clubs in the draw for the next round (at the moment). What were your highlights of round four?
IR: I do think the highlights of the round as far as Courier Country is concerned were those wins for Raith and East Fife. I especially liked the way Rovers' hat-trick hero Lewis Vaughan clung on to the match ball at full-time as if it were a bag containing a million pounds. That will take pride of place in the cabinet, I am sure.
NR: Sorry Pars fans but Rovers' win has to be my highlight. However, I am in agreement with Stark's boss John McGlynn – why on earth was this local derby not chosen as a tie to be shown live by one of the TV companies?
EN: I'll go for East Fife then. You could make a case that they've got the best chance of all our teams of making it through to the quarter-finals. If Darren Young's men can beat Morton, they can beat Partick Thistle.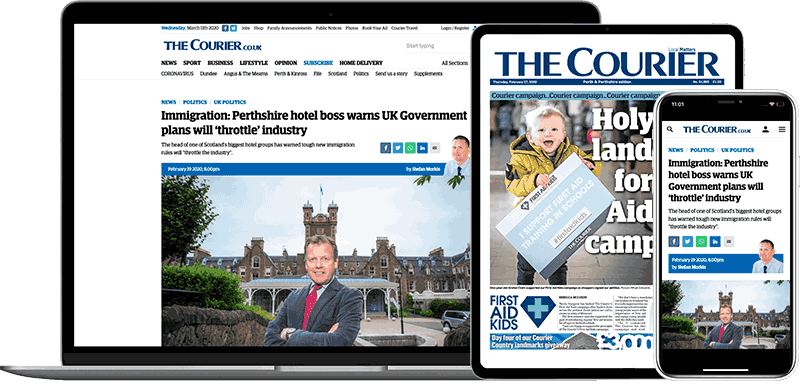 Help support quality local journalism … become a digital subscriber to The Courier
For as little as £5.99 a month you can access all of our content, including Premium articles.
Subscribe