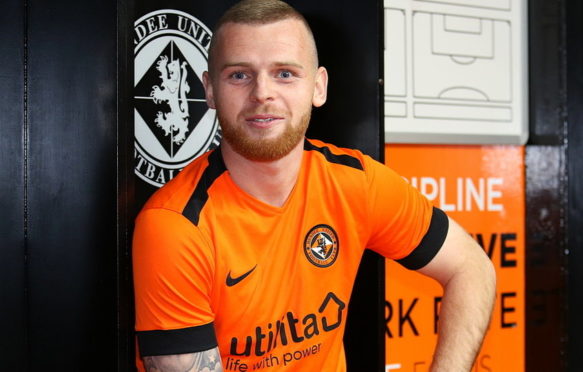 Defender Mark Connolly believes Dundee United will get better and better as the Championship campaign moves towards its finale.
The Tangerines transformed their squad during the January transfer window, with Connolly one of no fewer than 11 new recruits.
The fresh faces have fitted in well already, helping United to wins in the league over Morton and in the Scottish Cup against Premiership side St Mirren.
That 2-1 victory over the Buddies last weekend has helped keep the feelgood factor coursing through the corridors at St Andrews and Tannadice.
Now Robbie Neilson's men switch back to their quest for promotion and travel south to Palmerston to take on Queen of the South this afternoon.
As they trail league leaders Ross County by six points, it is vital United keep the winning momentum going down in Dumfries.
Connolly is confident that they can.
"It has been brilliant so far," said the former Kilmarnock captain.
"We have a good set of lads, good players, a proper football club and a very good manager.
"So the first impressions are everything I expected it to be.
"I believe we are going in the right direction.
"I think we improved on the first game (against Morton) and a few of the new lads played against St Mirren last weekend.
"People will look at that result and say St Mirren are down there but they are still a good Premiership team with good players.
"The encouraging thing is, we will only get better.
"It is a new team and everyone is still getting used to each other.
"The quality here is excellent," added Connolly.
"I knew when I agreed to sign that the club were looking to bring players in and they have delivered on what they wanted to do.
"The gaffer has brought in Premiership players, really, and that underlines the ambition of the club.
"The aim is to get back to the top flight and hopefully we can do that this season.
"It's six points at the moment to Ross County. They have that gap so all we can do is try to win as many games as we can."
Connolly appears to have struck up an instant understanding with fellow central defender Mark Reynolds.
Both men have worn the skipper's armband at other clubs – Killie for Connolly and Aberdeen for his teammate – and have bags of experience.
Connolly said: "Mark is a fantastic player.
"He has captained Aberdeen and played at the top level for a long time.
"It's easy to play with him.
"He is vastly experienced and we are quite similar in what we want to do on the pitch.
"Both of us are demanding and we want to make sure the players around us are doing well.
"It has been easy to come in alongside him and I think we will only get stronger from here."
Irishman Connolly's time at Killie proved he is willing to go above and beyond the call of duty for his team.
However, in hindsight, he maybe took that too far.
He said: "I did really well in my first season at Kilmarnock but broke my collar bone towards the end of it.
"I was told by the surgeon that my season was over but we were struggling in the league and I came back for the final two matches.
"Thankfully we won them and stayed up but then on the first day of pre-season I felt pain in my hip.
"I found out that I had suffered a tear in it but I tried to play through it.
"Eventually, I was in pain all the time but played for six months until it was too much and I needed it sorted.
"I had probably played on too much because I felt I didn't want to let the club down after they made me captain.
"Because I'd missed time with the broken collar bone the season before I didn't want to miss more matches so I just kept going when I should have stopped.
"In the end I went from being flying to being held back by injury.
"Looking back, I should have got the injury seen to long before I did and I suffered because I didn't.
"My second season at Kilmarnock was a nightmare, to be honest, and when you leave one Scottish club having been injured it's difficult to find another one.
"So that's why I went to Crawley in England – I needed to get playing again and build my career back up.
"Coming back to Scotland was always the aim and my wife just had a baby two weeks ago.
"A few clubs in the Premiership were interested as well, so I was always pushing to come back up the road."