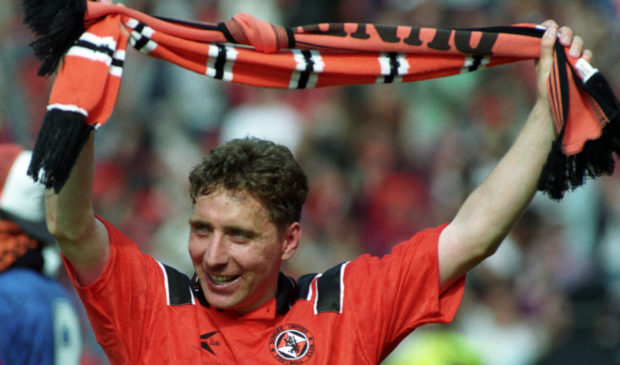 It is not every day you save your team with a goal-line clearance, hang a winner's medal around your neck, celebrate with a pop star, get drunk on Champagne lying in the bath, then join your dad at the bar to round off the night.
Such was the fate of Jim McInally on May 21 1994 when Dundee United finally went up to lift Scottish Cup.
It was a glorious occasion for everyone connected to the Tangerines, with McInally beaming broadly when asked to look back 25 years.
He was an integral part of a very special team, the one that cleared the final hurdle to lift the most famous of Scottish football trophies for the first time.
McInally and his team-mates had succeeded in collecting the silverware where legendary sides of old had failed.
The club and their long-suffering supporters had headed to the national stadium for six previous Scottish Cup finals – 1974, '81, '85, '87, '88 and '91 – and come home with nothing but regrets.
This time it would be different as they got the better of recently-crowned champions Rangers, who thought they were on course for back-to-back trebles.
McInally was a big reason why United had made it through to face Rangers.
He pounced after fellow midfielder Dave Bowman's shot had been parried by Aberdeen goalkeeper Theo Snelders to fire the loose ball into the net for the only goal of the Hampden semi-final replay against the Dons.
"I was playing right-back at the time," said the current Peterhead manager.
"I just bombed forward and I was so keen that the ball nearly ran past me.
"I had to check and came back with my left foot and fired it into the net. I grew up near Hampden and when you are a wee boy you dream of such things.
"I used to hear the roar and I used to say to myself that I would love to score there one day. To get the winner in such an important game was really special.
"It is the goal that really stands out in my career, and the fact that we went on to lift the cup just added to its significance."
His heroics didn't stop there, however.
Ten minutes into the final, McInally stooped to nod Dave McPherson's header off the line. That clearance started the move that should have ended with the Tangerines being awarded a penalty when Alec Cleland was fouled inside the Light Blues box.
He takes up the story.
"I always had that position on the post, throughout my career at United," said McInally.
"Over the years I just got used to being able to save the ball on the line if required.
"People have asked me why did I go down to head it but I think it was just to make sure rather than swing a foot at it.
"Then when we broke out, it was so quick. Although I nodded off the line I actually wasn't that far away from Alec when he was fouled.
"For me, I have never seen such a clear penalty in a final. It was a shocking decision. The good thing was that we didn't let that get to us and for the whole first half we were really good. We were by far the better team."
United did dominate the first half before scoring one of the most important goals in their history just two minutes after the restart through Craig Brewster.
McInally added: "As for the goal, I had a good view of it.
"Christian Dailly did brilliantly to not give up and ended up capitalising when (Rangers keeper) Ally Maxwell did what he did. When you saw Christian hit the post you thought that it might go the wrong way but when Craig put it into the net it was just a brilliant feeling.
"Rangers started to push a bit after that but we still had a lot of good moments in the game when we could have picked them off again.
"I think, overall, it was just a really good performance from a group of players that really wanted it. A big advantage that we thought we had was that Rangers had won the league four or five weeks before.  They had stopped and not won for a while.
"They felt they could just switch off and then switch on again.
"On the day I felt we were too sharp and too aggressive for them."
When the final whistle blew, that was when the fun really started for McInally.
He joined Bowman and Maurice Malpas in a poignant moment on the pitch, when the three players who had played in so many losing finals for United gathered to celebrate together.
He said: "I think that made us all the more determined to win one.
"When the final whistle went that day I think the three of us got together to take a moment to think about it.
"I think we always knew that we would get the opportunity to win the cup because we were a good enough side.
"We all went up the steps roughly at the same time. We had been through it all together and now here we were with the cup.
"We also had big Davie (Narey) in the dugout and he played a part in the run. He was man-of-the-match in one of the Motherwell games.
"Heggie (Paul Hegarty) was also there so it was great.
"Laughing about it, there was a wee bit of you thinking about all the suffering we had to go through while the younger lads had it easy!"
It was all master-minded by manager Ivan Golac, of course, whose laid-back approach raised some eyebrows at the time.
United famously went to watch horse racing at Hamilton on the eve of the big game but McInally revealed it was his idea rather than a cunning plan drafted by the gaffer.
"That day before the final was brilliant," he recalled.
"We were staying in East Kilbride and had done a wee bit of training in the morning. It wasn't much, more of a game between ourselves. We didn't even shape the team or anything.
"We went back in for lunch and I asked the manager if we could go to Hamilton races. It was just along the road.
"He replied: 'Not a problem, Jim.'
"We spent the rest of the day at the track. Most of us were there, with maybe just one or two players sitting it out.
"We had a brilliant day and then came back and had our dinner.
"I then recall that Sportscene did a live show from the hotel. We just took everything in and enjoyed it."
McInally certainly enjoyed himself after that final whistle blew.
"I savoured everything out on the pitch for as long as I could," he recalls.
"I remember chatting to Ricky Ross (the singer from Deacon Blue), who was thrown off the track by the police. I had to say to them to leave him alone.
"Going back into the dressing room was just as fantastic. I wasn't a drinker but I think I had enough Champagne to last me a week.
"I always remember sitting in the bath half-cut. I told myself that I couldn't have any more drink and I stayed off it the rest of the night because I wanted to remember and enjoy it.
"We came back to the old Hilton hotel in Dundee and then me and Bo took the cup up to Smugglers pub.
"That was an experience, I can tell you. We went there because of Davie Young, who had helped us and looked after us over the years.
"I recall one fan who had cut himself in a fall and there was an ambulance called but all he wanted to do was grab hold of the cup. Both of our dads were in the Tangerine Club so we went up there, too. They had so many pals in there with them and I don't know how we got the cup out of there.
"That was all for the fans because they are the people who matter. They had travelled through to Hampden so often only to be disappointed, and this was the day they deserved."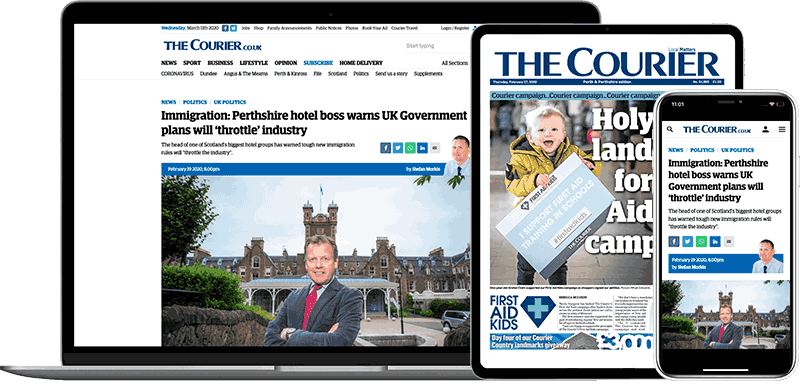 Help support quality local journalism … become a digital subscriber to The Courier
For as little as £5.99 a month you can access all of our content, including Premium articles.
Subscribe