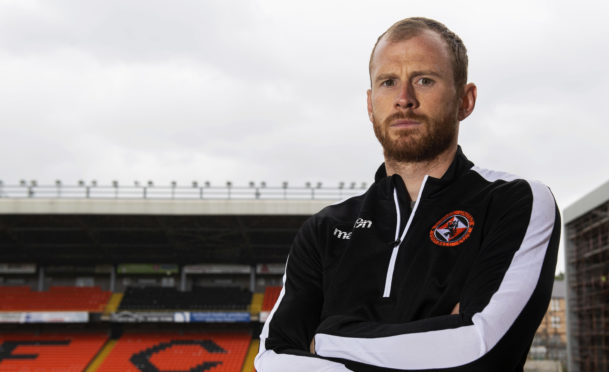 Mark Reynolds believes it is time for Dundee United to finish top of the class and graduate frrom the Championship with honours.
The Tannadice skipper has just passed a challenging test of his own – with distinction – by earning a Batchelor of Engineering (Mechanical and Offshore) degree from Robert Gordon University in Aberdeen.
Now the United captain feels the pressure is on the Tangerines to graduate to the Premiership.
According to Reynolds, they have no excuses left after their shootout disaster – they missed all four of their penalties – saw them lose out to St Mirren in the play-off final in Paisley on the final day of last season.
That defeat knocked the stuffing out of players and fans alike but Reynolds insists the only way to recover from a third successive promotion blow is to get it right next time.
"I am not one to dwell on things and let it affect me," said the former Aberdeen and Motherwell central defender.
"It was, though, probably the worst I have felt in my career.
"We pushed it that hard and felt we were in the game only for it to go to penalty kicks, which is a lottery.
"Somebody had to lose but I think it was the manner in which we missed out on promotion that was so hard to take.
"These things happen, though, and we will have to dust ourselves off and go again.
"Coming here, the aim was to get up as soon as possible.
"We would have loved to have gone up but it wasn't an emergency. It wasn't do or die.
"What we have to do, though, is push again next season and make sure it is automatic so that we don't have to go through the lottery of the play-offs.
"There will be different ways for different boys to deal with it but what will be coming from me and the management will be the need to get it out of your system as quickly as possible.
"You are going to have disappointments in football. Indeed, for most players there are more disappointments than successes.
"You need to get used to that and learn to deal with that.
"That is the message we need to get across.
"Look, it was hard to take but don't let it get you down.
"You need to use it as something to spur you on and get you through pre-season.
"The best way to answer what happened is to step it up."
Just as Reynolds gave the club his vote of confidence by agreeing a three-year deal, so chairman Mark Ogren eased any anxieties before the play-off final by saying failure to go up wouldn't be the end of the world.
The Tannadice skipper, scrambling around for a positive, even stressed that they will now have more time to get themselves ready for an eventual return to the top flight.
Reynolds added: "The squad is still building and had we gone up this season we would have been very much a work in progress, a team that wouldn't have struggled but would have taken time to find its feet.
"Trying to look at positives, we have given ourselves another season to try to build and grow together as a team.
"We will try to become more polished as we take the manager's ethos on board.
"We will make a few signings and hopefully we can win this league but also push on when we do get up.
"The long-term plan was definitely a reason for my signing the new deal and there are four, five, six years of positivity ahead.
"United have been at a low for a number of years but the new chairman has come in, as well as the manager, and things are going in the right way.
"There is an upward trajectory at the club and that's something I wanted to be involved in.
"It is an exciting time at United and I do see the club eventually going all the way up and doing great things over the next few years."
Reynolds revealed the players have quickly become acquainted with the US-based United owner.
"I have spoken to Mark Ogren a few times and he seems to be a great guy and really genuine," he said.
"He is in it for the right reasons and he loves the club and loves watching games.
"We have had lunches here where he has come in and sat with us and chatted away to the lads about football and how he was involved in baseball in America.
"After that St Mirren match, we all came back to Tannadice for some food and some of the lads drowned their sorrows. We said our goodbyes for the season.
"The chairman was there as well and he took the mic and spoke about the disappointment while also thanking everyone for their efforts.
"He reinforced the point then that while we were all disappointed it didn't change any of the plans going forward. He stressed we would all come back stronger.
"Now the pressure is on us for the next year.
"Last season there were excuses and you could maybe be forgiven for saying the squad wasn't strong enough or we had left ourselves too much to do by the time the chairman really came in and invested in January.
"Everything is in place now, however.
"The squad is strong and the players are there. Anything we need gets given to us within reason.
"We have excellent training facilities and I remember that Aberdeen used to come down in pre-season to use St Andrews because it is so good there. We don't have to go abroad because we have that on our doorstep.
"I think there are no excuses now. It is time to step up.
"There is pressure there but you need to play under that pressure or you shouldn't be at this club."