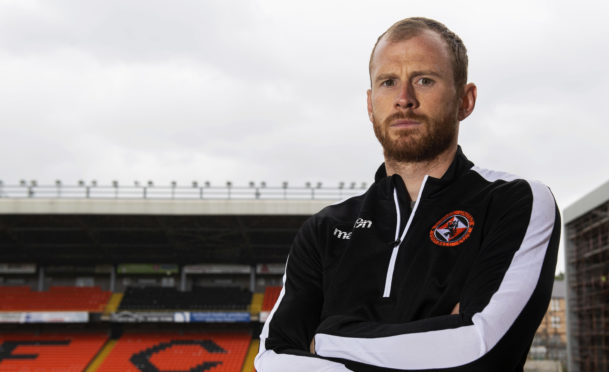 Captain Mark Reynolds insists Dundee United have become used to playing under pressure as they prepare for tonight's city derby.
The Tangerines, installed as clear favourites by the bookies, will carry the weight of expectation of 10,000-plus United fans and the wider football world watching live on TV when they face Dundee tonight at Tannadice.
That is what happens when you start your season with nine points out of nine and have star striker Lawrence Shankland in your side.
Despite the the visitors being the team that was playing Premiership football last season, most people outside of the blue half of town expect the home fans to be the ones celebrating come the final whistle.
It is a heavy burden but Reynolds is confident they can cope because, he argues, it's nothing new.
The central defender said: "The pressure is on us in every game, even in pre-season.
"We are used to being favourites to go up or to do this or that.
"There is pressure constantly here but we have worked hard to keep that on the outside and concentrate on the games.
"We have spoken about the whole situation because we know every game is huge this season – not just the ones against Dundee.
"For example, had we lost on Saturday at Dunfermline, it would have made getting the three points from the derby even more crucial.
"It is not a case of saying it is just another game because this is a derby, the whole city is buzzing and it is a sell-out.
"That all means there is going to be an edge to the game but what we need to do is bring to this one what we have to all our games so far.
"Every match is massive and a cup final for us.
"If you get caught up in one match or look elsewhere that is where you trip up.
"Therefore, we will be looking to play the way we have been so we can keep building that momentum."
United can, of course, open up a seven-point gap on Dundee with a victory tonight, which would be a significant stretch of clear blue water even at this early stage of the season.
Reynolds doesn't want to look too far ahead, though, and instead is playing a cautious game.
"It is a long season," he said.
"If we want to win a league we need to grind it out, be relentless and see it out.
"Three wins at the start could end up meaning nothing so we need to make sure we can build on it.
"There would be a gap (if United win tonight) but all we can do is put three points on the board and see what happens going forward.
"The players have spoken among ourselves and we know this is a tough league and that teams will drop points when it isn't expected.
"We have to guard against that.
"You hear people say you need a good Christmas period, a good January or an April/May in order to win the title.
"For us, we feel we need to have a good season overall.
"If we can keep winning then we know we will do well in the end.
"Last season, when I came in, we were winning our matches but then worrying about how leaders Ross County were doing.
"This season we can just focus on ourselves and if we do the business then that is all we need to worry about."
Reynolds was partnered by midfielder Calum Butcher in central defence at East End Park on Saturday as two Lawrence Shankland goals earned United a comfortable victory over the Pars.
Mark Connolly is expected to play this evening after shaking off a hamstring injury, with Butcher moving back into the centre of the pitch.
Reynolds enjoyed what was a pretty relaxed runout alongside Butcher, saying: "Calum is a great player and he slotted back into the defence really well.
"That is what you get from a central midfield player and he is accomplished.
"It helps when you are surrounded by good players."
Butcher and Reynolds helped keep a clean sheet in Fife and the United skipper believes that if they can repeat that tonight then a certain in-form forward can help win the match for the hosts.
Reynolds added: "It is good to know if Shanks gets a chance he will convert it and then we can keep it tight at the back.
"When you think of the chances we created last season we would probably have scored double with somebody like him in our team.
"So it could the case that a clean sheet at the back will give us a great chance to win the derby."