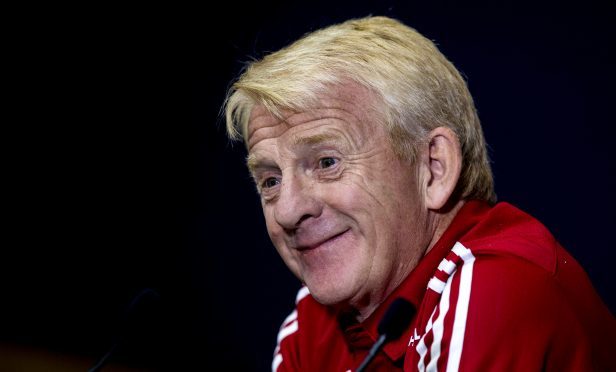 Gordon Strachan expects the Tartan Army to experience "depression and back up again" in tonight's do or die World Cup qualifier.
But he has backed his players to maintain the focus that will be essential if Slovakia are to be defeated at Hampden Park and Scotland are to extend their play-off hopes into Sunday's last match in Slovenia.
The national coach, who described "excitement" as his primary emotion, can appreciate that this evening's contest will be the proverbial rollercoaster for Scottish fans who have been starved of championship finals for 20 years.
Strachan said: "Listen the atmosphere will change every minute of the game, from 'yes, this is great,' to 'here we go'. And to depression and back up again and round-about.
"While that is going on with the fans, who are entitled to do that, we have to stay at a level that is not being affected by that.
"I think Europe helps that with the Celtic lads. They have to stay above the excitement and the depression and stay at the same level. That's what European football gets you.
"We have given ourselves that belief. We know it will be a long night but we can deal with that. It's going to be end to end, we can deal with that as well.
"I'm excited. I'm excited. That's been the overall thing since I knew I was packing my bags the other day to come up. Excitement."
Strachan wouldn't admit it at the time, but there was a point in the qualification process a few games ago that a win two and you're in the play-offs scenario was looking far-fetched.
"I think we really need to know we could have been out of this thing four or five games ago," he reflected. "So I think there was more pressure than there is now.
"There is still pressure, no doubt about it. But there is more excitement about it than the real nitty gritty we had three or four games ago."
Today, or Sunday, could mark the end of another qualifying campaign that has fallen short, and kick-off the will he, won't he, should he, shouldn't he stay debates. Strachan, not surprisingly, isn't of a mind to add anything to that just now.
"Listen, let's get this one out of the way and we'll see what we're doing after that," he said.
"Somebody asked me about playing in some golf, seniors open on the 21st of October. I've not got a clue what I'm doing. I couldn't tell you. Wait until the two games are out the way, I'll give you a shout."
The impact of the absence of Scott Brown and Stuart Armstrong has been a big theme of the build-up to this match but so too – of Strachan's choosing – has been the current form of a player who may be pitched into midfield, Barry Bannan.
He said: "People are talking after the weekend about John (McGinn) and Callum (McGregor) and their performances at the weekend, scoring four goals.
"But some of the best performances I've seen in the last three weeks have come from Barry Bannan. That's in different areas, different positions, as a sitting midfield player, on the left, across on the right at times.
"Mark (McGhee) feels the same. Everybody who has watched him thinks technically he has been wonderful – a great range of passing.
"We've all heard about the other two lads and rightly so but he has been the best I've seen. Barry was picked in the Championship team of the year last year. He is playing even better this year."
So does the talking-up of Bannan mean he has played his way into the starting line-up?
"No, it means he has been in my thoughts for the last three weeks.
"You have to take into account what position he is playing in at his club, does it suit this game? There's a lot involved, but what I'm saying is that it's unfair to forget guys like Barry.
"You guys go overboard about the home players and forget what's happening elsewhere. Only because you see the home players – I get about and see them all.
"I have to be fair on the rest of them because they turn up – people like Barry, who have not had many games – and give us time and attention.
"So it's only fair that we reiterate to them that we are not forgetting about them with the media frenzy around the other lads."
When settling on his midfield, Strachan will be conscious of making sure there is physical stature in that area as well as guile.
"At the weekend Sheffield Wednesday against Leeds was decided by two headers," he said. "It was decided by who wants to jump the highest. Someone heading it and vice versa the other way.
"So many games are decided on set plays – you have to have a certain amount of height in the team. Unless you are Barcelona where the other team is only going to get two corner kicks."