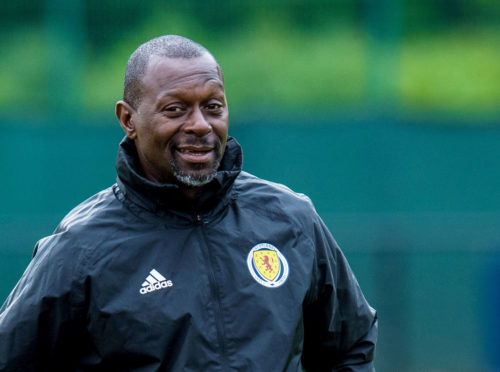 Steven Reid once faced up to German superstar Michael Ballack in a World Cup match but insists coaching Scotland at a major finals will top that.
The English-born former Republic of Ireland international will be in the Hampden technical on Saturday night as a key member of Steve Clarke's new backroom team.
The Scots face Cyprus in a Euro 2020 qualifier in the first fixture of the Clarke era, with a daunting trip to star-studded Belgium to follow on Tuesday.
The goal at the end of it all is to end an embarrassing absence from major tournaments that stretches all the way back to France 98.
Just four years after the Scots opened that tournament against Brazil, Reid found himself in Japan and South Korea representing the Republic at the greatest show on earth.
He would also go on to captain the Irish in a match against the Netherlands in 2006.
Reid enjoyed a distinguished career as a player but now, as an enthusiastic new recruit for the dark blues, he feels being part of the coaching team that finally leads the Scots to qualification will top the lot.
Looking nice and relaxed after training at Oriam, Reid was asked what it would mean to him to be part of the Scots camp at next year's European Championships.
He said: "That would be up there as the pinnacle for me.
"When you are actually playing you don't take things in as much as you should.
"You are a little bit blase about it.
"I was actually on stand-by for the original Ireland squad for that World Cup in 2002.
"When the call came saying I was going to the finals I was actually on the way to the airport to go on holiday.
"I was going to Barbados and I was with the missus on the way to catch the plane when I turned the phone on and the gaffer Mick McCarthy called.
"Mark Kennedy had got injured in Niall Quinn's testimonial up in Sunderland and I was the guy on stand-by.
"I probably shouldn't have even booked the holiday!
"I went to the World Cup and came on against Cameroon in the first game then again in the second game against Germany when Robbie Keane scored an equaliser in the last minute.
"As a player you think you will be playing in another big tournament in two years, then another World Cup in four.
"However, that turned out be the pinnacle of my playing career and it was right at the beginning," added the now 38-year-old.
"So to be there as a coach, that could certainly top it.
"I also played in the Premier League in England and then coached there but to help take Scotland to a tournament after so long would just be amazing.
"It is a great incentive and if we do it I will try and take it in a little bit more and actually enjoy it."
Reid knows Clarke from their time together as player and manager at West Bromwich Albion then they coached together at Reading.
It was also the new Scotland boss who handed him his first coaching position at the Hawthorns.
He said: "It is an honour to obviously now be representing Scotland in a coaching capacity and working with a manager whom I obviously know really well.
"I played under him at West Brom and he gave me my first coaching job.
"He was the one who kind of got my career off to a start.
"When he came in at West Brom we had a really good relationship there.
"I used to go and knock on his office door when my injured knee was in a bad way.
"I didn't even bother going down to the physio's room, I just used to straight to his office.
"We had that kind of relationship, which kind of continued into our coaching career.
"So it is a real honour to be involved.
"When the Scotland phone call came it was a no-brainer for me and the decision was made on the spot.
"There were no other details discussed. It was just a case of make your way up the road."
If the Scots want a coach who has been to hell and come back stronger then they have the right man in Reid.
He revealed that he had no fewer than 10 operations as a player and even played half of a game for West Brom at Arsenal with a broken leg.
"I had a big cruciate operation when I was 27," said Reid.
"Two years later I had another big operation in America and was out for another year.
"From that moment onwards, I was kind of managing my career till the end.
"As soon as I did my cruciate, that was the moment when I realised that it wasn't going to go on forever.
"I started on the coaching journey with the English FA, went on to the B licence, the A licence and finished my pro licence last summer.
"That was the route I wanted to take, especially during my time at West Brom where I worked under both Steve and Roy Hodgson.
"I have had some really good experience, good mentors in both of them. I could not have been luckier to work alongside two great coaches in a short space of time. Now I am revisiting that with Steve."