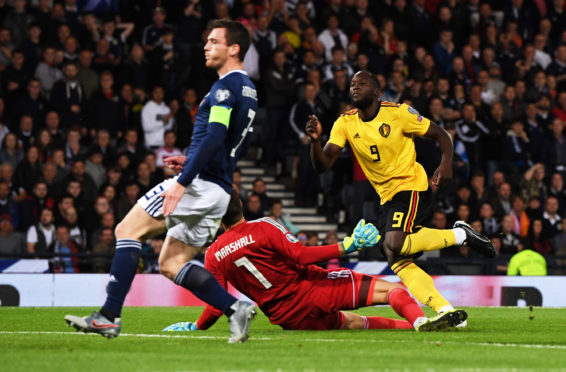 Steve Clarke will get it right for Scotland, according to Belgium striker Romelu Lukaku.
The Inter Milan frontman worked with the Scotland national coach when he was on loan at West Bromwich Albion and Clarke was in charge at the Hawthorns.
Lukaku knows what Clarke is made of and, despite making his team suffer by scoring in the Belgians' 4-0 win against the Scots at Hampden on Monday, he is backing his old boss to turn things around if people are patient.
The 26-year-old former Manchester United man declared: "I worked with Steve at West Brom and he will get it right for Scotland.
"When we were there together a lot of people didn't think we would get to the position we did but we did it.
"If you give Steve time he will get it right.
"He is the right man to give young players a chance and to test them.
"Scott McTominay (the Man United midfielder) can be very important for Scotland but he is not the only one. I think you have a lot of good talent coming through.
"You have Ryan Fraser, who I like a lot, and also Oliver Burke – he was at West Brom and is a good player. He has a lot of pace.
"You just have to develop them and work hard. If you do that then things will improve."
So what is his own country's secret?
Lukaku added: "Belgium is a small nation but it all starts in the academy.
"You have to give players a chance and also give them time to develop.
"When the players are ready to make the step up to the big teams in Europe they have to make the right choices.
"In Belgium the clubs are helping them make those decisions. They are sending players to teams where they can play a lot.
"I think you see the benefit of that.
"It wasn't always like this.
"When I started playing with the international team only half of the players were in the starting line-up.
"It takes time. You have to be patient if you want to improve.
"We went through ups and downs before we changed everything. The staff changed, we became more professional and we have seen the benefits of that.
"We won 4-0 and played well because we have confidence in ourselves.
"Remember, though, that we have had to work hard to get to where we want to be."