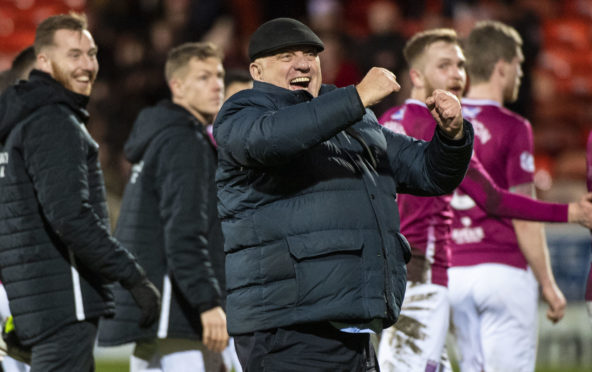 Arbroath chairman Mike Caird and his board have lavished praise on the team and management for taking the Championship by storm.
The SPFL resolution to end the season below the Premiership meant the Lichties edged ahead of Dunfermline into fifth spot, with the placings decided on a points per game percentage.
That is an incredible achievement for Dick Campbell's men, although it won't have come as a surprise to anyone who watched them play before the curtain came down on the campaign due to the coronavirus.
Caird and his directors stated: "With two games in hand, and the prospect of another 10 exciting matches to play out including hosting Dundee United and Dundee at Gayfield, we are of course disappointed that the season has come to a premature end and we are not able to show our appreciation from the stands to our players.
"Of course, safety to all is paramount in these unprecedented times and the season has now been voted to end, with the Lichties moving up to a final position of fifth in the league on a points per game basis.
"The final standings reflect on the tremendous hard work undertaken by everyone at the club.
"Our manager Dick Campbell and Ian Campbell, our assistant manager, along with coach John Young and goalkeeping coach Robert Douglas, have yet again coached and produced the very best out of each and every one of our players.
"Before a ball was even kicked in our debut in the Championship many pundits and journalists predicted that we would go straight back down. Well, didn't they get that wrong!"
The Angus side have now parted company with several players, with Caird and his directors thanking Steven Doris, Greig Spence, Robert Wilson, Josh Campbell and Ben Stirling for the part they played in a memorable season.
RAB DOUGLAS: My dealings with Scot Gardiner at Dundee weren't pleasant…I'm not surprised he appeared to be spearheading 'no' campaign