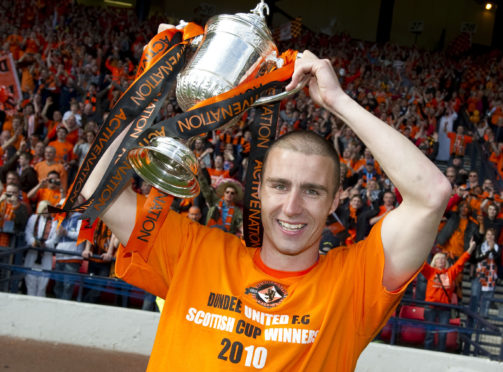 Throughout his long career, Sean Dillon has experienced the full rollercoaster of emotions that the Scottish Cup has to offer.
The 35-year-old Irishman won the trophy with Dundee United in 2010 against Ross County but four years later he was left devastated when the Tannadice outfit he was skippering lost in the final to St Johnstone.
Now, he is hoping to sample another high rather than a low with Montrose as they look to cause a big upset when the League 1 part-timers face Championship side United at Links Park today.
Dillon said: "Since I joined the club, everybody has been brand new with me.
"The fans, the board, the chairman, everybody who works at the club, so it is brilliant for them.
"It has been a few years since Montrose were in this round so that's great and the fact we have got United is an added bonus.
"Hopefully there will be a big crowd because the guys at the club deserve that. They put in a power of work in and countless hours – a big shift.
"So it is nice that they get a game like this but from the players' point of view, we just have to focus on doing the best job we can."
Dillon added: "I feel very lucky to have been on the winning side in a cup final. It is a big deal and I will probably appreciate it even more when I have stopped playing.
"It was an unbelievable day and I certainly didn't understand what it meant to people until we had actually done it.
"To be honest, I have mixed emotions when someone mentions the Scottish Cup as missing out on lifting the trophy as captain was probably as big a low as I have had.
"So as much as 2010 was probably the highlight and the most special day football wise, 2014 was probably at the opposite end of the scale on a personal level.
"Relegation isn't very pretty but speaking purely from a selfish basis, missing out on that chance to lift it as captain was a big one.
"But thankfully I have one in the bag so I consider myself very lucky."
There are some players who would have their medal framed and hanging on a wall in pride of place in their home – however Dillon isn't one of them.
He smiled: "It just sits in a drawer!
"The first time our assistant manager Ross Campbell collected me from the house on the way up to Montrose, I could see him looking around and I said, 'What's up?.
"He just said he was looking for my jerseys and medal hanging on the wall but I don't have any up."
Ironically, Dillon's young son Shea does have a couple of mementoes in his room including the boot that he scored a goal with during his dad's United testimonial two years ago.
He said: "Shea has a couple of things in his room including one of my old jerseys.
"I actually took him to Elvie Framing last week as it was his birthday on Wednesday.
"So they framed his boot along with a few photographs from the testimonial game when he scored.
"They did a really good job so Shea has stuff up but I don't.
"All my boots are either in the bin or given away but my medals are all in the drawer.
"I have a couple of my jerseys in the attic but they're not for the house just yet."
Today's game will be a real family affair for Dillon with his wife Michelle, sons Shea and Finn as well as his mum and dad, Linda and Michael in attendance.
He said: "The game was announced before Christmas so once we got through against Annan, that was kind of a Christmas present request from my mum and dad.
"So we booked their flights but they are over pretty regularly anyway and have been up to a few games.
"But this will be a nice one for them, a little bit different and they are looking forward to it.
"Michelle, Shea and Finn will be there as well."
The game will also be a chance for Dillon to meet up with some former team-mates including another Scottish Cup winner from 2010 Morgaro Gomis, who joined United again last week, as well as present boss Robbie Neilson.
He said: "I have spoken to Morgaro a couple of times recently.
"I know he was keen to come back to Scotland so I am delighted for him.
"I played with Robbie and I spoke to him after he got the job. I am delighted for him and the fact they are doing so well.
"Robbie was very good for me when he came to the club. He was a great team-mate to work with.
"I really hope they are very successful – outwith this Saturday.
"I would love the club to be back where they belong and I really hope Robbie is the man to do it."
Dillon added: "I played against United a couple of weeks after I signed for Montrose in a pre-season friendly.
"I had to come off at half-time as I had cut my ear and had to go to hospital.
"But this will be the first time I have played against any former club competitively since 2006 when I played for Shelbourne against Longford who were my old team.
"So I am looking forward to the game and I want to enjoy it but I will only do that if I am on it 100%.
"That has been the case throughout my career.
"So that will be the focus and hopefully after the game I will have a catch-up with some of the guys."
Montrose will start as big underdogs against the Championship side but Dillon insists they still have a chance if everyone plays to their full potential.
He said: "We have a chance, there is no doubt about that but they will be expected to win and pretty much anybody outwith Montrose will be expecting the same.
"That's fine with us – we are not going to argue or complain about that that.
"But we will be going into the game knowing we will all have to be as close to 100% as possible to give ourselves a chance so that will be the focus.
"That's all we can ask for."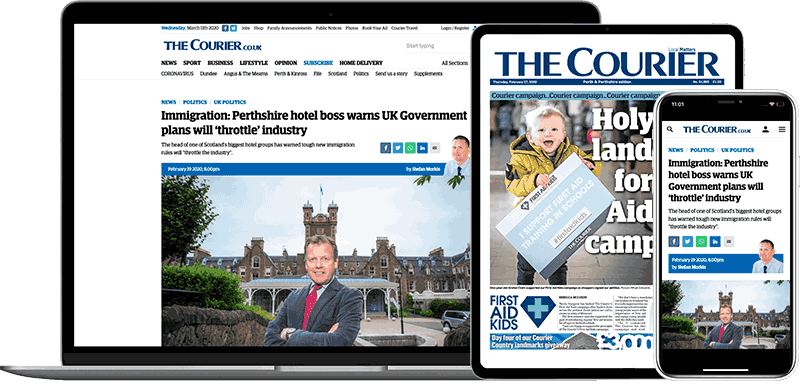 Help support quality local journalism … become a digital subscriber to The Courier
For as little as £5.99 a month you can access all of our content, including Premium articles.
Subscribe