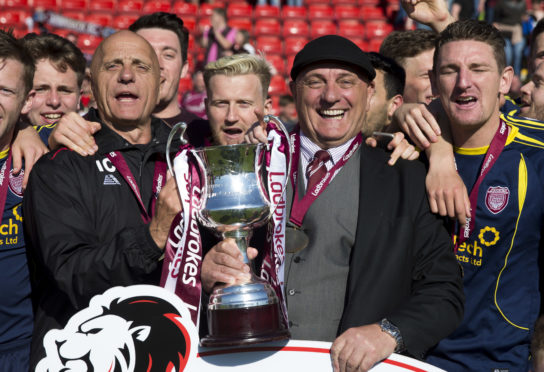 Arbroath boss Dick Campbell is looking for his team to successfully negotiate the equivalent of the final fence in the Grand National at Brechin today to clinch the League 1 title.
The runaway leaders in the division have been champions elect for months and it looked like they had finally sealed the deal last week when they beat Montrose at Gayfield only for the champagne to be placed back on ice as second-placed Raith scored a last-gasp equaliser at Stenhousemuir.
However, with just four games of the regular season remaining and with Arbroath 12 points in front of John McGlynn's side, the result of Rovers' game against Stranraer this afternoon will be rendered meaningless if Campbell's men can secure at least a draw at the Glebe.
The veteran manager though knows only one way to set his team up and that is to go for the jugular with a group of players determined to win promotion to the Championship in style.
Campbell said: I wasn't really aware of what was happening with Raith last week – but we were champions with two minutes to go.
"However, we go again his week at Brechin.
"The boys have been absolutely flying in training this week – they have been unbelievable really.
"Everyone is just desperate to get into the starting XI but I haven't named my team yet which is unusual for me.
"It doesn't matter who the opposition is, the simple fact is we need a point to win the championship.
"But the boys have been jumping at training so I have some big decisions to make and we will take it from there."
Campbell added: "We have been top of the league from day one but we are limping over the line at the moment.
"We are right down to the last fence in the National and we just need to get over it.
"We will definitely be going to win the game – I am not interested in a point.
"I wouldn't know how to play for a point in all the years I have been a manager.
"But the bottom line is we need a point."
A large travelling support will pack into the Glebe hoping to celebrate a title triumph but former Brechin player and boss Campbell will be treating the opposition with the utmost respect.
He added: "I have a love affair with Brechin – I had a lot of good years with them.
"I spoke to Ken Ferguson (City chairman) recently and I told him that this will not be a party time for Arbroath.
"All the Arbroath people and the Brechin people know me – I am not interested in who we are playing against.
"I know they are playing for their lives but I would have to say that the last time we played up there it was the best performance I have seen from any team I have had.
"The players were fabulous and if we repeat that tempo we will be fine."
Campbell only has top scorer Bobby Linn unavailable through injury for the game.
Meanwhile, Brechin boss Barry Smith is looking for his players to retain their focus on securing a vital three points in their League 1 survival fight – and ignore any thoughts of being party poopers.
Brechin are currently second bottom of the table, two points ahead of Stenhousemuir and two behind Stranraer.
Smith said: "When it comes down to it, it is in our hands.
"We still have Stranraer and Stenhousemuir to play along with Arbroath and Raith.
"We just have to take it one game at a time and make sure we take something out of the game on Saturday – hopefully three points against a good Arbroath team who have shown throughout the season how well they have played to be close to winning the league.
"But we just have to focus on ourselves and what we have to do.
"When it comes down to it we will be going to get the three points because it is just as important for us as it is for them.
"The big crowd will hopefully spur us on but whether there is 100 there or a couple of thousand you have to be able to play both.
"But I think we have enough experience and players who will relish playing in front of a big crowd."
Dene Shields' rehab is going well but Smith has ruled him out for the season while Lewis Toshney is also injured.