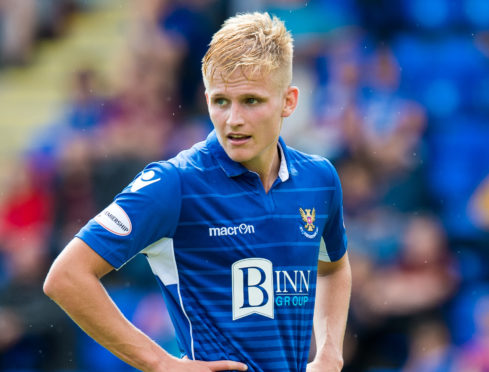 It isn't just the Class of 2014 who have vivid memories of May 17, St Johnstone's greatest day.
Ali McCann had just started his Saints journey a few months before but was made to feel part of what turned out to be a career-defining occasion for now team-mates David Wotherspoon, Stevie May and Michael O'Halloran.
What transpired at Parkhead opened the 20-year-old's eyes to the hard work he would need to put in to become a Perth player and to the magic of the Scottish Cup.
"I was 14 here when the club won the cup and was at Celtic Park that day," McCann recalled.
"The club got everyone tickets so all of our team came up to McDiarmid Park in the morning and they took us down on buses.
"It was a great day seeing the team win it and everyone celebrating.
"Back then when you're just 14 you think you're a million miles away from that sort of thing happening.
"That was my first year attached to the club and I'm the only one who was in my team left.
"Everyone else is away. Some are playing in the juniors and others are out of football altogether.
"That just shows how difficult it is to make a career out of football never mind win a trophy.
"It was great watching guys like Stevie May, David Wotherspoon, Murray Davidson play back then – and now I'm part of a team with them looking to go on a cup run."
McCann is in no doubt that the education in midfield play he got from the senior pros at McDiarmid has helped him become one of the brightest young talents in the Premiership.
And one of those senior pros was a man who he could be lining up against today, Morton's Chris Millar.
"I had six months with the first-team squad when Midgey was still here and he was a big help to me," said McCann.
"Like all the senior boys, he was good to speak to and always wanted to help the young lads out.
"Because we play in the same position he was someone I always looked at, watching to see what he did so I could pick things up.
"He's a neat and tidy player who is good on the ball and gets around the park, which is what I try to be as well.
"When you have players like him around – and others like Liam Craig – you pick up good habits and it stands you in good stead.
"You can't be afraid to ask questions and if you do that then people will help you out when you make a mistake by advising you on what to do differently next time.
"It will be good to see Midgey again – but hopefully we will be the ones happy after the game."
McCann's Saints career started in the cup on a heavy pitch in Coatbridge two years ago.
"I made my debut against Albion Rovers," he said.
"I was supposed to be playing in an under-20s game on the Monday but I got told I wasn't going to that because the gaffer was putting me on the bench.
"I came on for the last 20 minutes with the team 4-0 up, so it was a good one to ease me into it.
"I came on for Murray Davidson, playing alongside Paul Paton in the middle.
"It was a great experience and I can't wait for this weekend's game.
"Morton will be tough opponents. They have had good results in the league this season.
"We want to go on a cup run, it has been a while since we had one – probably when the club won it, to be honest, so it's overdue."